After a 14-hour train ride, Cassandra Carey and Emma Joo alighted in Métis-sur-Mer, Que., to find a platform empty except for their two suitcases. It was an unusual beginning to their research-based field course in biology – a far cry from the York University campus they had left behind.
"We got off the train in the middle of nowhere and it was just the two of us in the house every day," Joo said. "It's a good thing we were friends beforehand."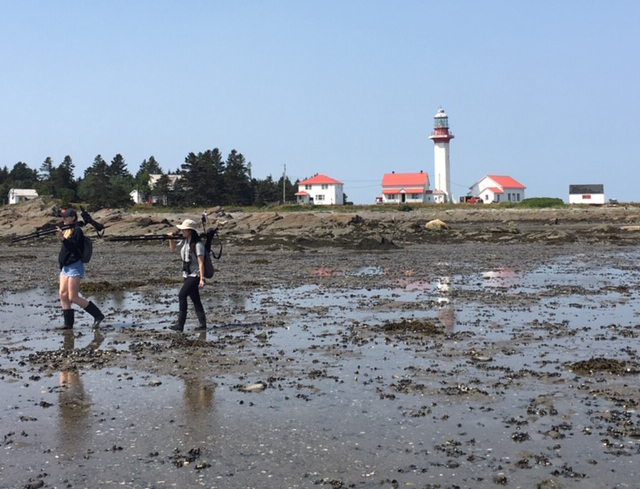 The two fourth-year bilingual biology students from Glendon helped Laura McKinnon, an assistant professor specializing in avian ecology and climate change, inaugurate her field research course. The pair were surprised to find that they were the only students who had registered for the two-week intensive program, but they made the most of the opportunity to learn about research design and field research first-hand. Their work focused on the diversity and abundance of shorebirds in two bays on Quebec's Gaspé Peninsula. The students designed and executed their research strategy with input from McKinnon.
"We hypothesized that because the birds fed on invertebrates, the density of the shorebird population would be highest in those parts of the bay where the invertebrates were most available," Carey said.
It may sound easy, but it required a lot of work to monitor the bird population, especially since they were both more familiar with human biology than avian biology. They did a literature review to determine if any similar research existed and delved into methods for measuring invertebrate density and shorebird diversity. They also quickly familiarized themselves with the common birds in the area, such as the greater yellowlegs and the semipalmated plover, thanks to bird books and many hours of observations with McKinnon.
"Our professor did her PhD on shorebirds, so we learned a lot from her," said Carey. "She took us out every day the first week so that by the time we did our actual research, we knew the basic birds."
In designing their project, Carey and Joo had to choose sampling sites that looked promising, using a GPS to ensure they were equidistant from each other and the shore. They checked tide charts to ensure that they could go out on the bay during low tide to collect core samples that allowed them to calculate invertebrate density at each site. Once the sites were determined, the students would monitor them from the shore using a telescope. After recording their data, they were able to determine whether or not their assumption was borne out by their observations. They discovered that, as they had hypothesized, the bay most abundant and diverse in invertebrates had a higher bird count.
"We designed and conducted the project from beginning to end," Joo said.
It was an amazing experience, they said, and one with a twist: since both students attend Glendon, their interactions with the professor were all conducted in French.
Carey and Joo are both delighted to have taken the course and proud to have been its inaugural students.
"It was really individualized," Joo said. "Professor McKinnon just allowed us to work on our research and trusted that we'd get the project done."
Although she is more interested in human biology, Joo relished the experience.
"I really enjoy fieldwork and being hands-on with nature," she said.
Carey, too, was delighted by what she called a "diverse, holistic experience."
"I never took part in an exchange program," she said, "and that's what this felt like. I'm glad Professor McKinnon will be offering this every year to give other students a chance to learn first-hand about field research."
By Elaine Smith, special contributing writer to Innovatus