Partner your business education with a bilingual liberal arts background that's boosted by Glendon's trademark excellence in French-language training and international experience.
You'll build valuable language and business skills that are essential to whatever career path you choose.
In this unique bilingual dual-degree program, you'll not only have access to the resources of Canada's third largest university and Glendon's trademark small campus experience, but you will tap into the expertise of emlyon's Business School's prestigious business program. As you earn your international Bachelor of Arts (iBA) in International Studies at Glendon — within close proximity of Canada's international business and finance capital — you'll build foundational global perspectives and examine the relations between countries, regions, international organizations and transnational networks. When you head to France to complete your Bachelor of Business Administration (BBA) degree at emylon (St. Étienne Campus), you'll benefit from international hands-on experience and business training, such as business games, teamwork, corporate internships and even startups.
Courses
---
Throughout your degree, you'll find a curriculum that offers an in-depth and balanced approach to International Studies & Business Administrations, from survey courses, such as Introduction to Statistical Methods, to specialized topics, including International Society: History, Philosophy and Theories.
The program is completely bilingual, requiring you to take a certain number of courses in French and in English to strengthen your language skills.
View course timetables on York University's site
---
CURRICULUM OVERVIEW
Dual Degree iBA-BBA: 120 Credits
The dual degree program is a dual credential undergraduate program in International Studies and Business, allowing students to complete two years of study at Glendon and two years at emlyon where they will experience the expertise and rich curriculum in these two study areas at both universities. At the end of their fourth year, they will complete a joint Glendon ILST- emlyon seminar called Séminaire Envol/Capstone Seminar in which students will reflect upon their four years in the dual credential program, from the perspectives of both the iBA in ILST and the BBA programs.
PROGRAM STRUCTURE AND MAJOR CREDIT REQUIREMENTS:
In this direction, the 60 credits that students will complete in their first two years at York include 33 out of 42 major credits in International Studies required for the Honours iBA program at York that support the achievement of its program learning outcomes, as well as 27 credits of foundational courses in business related areas (economics, accounting, management, marketing, business law, and statistics) which will prepare students for BBA curriculum at emlyon. In order to support the learning outcomes, all 60 credits are required; there will be no electives.
Among the 120 ECTS that students will complete at emlyon in their last two years, the equivalent of 9 credits will be recognized as International Studies credits given their international orientation and content (namely, International Business (5 ECTS), International Negotiation (5 ETCS), GRH à l'international (5 ECTS), and a joint Glendon–emlyon Séminaire Envol/Capstone Seminar(10 ECTS)). Students will have 5 ECTS of electives.
In Year 3 and Year 4, students complete the additional BBA requirements at emLyon Business courses (Total 120 ECTS combined courses taken in French and English, including the iBA ILST approved courses)
Major: International Business
This major enables students to :
Work in international and intercultural teams
Contribute to international projects, using remote methodology
Adapt to different legal, economic and financial contexts and be quickly proactive in such different business systems
Understand different ways of organizing international groups depending on the level of integration
Negotiate in complex international contexts
Other Program Details
Student Awards
We want to recognize your academic success and commitment to excellence in the International Studies & Business Administrationprogram. Not just a financial boost, awards and scholarships are a great way to show your hard work on your resumé and university transcript.
---
Extra-Curricular Opportunities
Students at Glendon Campus now have an incubator at their disposal to help them develop and grow their entrepreneurial project from an idea to developing their start-up.
Located on Glendon Campus, the Business Incubator is one of the resources and services offered by the G-EN-I-AL* Initiative to enable students to experiment entrepreneurship and start their entrepreneurial ideas in the best conditions, and in the language of their choice.
THE G-EN-I-AL* INITIATIVE OFFERS STUDENTS:
– A 15-week bilingual program called the Entrepreneurial Skills Passport
– Workshops and conferences
– Mentoring and coaching
– Resources and practical tools for starting a business
– Spaces and equipment dedicated to the creation of products or services
– The opportunity to get involved in entrepreneurship and social innovation research projects
For more information, please contact the G-EN-I-A-L Lead, Professor Angelo Dossou-Yovo by email, genial@glendon.yorku.ca or telephone (416) 736-2100, Ext. 88150
* Glendon ENtrepreneuriat et Innovation A l'International
---
Join a Student Club
For students majoring or minoring in International Studies, the International Studies Students Association, Amnesty International and Glendon Debate Society all offer opportunities to meet your classmates, learn new skills and get peer support.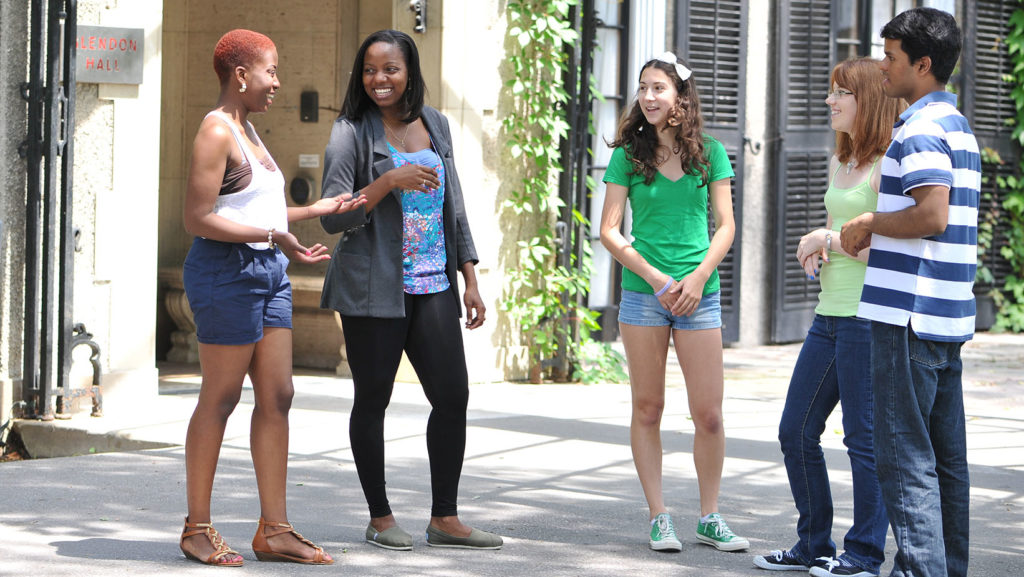 ---
Meet Our Alumni
Discover the careers some of our alumni have excelled in, and find out how their experience at Glendon gave them an advantage in the job market.

---

Apply Now!