A Bilingual Supplementary Application is an essential part of your admissions requirement for the iBA/BBA dual degree program.
This page will describe the requirements and provide the steps to follow for your submissions.
As the dual degree program is bilingual; the Supplementary Application will help the committee assess your language abilities.
You will be required to submit all the following:
A one-minute video in response to a question in English
A one-minute video in response to a question in French. 
A written response (250 words) to a question in English
A written response (250 words) to a question in French.
Steps to submit your application:
Upon applying to the program, you will receive an automatic email including the questions and the link to the Evaluation site where you will be submitting your Supplementary Application (https://eval.glendon.yorku.ca) [Be sure to check your spam/junk folders for that email].
Within 5 business days, you will receive an email from York University containing your nine-digit reference number (22xxxxxxx).
To login to the portal, use the email address you used when you applied to the program as your username and the nine-digit reference number as your password.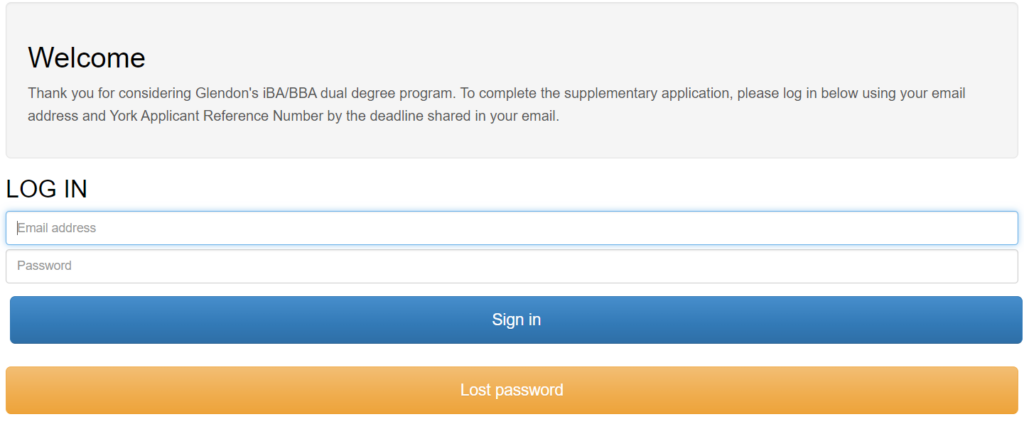 Admission decisions will only be sent to applicants who have successfully completed all requirements of their application (including the supplementary application). You cannot be considered for admission if you have not submitted your supplementary application. These decisions will begin being sent out on a rolling basis beginning the first week of February. We encourage you to submit your supplementary application as soon as possible after applying. Spaces in this program are limited and files are assessed on a first come, first served basis.
Tips for your video submissions:
It is important to remember that we're not looking for a high production value – you can film these videos on a webcam or phone, but keep in mind that the audio quality needs to be sufficient for us to clearly hear your voice and see your face.

Steps to submit your videos:
1. Create a private YouTube channel, if you don't already have one.
2. Upload your video to your YouTube channel.
3. Make sure that the video is available to those with the link (URL) by setting the privacy to unlisted. Otherwise, the members of the selection committee will not be able to view your videos, and the assessment of your application cannot advance.
Go to your My Videos page.
Select your video. Click the Edit button to access the video's settings.
Go to the Privacy section of the page. There you'll see the option to mark you video as "unlisted", "public", or "private". Select unlisted.
Don't forget to click the Save Changes button. Once you've done this your video will be an unlisted video.
You will be able to link your video on the Supplementary Application Portal