Decades from now, Juan Luis Garrido wants to say he did three things: Served as a positive representative for his communities, created opportunities for under-represented communities to share their stories, and assisted in shifting the cultural conversation around community care.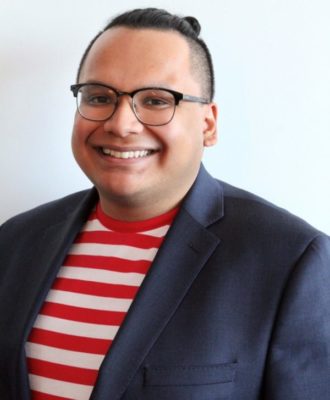 They're big goals, but he's spent the past several years picking up the skills to meet them. One place that helped him start was Glendon College, where he earned his BA in Sociology and Drama Studies. While at Glendon, he was actively involved in campus life, holding prominent roles in both the Glendon College Student Union (GCSU) and GLgbt. He also worked as a don for two years in the Glendon residence.
"I chose Glendon because I was attracted to the bilingual education. I fell in love with French in high school and wanted to continue learning it. I also loved the idea of going to campus with a tightknit community, because I wanted the opportunity to build deep relationships, many of which are still part of my life today. I found a love for digital communications and storytelling, especially as tools to create change. I've really found my voice, my place in life, and my purpose thanks to changemakers that I've had the pleasure of working with, learning from, and meeting."
One of those changemakers is sociology professor, Joanna Robinson, recipient of the 2015 Principal's Research Excellence Award. Juan calls her one of his most memorable professors at Glendon. His time in Joanna Robinson's classes feel even more relevant today given his work with non-profits and organizations dedicated to social change. 
"In my final year at Glendon, I was lucky to take three courses with her – Qualitative Methods, Urban Sociology, and Social Inequality. It really was the perfect trifecta of courses that helped led me to working with systems and individuals to affect positive change," Juan reflects. "I really appreciated how Professor Robinson helped us take sociological concepts and apply them to our current lives. She really helped connect what we were learning to the "real world", especially by allowing us to choose what topics we wanted to explore."
Merging communications and community development is a persistent theme in his professional journey to date. Outside of work, he serves on the board of directors of LGBT Youthline. Before starting at the Canadian Urban Institute, he also have previously worked as Manager of Brand Marketing and Communications at the Multiple Sclerosis Society of Canada, a personally meaningful role due to his diagnosis with MS during his first year at Glendon.
"I was honestly so scared – I'm a very ambitious person. I was scared that this diagnosis would stop all of my dreams and ambitions in their tracks. Especially since it's a condition that can be exacerbated by stress. I was a full-time student, a very involved student leader, and juggling multiple jobs at any given time. I was worried I wouldn't be able to do it all."
"But I developed a new outlook on life that prioritized my physical, spiritual, and mental health, in order to be the best version of myself to show up for my communities. I continued my pattern of being highly involved, working hard, and performing well academically, while also developing a new relationship to my health and my body."
Despite the life-changing news, Juan's ambitious energy persists. In addition to his volunteer work and full-time job, Juan is currently pursuing a Master of Design at OCAD. He hopes to apply what he's learning about systems change and strategy development to his current work of creating meaningful change through storytelling.
"I want to spend each day doing what I can to make a positive impact on the world."
Neya Abdi, BA'16 International Studies
Published in December 2020