Within our immersive, multilingual environment, you'll embark on a study of our social world — the basis for being a well-informed global citizen. Our social world has become complex and specialized, and global economic, political and cultural changes are reshaping the human experience, making it difficult to find the way forward and influence change. When you apply liberal arts skills to these challenges, studying sociology can help you discover answers and solutions.
Explore what each year of your degree could look like, as well as how you can boost your major and career options.
Wondering what each year of your degree will look like? Check it out here.
Courses
---
Throughout your degree, you'll find courses that hit all the subfields of sociology, such as Women & Religion: Sex, Spirituality & Feminine Power and Indigenous Activism, Resistance & Resurgence, and Beliefs in the Digital Age.
Our faculty members are especially recognized for their expertise in power, politics, and social movements; migration, race and ethnicity; Indigenous political thought; climate change and the environment; crime and deviance; gender; religion; and democracy and development.
View course timetables on York University's site
Course Catalogue
GL/SOCI 2510 6.0 PRINCIPLES OF SOCIOLOGY
Sociology can provide us with new and critical ways to look at the world. Shedding light on the organization of our society, it encourages us to look beyond our personal 'troubles', to see how these are shaped by broader social 'issues' and structures. This course will introduce you to the discipline of sociology, providing you not only with an overview of what sociologists have done and are doing, but also with a chance to look at the world from a sociological perspective. You will have the opportunity to examine several sociological topics, including class, race, gender, and sexuality. You will also be introduced to sociological understandings of important social processes – such as socialization, stratification, and social constructionism – and to think about how these processes shape our experiences across social domains like education, the family, immigration, deviance, social movements and electoral politics.
GL/SOCI 2520 6.0 SOCIOLOGY OF DEVIANT BEHAVIOUR AND SOCIAL CONTROL
The primary aim of this course is to energize students to engage in meaningful dialogue related to the presence of deviance in society, while taking a sociological point of view. More importantly, our discussions will also concentrate on what society should be doing to deal with the various types of behaviour called deviant. There may even be opportunities to get our hands 'dirty' doing sociology. An end goal of the course is to get students to think critically and analytically when evaluating course content and media coverage of all things deviant.
Non-conformity is a subject matter that often draws our attention. It can at times both fascinate and frighten us as we search for insights to understand why people engage in deviant deeds.
This course will concentrate on how deviant and criminal actors are socially created statuses. Not only are we interested in examining the ways in which various sociological perspectives e.g. structural-functional, conflict, labeling, ecological and social control attempt to explain the things we call crime and deviance; we are equally concerned with how society reacts to the subject matter under investigation. Our focus on societal reaction will allow us to consider whether social responses accelerate involvement in deviant and criminal acts or work to reduce participation. In addition, we will critically examine how suitable the above theoretical approaches are to the implementation of social policy at reducing the extent of deviant/criminal activities in Canada and elsewhere.
Specific areas for discussion in a lecture format will include: Defining the subject matter for sociological inquiry and issues of measurement: the role of informal and formal agencies of social control paying specific attention to the criminal justice system and its impact -the status of victims in deviant events; violence against 'weak' targets; -drug use and abuse -a fine line between conformity and deviance; addictions of various kinds, 'weird' habits: alternative lifestyles of a sexual nature; -deviant enterprises that bring in 'big bucks', and prevention and control techniques, including community based programs and restorative justice.
GL/SOCI 2618 3.0 EDUCATIONAL ORGANIZATIONS
Education is a fundamental element of the socialization process contributing to the shaping of our identities and to the worldview we come to adopt. In addition, education is often referenced as the equalizer and potential solution to a wide variety of social problems. Acknowledging the central role education holds in our changing societies, this course is designed to examine how educational organizations, policies and practices are shaped by broader economic, political, ideological and cultural forces. Adopting a critical lens and informed by a sociological theoretical perspective, students will explore and debate educational issues with a particular focus on the Canadian social context.
Furthermore, learners will have the opportunity to critically examine recent educational policies, practices and materials that have been developed with the intention to address issues of diversity and inclusion.
GL/SOCI 2630 3.0 ABORIGINAL PEOPLES OF CANADA
This course provides an overview of indigenous peoples in Canada based on three thematic orientations. (1) Indigenous identity. We will seek to understand the historical, political and legal construction of indigeneity in Canada. We will see attempts at assimilation and indigenous perspectives on indigenous identity. (2) Visions of the world. We will discuss the current organization of Canadian society and racism; We will then discuss the circular view of the world and indigenous knowledge. (3) Indigenous politics. We will discuss indigenous activism, law and treaties, the status of indigenous peoples in international law and finally reconciliation and decolonization.
GL/SOCI 2652 3.0 SOCIAL MOVEMENT AND CONTENTIOUS POLITICS IN A GLOBAL CONTEXT
In the course, we will develop and investigate some of the important literature dealing with the basic understandings we have about social movements in sociology. This means that we will be looking at two themes at the beginning of the course: typologies and history: can we speak of a generic set of conditions which produce social movements? Can we say that social movement mobilization varies by region and historical period? The search for rules is a concern for much of sociology. But sociology also speaks to the importance of a sense of justice and fairness in the development of capitalism and modernity. Social movements speak to both sides of sociology: the search for rules explaining their origins and behaviour, and also the critical importance of the assertive advocacy of interests. We'll consider ways in which social movements emerged in response to a growing industrial capitalism and then how these movements shift to articulations of group identity and belonging. We will also look at some of the literature on the democratic mobilization of interest and support with some reference to Canadian cases. Lastly, we will explore a basic question of the 21" century: with the global reach of social media and digital media giants, what impacts can we foresee on popular mobilization and organization? Will there be a dampening effect or will the internet accelerate movements into unprecedented scale?
GL/SOCI 2660 6.0 PERSPECTIVES ON HUMAN NATURE
This course is an interdisciplinary study, drawing primarily from sociology and philosophy, of a range of influential yet contrasting theories of human nature. At times basic assumptions about human nature are not made explicit in the humanities and social sciences. By examining how various thinkers in the Western tradition have conceptualized what it means to be human, students will gain insight into the diversity of and contrasts between investigations of this question. Key thinkers to be addressed include Plato, Aristotle, Kant, Marx, Buber, and Freud, as well as central existentialist philosophers such as Kierkegaard, Nietzsche, Heidegger, and Sartre.
Like modern Western culture, the humanities and social sciences are characterized by the absence of any unified perspective, and thus feature widely differing and often incompatible assumptions regarding human nature. In acquiring a familiarity with some of these main perspectives, students will be encouraged to critically assess and evaluate their cogency.
There are two overarching themes that provide the broader context for the presentation of the course material. Firstly, as Buber, Steiner, and Barrett, in particular, argue, modern Western civilization has continually faced a crisis of meaning due to the decline of Christianity, and the ascendancy of reason (the secularization thesis). Secondly, and more sociologically speaking, the possibilities for the development of the self and of self-understanding will be linked to social institutions, historical conditions, and the influence and effects of dominant social ideas and theories.
GL/SOCI 2665 3.0 EDUCATION AND SOCIETY
Education is entrenched in society as a prominent value and practice that carries billions of dollars in budget and engaging an increasing amount of time for Canadian youth. Education holds connections with societal trends and cultural norms; shifting economics, demographics and political contexts; and concepts of equity, diversity and critical pedagogy. In this course students will examine the relationship between education and wider social structures from a critical theory perspective, examining why educational systems have developed as they have. There will be a particular emphasis on examining the Canadian context with a spotlight on current events impacting the future of education within Canada and beyond.
GL/SOCI 2672 3.0 RELIGION AND SOCIETY
This course is an organic examination of how social phenomena called "religions" shape and influence societies. It uses an experiential and participative pedagogy to allow you to learn deeply about how beliefs get reified into institutions, discourses and practices that dictate and prescribe how believers conduct their lives (sexuality, dress code, food restrictions, body modifications, family patterns, money in relation to ascetism, consumerism and greed, violence against women, and fundamentalism against democracy). It will refine your critical thinking, self-reflection, and sense of observation. It will be a provocative approach that will challenge but also strengthen your own beliefs.
GL/SOCI 3210 3.0 COMING OF AGE IN A RISK SOCIETY: SOCIOLOGY OF CHILDHOOD, ADOLESCENCE, AND YOUTH
This course examines the ways in which sociologists study the process of coming of age, from childhood through adolescence to adulthood in a time when globalization is affecting the circumstances and life prospects of all. The focus of the course is upon the social determinants of growing up and transitioning into adulthood. Students will explore the main theoretical approaches to studying childhood, adolescence and youth and the main socio-economic forces structuring youth. They will discuss the major social issues faced by young people in Canada today, such as the changing nature of the transition to adulthood and will examine more closely the transition from education to work. In addition, students will have the opportunity to become familiar with models of social policy for youth, developed in Europe and North America.
GL/SOCI 3217 6.0/3.0 MOBSTERS, FRAUDSTERS, GANGSTERS AND KILLERS: POWER, LAW AND CRIMINAL JUSTICE
The primary purpose of the course is to introduce the student to some of the major issues of crime and criminal justice from a sociological perspective.
Subject matter covered during the course of the term will provide the student with a better understanding of the how, when, where and why of criminal predation and victimization within the context of Canadian society.
The course will enable participants to better comprehend relationships between societal and individual factors and criminal behaviour as they occur within our multicultural communities.
Topics to be covered in a lecture-discussion format include the following: definition and measurement issues in crime and delinquency; law and social control; the differential application of law and justice; various theoretical perspectives to explain criminal behaviour; the nature of victim-offender relationships in specific types of crime… e.g. violent encounters, global crime, white collar crime, organized crime, social policy & control (both formal and informal) of criminal behaviour. Participation in class is an important component of this course and involves more than showing up and occupying a seat. At times you will discuss the material from the perspective of different stakeholders e.g. academics, government, the public, providing analysis of the position that coincides with the group you are representing.
An end goal for all students is the ability to think critically and analytically when evaluating both course material and media coverage related to crime, criminals, victims and the Canadian criminal justice system. Cross-cultural patterns will also be considered
GL/SOCI 3225 3.0 PUBLIC SOCIOLOGY

This course examines the relationship of sociology to civil society and the public sphere. Specifically, it looks at the ways that sociologists are using sociological ideas and tools to work toward positive social change and social justice. Students will gain insight into the world of 'public sociology' and better understand the connections between academic and activist sociologies.
We begin by asking – What is public sociology? Who is a public sociologist? How do sociologists work as both scholars and advocates and/or activists? This course seeks to answer these very questions through readings and discussion. We will read competing works on the meaning, efficacy, and feasibility of public sociology. From there, the course investigates what it means to "do" public sociology by exploring several action-based case studies. Lastly, the future of public sociology will be explored with specific focus on its institutionalization and globalization.
GL/SOCI 3230 6.0/3.0 HEALTH AND ILLNESS IN CONTEMPORARY SOCIETIES: CRITICAL PERSPECTIVES

This course examines the ways in which sociologists study health, illness, health care and medicine in the context of broader social processes and issues. The focus of the course is upon the social determinants of illness and the social organization for treatment of illness. The first section of the course will focus on the health status of Canadians, the factors which determine the health and the illness outcomes in different social groups, the experience of illness, and how the implementation of health care policies in Canada is shaping these health/illness outcomes and experiences. The second section will focus on those occupational groups whose professional mandate entitles them to define both what constitutes illness and how treatment shall be implemented. The third section emphasizes both the social process by which health care users come to perceive themselves as sick and the terms in which these users articulate or fail to articulate their goals in concert with those of the healing professions.
Students will be involved in practicing the sociological methods of reasoning about health and illness, as well as in analyzing current issues in the Canadian health care system, health policy and models for health care delivery. Throughout the year, they will explore the social and political implications of health policies and will examine key health care issues as related to the Canada Health Act and health care reforms.
GL/SOCI 3325 3.0 THE SOCIOLOGY OF EVERYDAY LIFE
This course explores the sociology of everyday life both theoretically and as it applies in various empirical contexts. The first part of the course orients students to the key schools of thought in the field including but not limited to symbolic interactionism and dramaturgy (Goffman, Blumer, and Hochschild), phenomenology (Schutz) and ethnomethodology (Garfinkel), as well as standpoint
theory (Smith and Collins). The theoretical grounding in this field of micro-sociology enables students to utilize their sociological imaginations connecting everyday activities and situations as well as seemingly ordinary behaviours and things with larger structural social forces and institutions.
The course surveys a range of empirical studies including but not limited to studies of conversation, gender performance, etiquette, everyday violence, social media and new technologies. Students critically examine the taken-for-grantedness in everyday life with these examples and in so doing gain insight into our identities as social actors and the social forces that shape our lives. Questions of power and inequality are highlighted here. In the course, students will explore the methodologies of the study of everyday life. Here the focus is on fieldwork and institutional ethnography or a method of inquiry that begins with the knowledge and experiences of everyday people.
GL/SOCI 3609 3.0 WOMEN AND RELIGION: SEX, SPIRITUALITY AND FEMININE POWER

The objectives of this course are to understand feminist spirituality, women and religion and goddess worship in religious movements. One will learn the main issues, gains and struggles faced by women in religious traditions; distinguish between Judeo-Christian and Eastern approaches to femininity. One will also use sociological tools for the study of women in religion at the macro and micro levels.
GL/SOCI 3644 3.0 GLOBAL SOCIOLOGY
Global perspectives and approaches to research are becoming ubiquitous within sociology and are having a transformative impact on the discipline. This course is designed to provide students with a general overview of key issues within global sociology by engaging several of its major topic areas. The course begins by providing an outline of the field of global sociology, followed by a review of its dominant theories. The course also examines various global phenomena from a sociological perspective: globalization, transnational social movements, colonialism, development, the welfare state, democratization and the environment.
GL/SOCI 3645 6.0 SOCIALIZATION AND PERSONALITY
Within a broadly semiotic framework, the processes of socialization and personality development are examined from the standpoints of the symbolic interactionist and psychoanalytic theories respectively and with reference to such meta-theoretical debates as those among biologism, environmentalism, existentialism, structuralism and post-structuralism.
GL/SOCI 3648 3.0 MUSIC AND CULTURE IN A GLOBAL PERSPECTIVE
A survey of music tradition and practices of diverse cultures and regions, through the perspective of ethnomusicology. Guided listening Is a key component of lectures, which will also consider social context, identity, and diaspora and issues of transnationalism and globalization.
GL/SOCI 3649 6.0/3.0 SOCIOLOGY OF EMOTIONS: FROM THE INTIMATE TO THE POLITICAL

While emotions are our inner experiences, they also function as a substance of our social relations. All social relations involve emotions, from the simple face-to-face encounter, through the mobilization of social movements to the commitments that individuals develop for family and culture. Human emotions energize social change, bring u p conflicts and negotiations, and even underline social control. They both influence and are influenced by the social world. In order to understand how human emotions come to be involved in social relations in so many ways, it is important to explore how they motivate our individual conducts in social interaction, how they come to shape the behavior of people in small and large groups, and how they energize social movements. This understanding will take us into the sociology of emotions that has emerged as a distinct area of inquiry over the last thirty years. The course will examine the role of emotions in public and private life as seen through the lenses of the major sociological approaches.
Students will examine such questions as: What are the social implications and consequences of emotions? How do social organization and social institutions affect what we feel and how we express these feelings? How are emotions experienced and expressed in large social groups and how are they lived in intimate settings, such as the family? In particular, the course will address the following questions: How are emotions implicated in the construction of contrasting relationships between masculinity and femininity? What is the role of emotions in personal relationships and how this role has changed historically? Why is it that contemporary intimate relations need "emotion work"? How emotions come to be implicated in politics, economy, and corporate organizations? What is the role of "emotion work" in the contemporary labor market? What is the role of emotions in social conflict? How do emotions help us to relate to each other in everyday life, to build cohesive communities, and to mobilize in collective action? Students will examine also the role of emotions in the macro-social context
GL/SOCI 3680 3.0 LOGIC OF SOCIAL INQUIRY: QUANTITATIVE METHODS (DATA COLLECTION AND ANALYSIS)
Sociology 3680 is a course for Sociology majors and other students interested in learning about the art and science of social research. This course is an introduction to the processes and techniques necessary to conduct scientific social research. Early in the term, we will explore the nature of causation and the relationship between theory and research as well as the rationale behind using a particular method. The remainder of the course focuses on the basic research modalities used by social scientists focusing on qualitative forms of design and analysis.
A primary focus of this course is on research design. Additional coverage will be given to data analysis techniques and presentation of research findings. Upon completion of the course you should be able to a) design qualitative research projects that can answer questions of interest to you b) critically evaluate research conducted by others, and c) be aware of the complementary nature between quantitative and qualitative methods.
The course is designed to challenge you to think critically. Critical thinking involves not only describing the what, when, where, of phenomena but also the ability to compare, contrast, and link concepts, analyze scholarly presentations, be innovative – i.e. imagine different situations in which variable relationships can be redefined or changed, suggest new combinations of methodological approaches, pose new questions, etc.
GL/SOCI 3690 3.0 LOGIC OF SOCIAL INQUIRY: QUALITATIVE METHODS (DATA COLLECTION AND ANALYSIS)
This course is designed to prepare students as both informed consumers and producers of quantitative social research. It reviews the methodological basics of empirical investigation, examining the logic of causation and the relationship between social theory and research. It considers the fundamentals of social research design, including its ethical dimensions. Students are exposed to various strategies of quantitative data collection and analysis. They will put these strategies into practice through conducting a survey research project from the conceptualization phase to data collection and analysis. By the end of the course, students will acquire the ability to evaluate the strengths and weaknesses of extant quantitative research, whether in academic studies or more mainstream research that we are regularly exposed to in the media (e.g. surveys, polls, reports, etc.).
This course does not assume nor require prior knowledge of statistics. Furthermore, students who do not consider themselves math-oriented need not fear this course. The level of math required in this course is rudimentary. Understanding why certain simple mathematical operations are performed in specific contexts will be the key to mastering the statistical section of the course.
GL/SOCI 3692 6.0 THEORIES OF SOCIETY
This course seeks to provide an introduction to some of the main currents in classical and contemporary social theory in Europe and North America. The first term will be largely dedicated to the classics of sociology; the second term will examine a number of more contemporary trends in social theory. In studying the development of social theory during the last two centuries, the course adopts both a chronological and a thematic structure. As such, it presents both a primer in the history of sociology, and an exploration of some of the recurrent topics and debates among the different theoretical traditions. Familiarity with these discussions enables students to become critical participants in the sociological enterprise.
GL/SOCI 4275 6.0/3.0 BELIEFS IN THE DIGITAL AGE: RELIGION, FAITH AND SPIRITUALITY

Throughout this course, we will investigate how religion is mediated in culture through mass media and electronic media, define religion, media, culture and other keywords relevant to our interdisciplinary analysis, such as mediation theory, de-construct cultural texts through significant practices of communication, within symbolic universes and the symbolic interpretation of meaning. We will also describe individual religious experiences as their meanings are mediated and re-created through media communication, look at the role of religious institutions in the mediation processes of society and culture and observe how religion changes the face of late-modernity and participates to the re-enchantment of the world.
GL/SOCI 4601 3.0 INDIGENOUS ACTIVISM, RESISTANCE AND RESURGENCE
This course discusses the ways in which Indigenous peoples of Turtle Island have and are actively responding and resisting to assimilation policies, colonialism and state power, with a special focus on the lands claimed by the Canadian state. The course seeks to discuss how Indigenous peoples have sought to protect and assert their distinct political status, rights and cosmologies.
The objective of this course is to provide the students with a multidisciplinary understanding of Indigenous resistance and to help them develop a critical perspective, informed by Indigenous perspectives, on Indigenous political acts of resistance. Primarily, the students will develop their abilities to understand Indigenous acts of resistance and of activism in light of Indigenous worldviews and identities.
This course adopts a multidisciplinary – sociological, philosophical, political, and historical – approach in order to explore and understand the relationship between Indigenous activism and Indigenous identities. The course explores (1) significant historical moments of Indigenous resistance; (2) significant contemporary moments of Indigenous resistance; (4) significant ideas and texts supporting, justifying and elaborating Indigenous activism; (5) ways in which Indigenous worldviews inform the forms of activism and resistance adopted; (6) ways in which resurgence is a key component of Indigenous resistance and activism.
GL/SOCI 4604 3.0 GENDER, POLITICS AND CULTURE
This course develops students' understanding of the theoretical and empirical foundations that constitute the sociological study of gender. Using an intersectional lens, it examines the structuring role that gender plays in various societal domains, including everyday social interactions, culture and media, production and reproduction, nationhood and citizenship, and politics and diversity.
At the end of this course, students will be able to: 1) Understand and critically discuss the importance of gender using a sociological lens; 2) discuss how gender relations inform and are shaped by: colonialism, the production of nationhood and citizenship, patterns of paid and unpaid work, and cultural representation; 3) critically analyze and articulate the ways that gender intersects with other relations of power, namely, race/ethnicity, class and nation; 4) Apply course material to societal debates and daily life experiences that involve local and global gender issues.
GL/SOCI 4605 3.0 SOCIOLOGY OF MASCULINITIES: FROM IRON JOHN TO BUCK ANGEL
Drawing on second-wave feminist critiques and insights with respect to the social construction and historical configurations of gender, the field of masculinity studies explores the continuously evolving and diverse forms of masculinity in modern societies. This course critically engages students with the core concepts, such as hegemonic masculinity, the patriarchal dividend, and homosociality, as well as the key debates, such as the "end of men," "war on boys," and "crisis of masculinity" theses, that structure and animate research in the field. Specific topics addressed include working-class, ruling class, gay, trans, and racialized masculinities, as well as male femininities and female masculinities. The central questions of power and inequality between men and women, and between different groups of men, as well as the prospects for progressive social change, provide the critical framework for the investigation of the course themes.
GL/SOCI 4620 3.0 URBAN ENVIRONMENTALISM & URBAN SOCIOLOGY
The course examines two major trends: The increasing urbanization globally and the environmental challenges facing cities in the twenty first century. During the course students will examine the history of cities, their social and spacial structure, their impact on the environment as well as the economic, political, social and cultural dimensions of cities. The course explores themes of urban poverty, inequality, crime and policing, neighbourhood social organization, sprawl, segregation, environmental justice, climate change, social policy and the growing environmental challenges and opportunities of increased urbanization.
GL/SOCI 4632 3.0 WORK IN A WARMING WORLD: ISSUES IN WORK, LABOUR AND CLIMATE CHANGE
This course focuses on the societal decisions which influence the future of climate change, and on the double role of the world of work in slowing climate change. We focus on the role of work for three reasons. First, the production processes of white-collar as well as blue-collar, private sector as well as public sector work, are a major source of greenhouse gas emissions. Second, workers of every skill level know where the causes of greenhouse gases– the carbon hotspots– are in their workspaces and know how their work can be changed to reduce greenhouse gasses. Third, labour unions form the largest member-based organization in Canada and in other industrialized countries. Unionised workplaces may now be major producers of GHGs, but the unions have legally established rights to protect the occupational health and the safety of workers and workplaces. Global warming is certainly a threat to health and to safety for the community as a whole.
GL/SOCI 4642 3.0 INTERNATIONAL PERSPECTIVES ON RACE AND RACISM
Despite the predictions of some of the founding theorists of sociology, racism, race and ethnic conflicts, inequalities and identity formation processes are not things of the past. They are prevalent processes of our modern world.
The objective of this course is to explore key themes of race and ethnic relations research from an international perspective. While Canadian race dynamics will be discussed as often and as thoroughly as possible, the international perspective we take in this course will allow students to appreciate important national and local disparities, and therefore better grasp the specificities of the Canadian context, and apprehend the global nature of today's race and ethnic relations.
Some of the topics that the course examines are theories of race relations; examination of various forms of contemporary racisms; race and ethnic identification processes; intersecting forms of inequalities; anti-racist movements; multiculturalism.
GL/SOCI 4667 3.0 THE SOCIOLOGY OF INTERNATIONAL MIGRATION: CONTEMPORARY ISSUES AND DEBATES
Global migration is among the most contentious phenomena of our times. This course begins with an overview of contemporary debates on migration and refugee studies. It then discusses key issues (i.e., border security politics) shaping today's multifaceted realities of international migration.
GL/SOCI 3110, 4000, 4100, 4110
These courses are available to students who wish to do individual specialized work in an area not specifically covered in the regular course offerings. However, the availability of faculty members to supervise these courses fluctuates from year to year. Regulations and procedures for enrolment are as follows:
A. General Guidelines and Procedures
1. Individual reading and research courses are normally available only to students earning a Glendon degree, with a major or minor in sociology. The Honours Thesis Course is open to fourth-year students only.
2. Permission to enrol in GL/SOCI 3110, 4000, 4100 and 4110 is given by the Sociology Department as a whole. Students having less than a cumulative B average in sociology will not normally be permitted to enrol in these courses.
3. Students interested in these courses must first find one or more members of the Sociology Department to act as course supervisor(s). The student must then submit to the Chairperson of the Sociology Department by no later than the end of registration week in September, a brief synopsis of her/his course proposal, describing the research or theoretical issues to be investigated and relevant bibliography.
4. The Chairperson will inform students of the Department's decision as soon as possible. Until permission to enrol has been given, students are advised to select another course in order to complete their enrolment. However, students must officially drop any undesired courses as soon as permission to enrol in an individual study course has been given in order to avoid paying additional fees. (See the Student Programs Office for information on the relevant accounting deadlines.)
5. A progress report on students' work in these courses will normally be made by the course supervisors to the Department prior to the annual College deadline for withdrawal from courses without penalty. Students who are not satisfactorily progressing will be asked by the Department to withdraw from the course.
B. Regulations Applying to Individual Reading and Research Courses
1. Individual Reading Courses will not normally be offered in areas already covered by the regular sociology curriculum offerings. Students wishing to take a reading course in an area which is similar to but more specialized or more advanced than a course in the regular curriculum must have taken the regular course previously or must take it concurrently.
2. Students wishing to enroll in Individual Research Courses must have taken previously or must take concurrently the course offered in the regular curriculum which relates most centrally to the issues to be researched. For example, a student who wishes to conduct research on familial relationships must have taken or must take concurrently Sociology of the Family.
Note: Students are encouraged to seek the advice of their proposed course supervisor(s) in meeting these requirements.
C. Regulations Applying to the Honours Thesis Course
1. Students interested in doing an honours thesis course must submit a thesis proposal to their proposed thesis supervisor prior to the last day on which a change of courses is permitted without penalty.
2. A committee consisting of the supervisor and at least one other member of the York sociology faculty will decide, on the basis of the following criteria, whether the project may be conducted as an Honours Thesis or as an Individual Research project under course number GL/SOCI 3110 or 4110.
a) The candidate's proposed thesis topic must be in a field in which the student has already had relevant academic training or experience.
b) The candidate's past academic record and thesis proposal must show promise of ability to achieve a grade of A in this course.
3. The candidate's grade will be decided by the committee designated above.
Note: GL/SOCI 3110, 4000, 4100 are available for full-course and for half-course credit.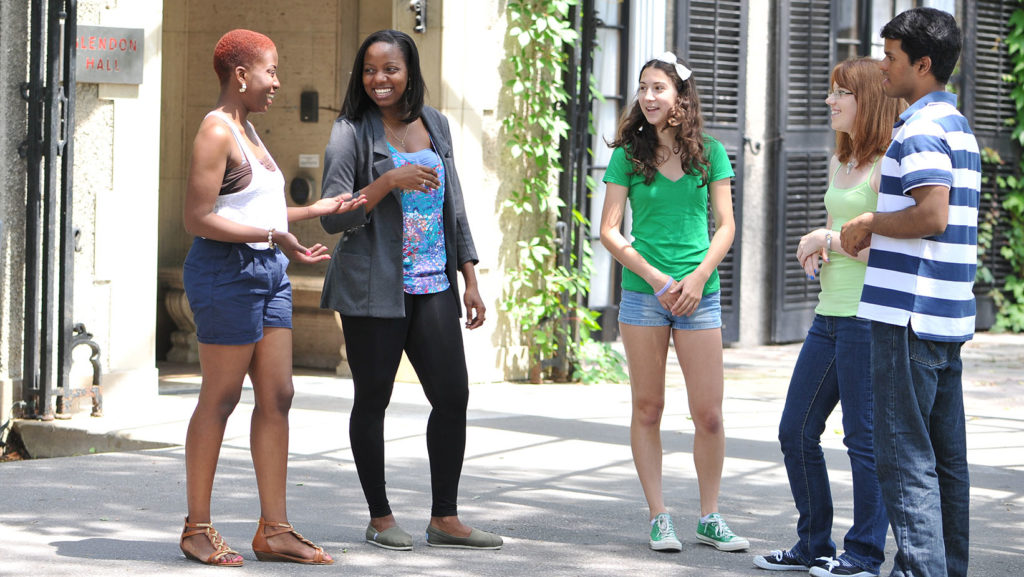 Degree Types & Program Requirements
The Sociology program offers the following degree types and certificates:
Specialized Honours BA/iBA
Honours BA/iBA
Bachelor of Arts
Minor
The Sociology program is also available as a bilingual or trilingual international Bachelor of Arts.
This program is also available as a Glendon BA, with flexible language requirements.
Book an Appointment with an Academic Advisor
View Academic Calendar for program requirements
Certificate in Refugee and Migration Studies
The state of the world's refugees has become an issue of global importance. Forced migration is affecting vast numbers of people who find themselves victims of exclusion — and who are often denied a place of asylum.
This certificate program investigates the causes of forced migration, the ethical and legal issues involved, the impact on individuals and refugee communities and the implications for the wider society.
Other Program Details
Student Awards
We want to recognize your academic success and commitment to excellence in the Sociology program. Not just a financial boost, awards and scholarships are a great way to show your hard work on your resumé and university transcript. Check out the available awards, which include the Florence Knight Scholarship and the Sociology Book Prize.

---