Rima Issa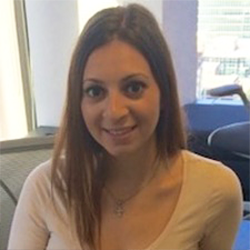 Human Resources Coordinator, TD Bank
Human Resources Management, Bachelor of Human Resources Management (BHRM), Honours 2013

Choosing my undergraduate major was not easy, but choosing where to complete it was easy. York was always a top choice when I was applying, but when I found out about the school of HRM at York, there was no further debate. I wanted a program that would not only provide me with HR knowledge, but also prepare me for the workforce. Having reviewed the program details, I was confident it would do just that. Now after graduating and enjoying a career in HR, I can confirm that it did.
After graduating I became an HR Assistant at TD Bank, where I worked on projects including enhancing HR "pipeline" strategies. While in this role I drew upon my academic knowledge to streamline processes and create greater efficiency. I took on many initiatives such as restructuring the vendor management process. Shortly after, I was promoted into the role of HR Specialist. In this position, I provided all active and retired employees with support on unit-specific and bank-wide policies. The interpersonal skills and knowledge I developed through the SHRM program helped me to "stand out" and undoubtedly contributed to my success in becoming an HR Coordinator - the next role in my HR career. As an HR Coordinator, I worked with a specialized team to manage all employees and processes related to disability leaves.
I have since moved to France to complete my Masters in International Human Resource Management, and obtain international work experience. As part of my program I am concurrently completing an internship at Amazon where I work in HR Data Analytics. The School of HRM at York provided a great foundation that not only taught me the knowledge I needed to succeed but also how to apply it to my own line of work.
Browse more Alumni profiles