Roland Daley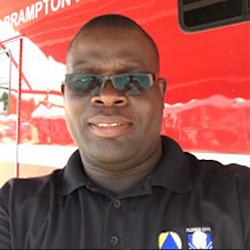 Emergency Mangagement Advisor and Coordinator of Community Emergency Response Volunteer Program, City of Brampton
Graduate Program in Disaster & Emergency Management, Master of Disaster & Emergency Management (MDEM) 2011

Roland Daley is an emergency management advisor. His primary area is public education where he promotes emergency preparedness to all residents. Roland is also the coordinator of the Community Emergency Response Volunteer program, a community-based program run by the City of Brampton Emergency Management Office and is made up of Brampton residents who support the emergency management program.
He joined the City of Brampton Emergency Management Office in 2016. His professional experience includes working as a career firefighter in Jamaica for the Jamaica Fire Brigade.
He is also a member of the Disaster Recovery Information Exchange (DRIE), Toronto Chapter, and also sits on the Office of the Fire Marshal & Emergency Management Public Education Advisory Group.
Roland earned a Bachelor's Degree in Fire & Emergency Service with a specialization in emergency management from John Jay College in New York and a Master's Degree in Disaster & Emergency Management from York University in 2011. Roland also holds a number of certifications in emergency management.
Browse more Alumni profiles