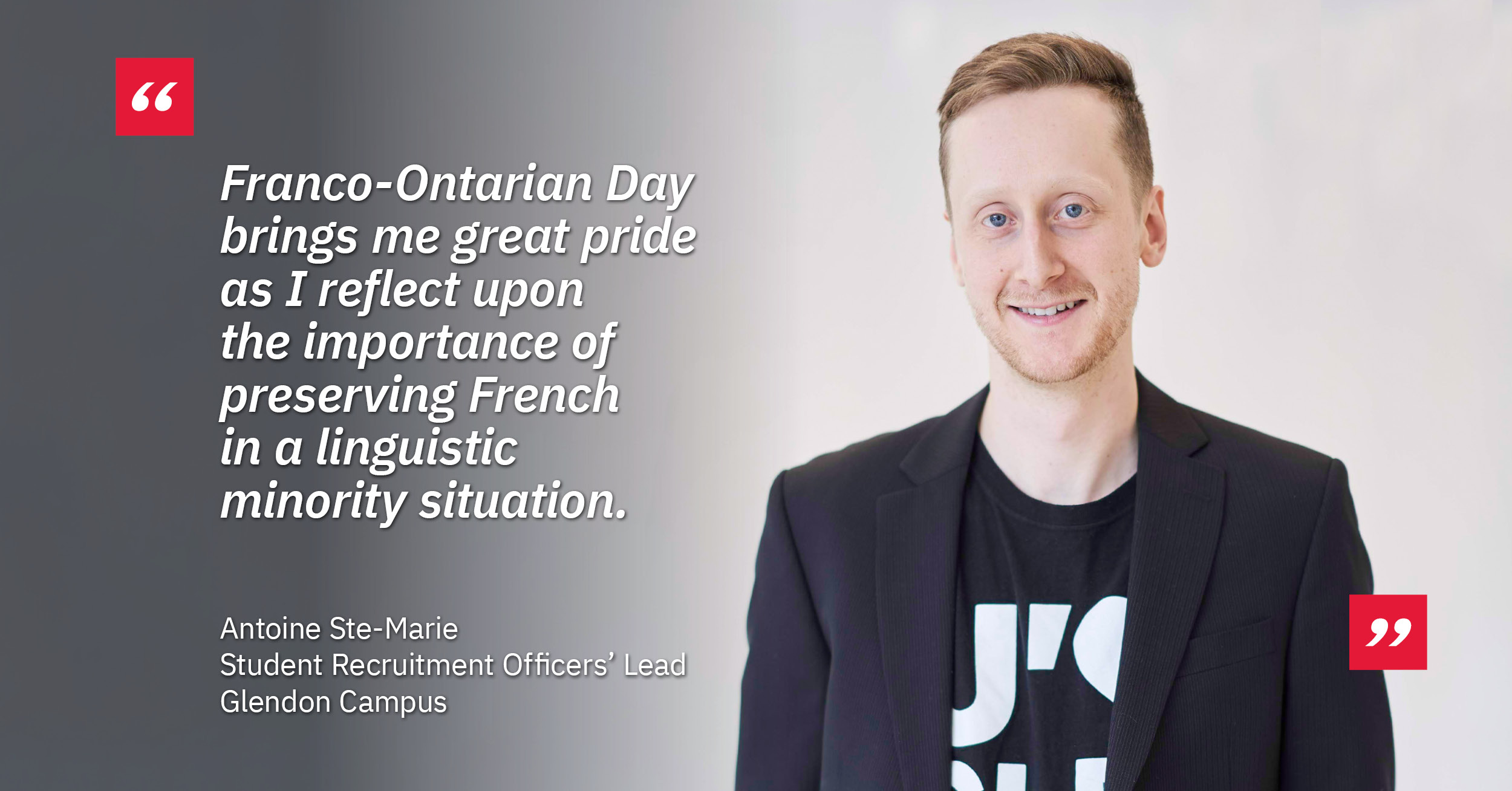 "Franco-Ontarian Day brings me great pride as I reflect upon the importance of preserving French in a linguistic minority situation. I appreciate the French community and its members who advocate for the rights of francophones and francophiles. When I was growing up, I never really knew that this existed in Toronto and was overjoyed when I first came across the Glendon campus at York University. 
Growing up in small-town anglophone Ontario, sticking out due to your French name or language can be difficult at times. Speaking in French with my siblings and friends from school was a big help but there were moments when we would get funny looks around town. I am so fortunate that my father made me feel proud to be French.
It also helped that both my parents were French teachersand I grew up in a bilingual household. Living in Ontario, my father would often say "une langue, ça se perd" which translates to a language, can be lost. I feel like I must decide every day to keep and cherish these Franco-Ontarian values. Now as new parents, my wife and I want to pass this gift onto our daughter.
I am now working at Glendon as a Student Recruitment Officers' Lead. Being surrounded by people who share the desire to improve and preserve their language, while actively engaging in the cultural aspects through eventshas been amazing. I have been making positive change in our community and participated in a panel about language insecurity during la semaine de la Francophonie at Glendon where I heard about very similar experiences. These were shared by people from a wide variety of francophone and francophile backgrounds.
Professionally, I know firsthand how being bilingual can make you stand out in the Ontario job market, and even more specifically Toronto. Every day, I work in French and English to promote the value of a bilingual York University degree. I am a big believer!
I'm immersed in a Franco-Ontarian culture here that has so much to offer – hearing different French accents in the hallways and making connections within Toronto's diverse Francophone community. For example, it was meaningful for me to participate as a mentor in the ProjetConnexion this past year where I was matched with a few Glendon students to help them improve their French through weekly informal conversations.
My role at the University calls for me to showcase this community to future students who are considering studying in a bilingual environment. To do so, I often collaborate closely with professors, staff and current students. It means that I am constantly discovering what being Franco-Ontarian means to different people. I have my story, I am keen to share it and hear from others about theirs.
Bonne fête des Franco-Ontariens!"
Antoine Ste-Marie
Student Recruitment Officers' Lead, Recruitment
Glendon Campus