Geopolitics of Education for Peace (GEP) is a collective project conducted by a group of international scholars and activists with roots in the Global South. This project is part of a multi-year, international SSHRC Insight Grant titled, Subalterity, public education, and welfare cities: Comparing the experience of displaced migrants in three cities [Havana, Toronto, Kolkata] led by Ranu Basu, principal investigator.
GEP brings together multiple accounts, stories, and critical spatial insights to highlight some of the ways in which educators and urban communities extending from Cuba, Brazil, Colombia to India, Toronto and beyond, have historically resisted structures of oppression and continue to politically redefine geographical imaginaries and questions of sustainability through unique practices of education for peace.
Geopolitics of Education for Peace (GEP) conceives of urbanization and education (formal to the informal) as critical pedagogical spaces for social transformation and intervention, historically rooted in anti-racist, anti-imperialist, and anti-colonial collective struggles. These frameworks form the critical foundational basis for GEP.
The various projects explore themes of power, space, and activism by focusing on urban questions of forced migration and geopolitical displacement; critical geographies of education; and the spatial realities of redistributive justice. Collectively GEP envisions cultures of peace within the multiple spheres of education.

Learn More
---
Case Studies: Summaries
Subalterity, Education and Welfare Cities
The research traces the geopolitical impacts of forced displacement on cities and schools through questions of conflict and displacement in Havana, Toronto, and Kolkata. It explores the interrelationship between the quality of state-based education, the subalterity of displacement, and the implication of these issues on the urban public realm. All three of these sites –post-welfare (Toronto), post-socialist developmentalist (Kolkata), and post-revolutionary communist (Havana) educational infrastructures – are in the midst of complex urban transitions deeply connected to the geopolitics of displacement that create their globalities (whether through forced migration, sanctions/blockades, or exile). The research unpacks the historical conditions with theoretical links to the present through the lens of anti-imperialist and postcolonial geographies.
Resistance and Empowerment in a Necropolis: Fighting Educational Inequality in Brazil through Popular Education
The project explores the links between popular education, empowerment, and development in Sao Paulo, Brazil. It provides a glimpse into the stories of youth from periferias and academic spaces who have come together through community-based college entrance exam preparatory programs to not only democratize education but also provide counter-hegemonic knowledge to black and poor youth and empower them. The research shows that despite structural challenges and obstacles related to power dynamics on the ground, these programs play an important role in opening the doors to higher education to racialized youth and redefining the city by creating new black geographies.
"Second-chance" Education: Re-defining Youth Development in Grenada
During the Grenada Revolution (1979-1983), education was emphasized as a tool for national development catered to addressing colonial inheritances, and socioeconomic divisions. However, with the end of the Revolution and the subsequent American invasion, the nation's education and development shifted towards a regional cooperative project outlined by CARICOM goals and policies. In particular, these efforts aimed to create an "Ideal Caribbean person/citizen/worker" so as to stimulate participation in the global marketplace. Considering the relationship between regional frameworks, national policies, and local practices, the study sets out to examine how youth (16-24) in postcolonial and postrevolution Grenada interpret institutional targets through the role of "second-chance" education and training organizations.
Forced Displacement and Racialization in Colombia
The study compares the differential processes of racialization from a Colombian perspective experienced by three groups of displaced migrants in the global North and South. First, internally displaced persons (IDPs) who have been forced to move to the Coffee Region in Colombia after leaving their homes in rural regions between 2000 and 2015. Second, Colombian refugees who had similarly sought asylum in Toronto, Canada, and who migrated between 1997 and 2004. Third, Venezuelan migrants who arrived in the Coffee Region in Colombia between 2014 and 2018 due to the deteriorating living conditions and crisis in Venezuela. This research contributes to further theoretical debates on critical geographies of race, postcolonial geography, and urban geography in relation to forced migration. The objective of this research is to question understandings of race and racism, particularly how space and mobility affect the dynamics of racialization through such diverse experiences of forced displacement.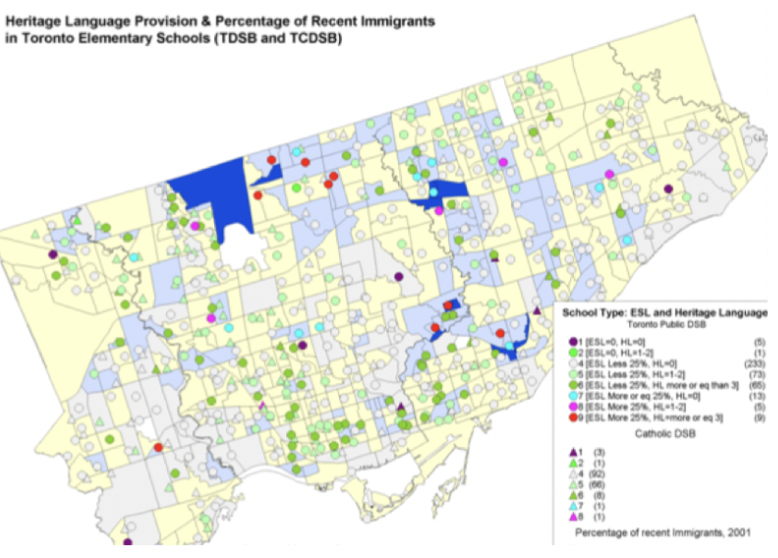 Critical Mapping of Education Spaces in Scarborough, Toronto
This research explores the ways in which 'integration' is practiced and understood in Scarborough, Toronto, by looking at a group of diverse immigrant and refugee communities that live and work in this part of the city. Based on past research, this study seeks to understand the different ways that integration has evolved (or is hindered) through local institutions. These are articulated as unidirectional, reciprocal, or multifarious spaces of integration (Basu, 2011) where the plurality of cross-cultural exchanges take place. It aims to contribute to a theoretical understanding of how public spaces relate to integration and potential implications for Scarborough and other diverse cities that host large numbers of newcomers.
Critical Geographies of Education (EU/GEOG 4700)
School-Community Relations - Student Projects 2022
The purpose of this student-led project was to collectively gain a preliminary understanding of school-community relations within the challenging context of the pandemic by exploring local schools in the Toronto region. Through this exercise students in Critical Geographies of Education at York University (EU/GEOG 4700, 2022) gained an appreciation of the different challenges that communities faced in relation to other schools; and the creative measures undertaken by schools to overcome these challenges. The results were presented in a series of posters and infographics geo-linked to a map of the region.
Exploring the Role of Gender Responsive Policy Making in Mitigating the Impact of COVID-19 on Women: The Case of Kudumbashree, Kerala
This project explores the role of gender responsive policy making in mitigating the impact of COVID-19 on women in Kerala, India by tracing the journey/evolution of Kudumbashree women, a women's solidarity network and flagship poverty alleviation program. During the initial stages of the pandemic, Kerala's COVID-19 response had grabbed global attention and the contribution of Kudumbashree - which was an active and critical partner in the state's COVID-19 response planning.