The Macro Problem with Microplastics
There's a good chance that you may have eaten some plastic today. That's because our over-reliance on plastics comes at a tiny but incredibly pervasive cost: microplastics. Tiny pieces of plastic that can last in the environment—and our water supply—for centuries.

Watch York University's first micro-lecture. Learn how York Professor, Dr. Shooka Karimpour and an interdisciplinary team are working to uncover how microplastics journey through and impact our ecosystem. Find out how you can drive positive change to help Right the Future.

Learn more about Dr. Karimpour's research here.
Watch full micro-lecture, the macro problem with microplastics
This mini lecture hall structure was constructed with plastics recovered from Lake Ontario.

It's because of important research like this that the University was recently named a global leader in this year's Times Higher Education Impact Rankings, excelling in several areas related to the United Nations Sustainable Development Goals (SDGs). Learn more about the University-wide challenge to create positive change here.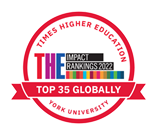 Highlights
See photos below featuring the structure that was constructed with plastics recovered from Lake Ontario.