This is an effort to build respectful and inclusive relationships with the Black community at York University including faculty, instructors, staff, students and alumni. The Framework on Black Inclusion is built on the foundational work of many individuals who have done important work to advance equity and inclusion through research, curriculum, service and programming.

In recognition that organizational change must be responsive to and inclusive of Black faculty, instructors, students and alumni, this Framework signals York University's commitment to addressing systemic anti-Black racism and white supremacy that pervades academia.
The Framework is followed by The Action Plan on Black Inclusion which outlines a series of strong, accountable and action-oriented commitments that York is making to combat anti-Black racism.
Learn more about the framework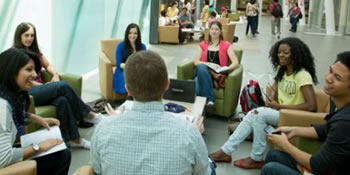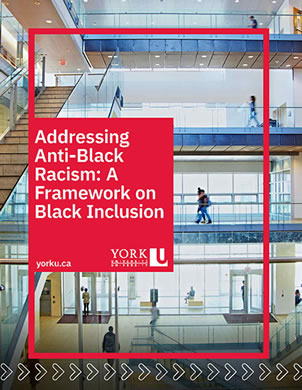 It is important to acknowledge the many and significant contributions made by those who courageously stepped forward, engaged in dialogue, provided feedback and assisted in facilitation and drafting of the Framework and accompanying Action Plan on Black Inclusion. From June 2020 through to February 2021, President and Vice-Chancellor Rhonda L. Lenton, VP Equity, People and Culture (EP&C) Sheila Cote-Meek and Professors Carl James and Andrea Davis combined met with more than 200 members of the Black community at York as part of their consultation work.

This involved more than 30 individual and group meetings with Black community members including Black student leaders representing York Federation of Students (YFS), York United Black Students' Alliance (YUBSA), York University Graduate Students' Association (YUGSA) and Glendon student government. The consultations also included the Glendon Race Equity Caucus, York University Black Alumni Network (YUBAN), the Race Equity Caucus (REC) of YUFA, the African Studies program faculty, Black contract faculty and Black staff from all areas of the university.  

There was also a total of 14 letters sent to President Lenton and/or VP EP&C including from YFS and the Harriet Tubman Institute.
A special thanks is due to Professors Carl James, Senior Advisor on Equity and representation in the division of EP&C and Professor Andrea Davis, Special Advisor on Anti-Black Racism Strategy in the Faculty of Liberal Arts & Professional Studies, for their assistance in this work.
During consultations, many experiences were shared about the challenges that Black peoples confront on our campuses including lack of representation, personal and emotional safety, daily experiences of racial harassment, exclusion, discrimination, lack of representation, lack of respect, and barriers to academic and career advancement. Students also spoke of the impact of not seeing themselves reflected in faculty, instructors and leaders at York, and of systemic barriers to their academic and personal success. Many individuals shared suggestions on creating greater opportunities for inclusion and the addressing systemic barriers to success.
The first draft of the Framework was written to be broad and applicable to all Faculties, Divisions and units of the institution as they undertake their own work to address anti-Black racism. The initial draft was shared with key Black community members in consultations held throughout October and November 2020. The need for action and accountability was identified early on in these consultations. The framework was presented to the Senior executive of the University and accepted by the President in February 2021.

The Action Plan was drafted to accompany the Framework in December 2020 through to January 2021, with another round of consultations with Black community members from January through to February 2021 for additional input and feedback. Community-wide input on the Draft Action Plan was invited and a virtual community town hall was held in March 2021. York's first Action Plan on Black Inclusion was launched in December 2021.