UPSA ELECTIONS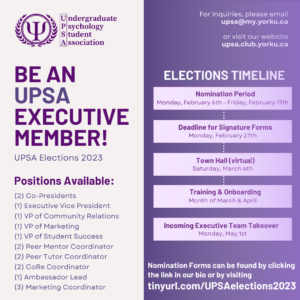 The Undergraduate Psychology Student Association is recruiting executive members for the 2023-2024 academic year! This is a great opportunity to develop leadership and collaboration skills, network with staff, faculty, alumni, and students, and contribute to the enhancement of York's Psychology community.https://tinyurl.com/UPSAelections2023 to access the nomination form. Nomination forms are due by Friday, February 17th, 2022 at 11:59 PM EST. Other important dates:
Visit 
Signature forms must be emailed back to UPSA by Monday, February 27th, 11:59 PM EST
Town Hall will be on Saturday, March 4th, time TBD.
Training and Onboarding will happen in the months of March and April.
The incoming executive team will take over on Monday, May 1st.
Good luck to everyone!