YU Rock
Recognizes employees and teams for great work and going above and beyond!
The YU Rock (pronounced "why you rock") is a monthly employee recognition program acknowledges employees and teams for great work and going above and beyond their normal job duties. This program provides all York University community members (e.g. staff, student, visitor) with the ability to acknowledge a job well done by any Facilities Services, Ancillary Services, Human Resources & Labour Relations employees.
Criteria and Submission
YU Rock accepts nominations for any Facilities Services and Ancillary Services employee based on nine criteria:
Service Excellence
Positive Attitude
Initiative
Volunteerism
Innovation
Teamwork
Health & Safety
Leadership
Other (for example commitment)
All YU Rock nominations that meet the program criteria will be recognized and receive a YU Rock certificate of recognition. One of the YU Rock recipients will be selected by random draw to have a spotlight on them, which is a short profile on their nomination or a short biography. A communication of the spotlighted employee along with a listing of all the certificate holders will be posted out via the Facilities Services and Ancillary Services web page, the YU Rock MySites for internal Facilities Services and Ancillary Services employees and the designated union posting boards. The YU Rock Spotlight also gives us an opportunity to get to know our Facilities and Ancillary colleagues.

YU Rock nomination forms can be found electronically for online completion and submission. Paper copies can be picked up and dropped off under the job posting board outside PRB 1055 or by HR Services and can be dropped off in any internal mailbox or outside of PRB 1055.
If you have any questions about the YU Rock employee recognition program you can send an email to yurock@yorku.ca or contact Catherine Moon-Chong at 416-736-5317.
Spotlight
The January 2021 YU Rock Spotlight goes to Remigio Ocampa for Teamwork and Leadership.  Remigio's nomination and selection as a YU Rock recipient is for his ability to use a team approach to work as well as to truly lead by example. He shows up to work, is fully present and dedicated to ensuring the success of the team he leads.  Remigio has worked at York University for almost 3 years. Something you might not know about Remigio is that he has a very intriguing past in Dubai at a very famous hotel.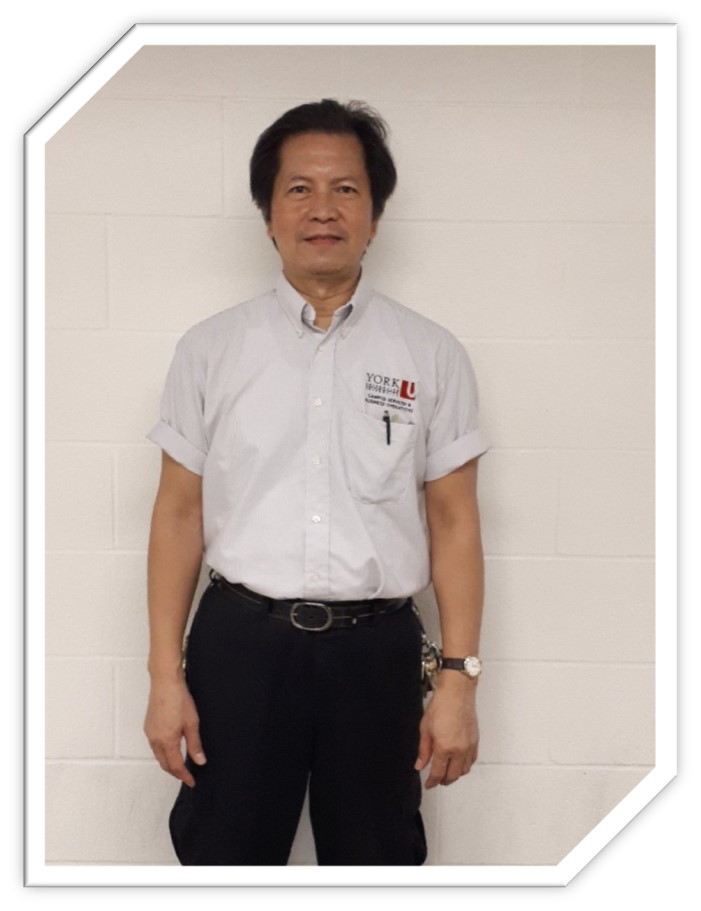 Recipients
The list of YU Rock recipients for January 2021 is:
| | |
| --- | --- |
| Remedios Gerard - Initiative | Joyce Mensah - Teamwork |
| Ariel Moreno – Initiative | Olga Munoz - Teamwork |
| Francis Abas - Teamwork | Jose Padua - Teamwork |
| Patience Asabere - Teamwork | Jennifer Panabang - Teamwork |
| Maria Carnavale - Teamwork | Jorge Padua - Teamwork |
| Blossom Garraway - Teamwork | Roman Sak - Teamwork |
| Angelina Kamalando - Teamwork | Giridaran Thamalingam - Teamwork |
| Kumutha Kulathilagan - Teamwork | Thangarany Velauthipillai - Teamwork |
| Grace Chui - Leadership | Alvara Villarta - Teamwork |
| Marsha Willliamson - Leadership | |
Remember to visit Facilities Services or Ancillary Services websites, or YU link under My Sites, YU Rock Employee Recognition Program to nominate someone today!