---
Research activity between York University and the US can be characterized as intensive and highly connected. According to SciVal data, between 2016-2019, 1,752 publications were co-authored between York University and 544 collaborating institutions in the US.
Bilateral student exchange activity between York and US is relatively minimal - 4 incoming American exchange students; 3 outgoing York exchange students - in the last three years. However, there is a substantial number of American (international) students at York as of Winter 2019: 54 graduate and 107 undergraduate students.
Visit of US Consul General and meeting with President Rhonda Lenton, Sep 2019
Lassonde Internships
January 2019: Rashmeet Singh, a third-year international computer engineering student from India, and Mahrus Kazi, a third-year electrical engineering student from  Mississauga, Ontario, are the first students from Lassonde to land co-op positions at Tesla, an American automotive and energy company headquartered in Palo Alto, California.
October 2018: Eight (8) Lassonde students participated in the Lassonde Co-op & Internship Program's Tech Tour in Silicon Valley, California, where students visited some of the world's largest tech companies including Tesla and Google led by Robert Eichvald, Associate Director, Co-op Program and Business Opportunities.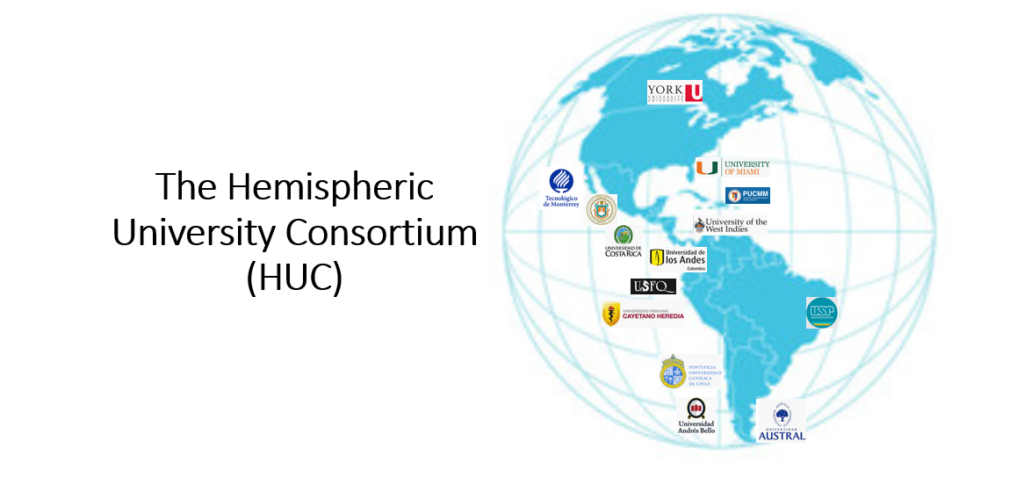 Hemispheric University Consortium (HUC)
Launched in 2018 and coordinated by the University of Miami, the HUC facilitates problem-based collaborations in education and research to generate the knowledge and solutions necessary to confronting key challenges facing the hemisphere and the globe, including: Public Health and Wellbeing, Climate Change, Sustainability, and Resilience, Entrepreneurship and Inclusive Innovation, Crime, Conflict, and Corruption, and Technology and Innovation for Education.
Costa Rica
Las Nubes Eco-Campus
The Las Nubes Project aims to contribute to community well-being in ways that are compatible and conducive to environmental conservation.
The courses – taught by York faculty – take a community-based approach, developing collaborative projects that provide learning opportunities and are open to all York University students (undergraduate 3rd and 4th year, and graduate).
The Faculty of Environmental Studies offers a Reading Week course and a full Summer Semester at Las Nubes.