How to Reach us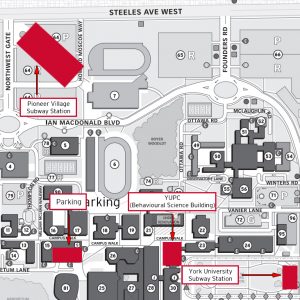 Emotion-Focused Therapy Clinic (EFT)
Behavioral Sciences Building
Reception Room 104
4700 Keele Street
Toronto, ON M3J1P3
416 650 8488
efclinic@yorku.ca

For more detailed information about where the clinic is on the campus, refer to the Campus Map [PDF]
Directions to the Clinic
The Keele Campus of York University is now accessible by subway. The station closest to the clinic is York University Station.
If you need to access the campus via TTC buses - they will take you to the Pioneer Village Station and while you can walk to the clinic from this station, you may prefer to take the subway south one station to be closer and have less of a walk.
For additional information about Go, ZUM, and YRT public transportation and the campus refer to the Transportation Services page on the York website.
Take Hwy. 401 to Keele Street
Exit at Keele Street and go north
Follow Keele Street north of Finch Avenue (the campus is on your left)
Turn left at Pond Road to enter York University
Follow Pond Road around the campus to Arboretum Lane (Aviva Centre Tennis Stadium and Shoreham Drive to the left and Arboretum Lane to the right)
Turn right onto Arboretum Lane and follow this to enter Arboretum Parking Garage (Please Note: York University Parking operates using the HONK Mobile App. Tickets are purchased within the app - clients will receive a reimbursement code at your session)
Exit parking garage at Stairway #2 and you will be at Campus Walkway where there are signs indicating how to get to the clinic that is in the Behavioral Science Building (reddish-brown brick with beige stucco building at end of walkway)
Enter Behavioral Science building and go to Rm 104
Take Hwy. 400 south to Hwy. 7
Exit onto Hwy. 7 and go east
Follow Hwy. 7 east to Keele Street
At Keele Street go south to Steeles Ave.
Make a right turn onto Steeles and continue west to the Founders Road entrance to York University (1st set of stoplights)
Turn left to enter the campus at Founders Road
Turn right onto Ian MacDonald Blvd and follow it around the campus to the 1st set of stoplights (across from the Aviva Centre Tennis Stadium)
Turn left at stoplight onto Arboretum lane and follow this to enter Arboretum Parking Garage (Please Note: York University Parking operates using the HONK Mobile App. Tickets are purchased within the app - clients will receive a reimbursement code at your session)
Exit parking garage at Stairway #2 and you will be at Campus Walkway where there are signs indicating how to get to the clinic that is in the Behavioral Science Building (reddish-brown brick with beige stucco building at end of walkway)
Enter Behavioral Science building and go to Rm 104
Take Hwy. 400 north to Steeles Avenue
Exit onto Steeles Avenue and go east
Follow Steeles Avenue East to the Founders Road entrance to York University
Turn right at Founder's Road entrance
Turn right onto Ian MacDonald Blvd and follow it around the campus to the 1st set of stoplights (across from the Aviva Centre Tennis Stadium)
Turn left onto Arboretum lane and follow this to enter Arboretum Parking Garage (Please Note: York University Parking operates using the HONK Mobile App. Tickets are purchased within the app - clients will receive a reimbursement code at your session)
Exit parking garage at Stairway #2 and you will be at Campus Walkway where there are signs indicating how to get to the clinic that is in the Behavioral Science Building (reddish-brown brick with beige stucco building at end of walkway)
Enter Behavioral Science building and go to Rm 104
Take Hwy. 407 to Jane Street
Exit at Jane Street and go south to Shoreham Drive (1st street south of Steeles that runs east off Jane)
Make a left turn onto Shoreham Drive and this road will lead you unto the York Campus
As you will pass an intersection that has the Aviva Centre Tennis Stadium on the right-hand side, Shoreham Drive's name changes to Arboretum Lane
Stay to the right on Arboretum Lane and follow this to enter Arboretum Parking Garage (at end of the road, entrance on the left-hand side - Please Note: York University Parking operates using the HONK Mobile App. Tickets are purchased within the app - clients will receive a reimbursement code at your session)
Exit parking garage at Stairway #2 and you will be at Campus Walkway where there are signs indicating how to get to the clinic that is in the Behavioral Science Building (reddish-brown brick with beige stucco building at end of walkway)
Enter Behavioral Science building and go to Rm 104