Home
»
Thulasi Thedchanamoorthy
Thulasi Thedchanamoorthy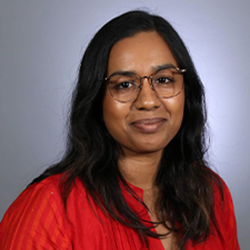 Senior Manager, Finance, TMX Group Ltd.
Commerce, Bachelor of Commerce (BCom)
Accounting

Thulasi Thedchanamoorthy is a skilled communicator with over 12 years of progressive financial planning and analysis experience providing insights, analysis and decision support to business units and corporate functions through superior relationship building skills and comprehensive knowledge of finance and operations
Her areas of strength include budgeting & forecasting, business case analysis and decision support, management reporting, IT cost allocations, impairment testing, financial modelling, project portfolio governance.
Thedchanamoorthy has worked in different roles with TMX Group for almost 8 years; her most current role being that of a senior manager, finance. Prior to TMX Group, Thedchanamoorthy worked with The Canadian Depository for Securities Limited as a Senior Planning and Control Analyst.
Thedchanamoorthy has a BCom with a specialization in accounting from York University.
Browse more Alumni profiles