MARKHAM, ON – October 15, 2021 – Today, Markham Mayor Frank Scarpitti, together with President and Vice-Chancellor of York University, Rhonda Lenton, celebrated another milestone en route to the opening of York University's Markham Campus by officially unveiling University Boulevard. They were joined by members of Markham City Council.
Located in Markham Centre, Markham's growing downtown, and close to transit and transportation, University Boulevard will welcome students to the heart of York University's Markham Campus opening in 2023.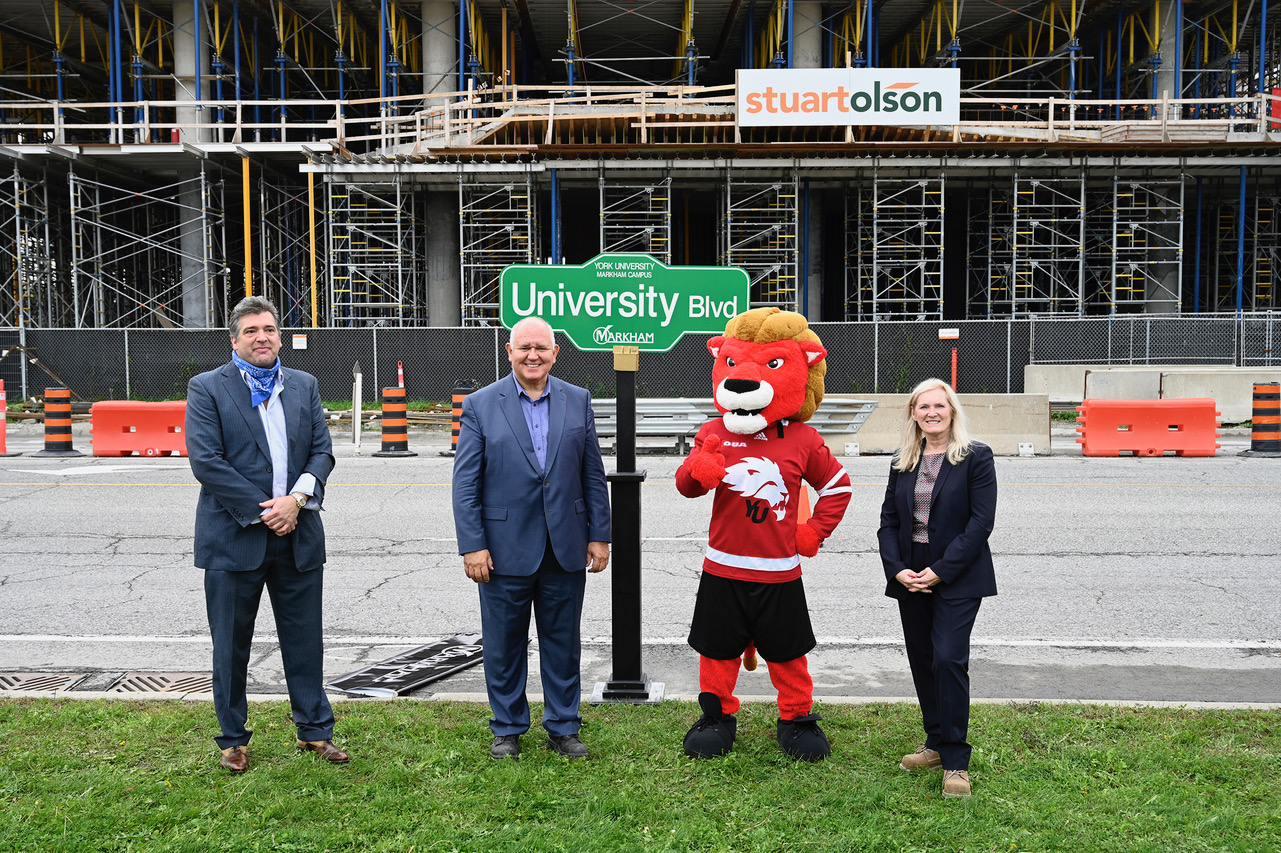 "The City of Markham is delighted to dedicate a street in Markham Centre in celebration of the upcoming opening of York University's Markham Campus in 2023," said Markham Mayor Frank Scarpitti. "University Boulevard will complement the University's beautifully designed Markham Campus and reinforce Markham's position as a hub for talent and a highly educated workforce."
"This is an exciting time in York University's evolution as we get closer to the opening of the new Markham Campus," said Rhonda Lenton, President and Vice-Chancellor of York University. "We look forward to welcoming our first cohort of students in Fall 2023, and providing the next generation of learners with relevant, job-ready academic programming and research opportunities focused on creative technologies, entrepreneurship and innovation management, digital technologies, new media and communications, financial technologies, and computer science and software development."
Together with YSpace, the Markham Small Business Centre, the City's Economic Development initiatives, and technology companies already based in Markham, this new campus will help foster innovation and entrepreneurship in Markham and the Regional Municipality of York. It will also attract more skilled, diverse talent to study, work and settle in Markham, further growing the City as a forward-thinking community and a leading technology and innovation hub.
-30-
Markham Mayor Frank Scarpitti's Office:
Bryan Frois, Chief of Staff at bfrois@markham.ca or 416.567.1177.
All other media inquiries / interview requests for the City of Markham:
Jennifer Yap, Coordinator, Communications and Media Relations at jyap@markham.ca or 437.229.2450.
York University:
Kayla Lewis, News Manager & Deputy Spokesperson at lewiskay@yorku.ca or 416.455.4710
For COVID-19 announcements from the City of Markham:
Visit markham.ca/covid19 or listen to 105.9 The Region – Markham's information and emergency radio station.
York University is a modern, multi-campus, urban university located in Toronto, Ontario. Backed by a diverse group of students, faculty, staff, alumni and partners, we bring a uniquely global perspective to help solve societal challenges, drive positive change and prepare our students for success. York's fully bilingual Glendon Campus is home to Southern Ontario's Centre of Excellence for French Language and Bilingual Postsecondary Education. York's campuses in Costa Rica and India offer students exceptional transnational learning opportunities and innovative programs. Together, we can make things right for our communities, our planet, and our future.
About Markham: Markham, an award-winning municipality with over 351,000 residents and the largest of nine communities in York Region, is home to over 650 corporate head offices and more than 1,500 high tech and life science companies. Markham is a leader in attracting foreign direct investment with more than 240 foreign companies located in the City. Founded in the 1790s, today Markham is Canada's most diverse community and enjoys a rich heritage, outstanding community planning and services, and a vibrant local economy. Markham has received the Excellence Canada Gold Award for Organizational Quality & Healthy Workplace, and multiple heritage and environmental awards.