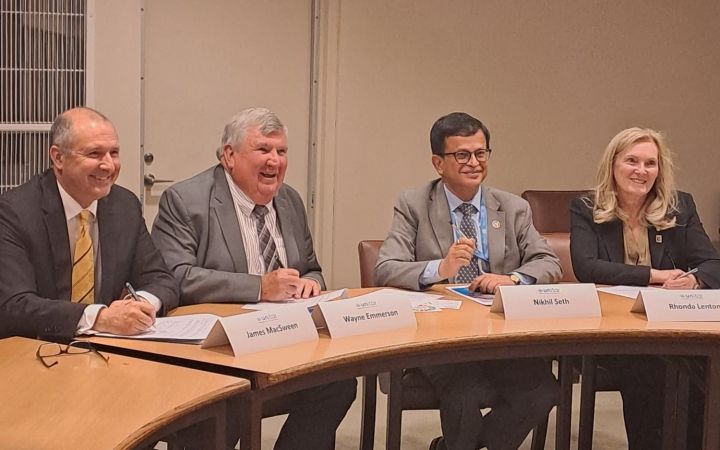 Home » Category Listing »
UNITAR, York University, York Region and York Regional Police Collaborate to offer Joint Training on Sustainable Inclusive Development
22 March 2023, New York, USA- UNITAR, York University, the Regional Municipality of York (York Region) and York Regional Police renewed its partnership agreement to foster sustainable development in Canada. This agreement aims to deliver joint training and professional development activities, which target – mainly – government officials, leaders, civil society and other interested parties in the areas of safety mobility including road safety, mental health, gender equality, entrepreneurship and economic growth, and climate change, among others.
An anticipated outcome of this partnership is the advancement of the Sustainable Development Goals (SDGs) and targets 3.6 and 11.2 on "road safety". Road safety continues to be the most significant concern expressed by York Regional Police citizens[1]. More people die each year on roadways. Therefore, reducing fatalities and injuries caused by traffic crashes is one key area of collaboration stipulated in the partnership agreement to contribute to this local need through capacity building and learning.
This partnership places special emphasis on contributing to SDG 5 "gender equality". As a cross-cutting issue, gender equality has different implications across regions and populations. UN statistics[2] show that less than 50% of working-age women are in the labour market. Unpaid domestic and care work falls disproportionately on women. This unbalance has been exacerbated by the COVID-19 pandemic which has affected women's jobs and livelihoods. Through the collaborative creation of learning tools and training, the partners aim to contribute to social justice and inclusivity by leveraging gender equality.
To commemorate this important partnership, a signing ceremony hosted by Mr Nikhil Seth, UN Assistant Secretary General and Executive Director of UNITAR took place at the United Nations headquarters in New York with the participation of high-profile speakers and invitees, including H.E. Ambassador Robert Rae, Permanent Representative of Canada to the United Nations in New York; Mr Wayne Emmerson, Chair and Chief Executive Officer, Regional Municipality of York, Canada; Prof. Rhonda Lenton, President and Vice-Chancellor, York University, Canada; Chief Jim MacSween, York Regional Police, Canada.
Our renewed partnership with the Regional Municipality of York, the York Regional Police and York University further solidifies their commitment to advance the Sustainable Development Goals through capacity building, knowledge sharing and multi-stakeholder partnerships. It also reflects the critical role local authorities and academic institutions have in promoting sustainable and inclusive development, pointed out Mr Nikhil Seth, UN Assistant Secretary General and Executive Director of UNITAR.
On behalf of York Regional Council and The Regional Municipality of York, I extend thanks and appreciation to UNITAR, York Regional Police and York University for their renewed partnership and commitment to building welcoming and inclusive communities where all residents can develop to their full potential, participate freely in society and live with respect, dignity and freedom from discrimination. Through this unique collaboration, we continue to bring together a wide variety of community and public organizations to advance Sustainable Development Goals that aim to end poverty, promote health and well-being, support economic and social inclusion and build peaceful and inclusive communities, highlighted Wayne Emmerson, Chairman and CEO The Regional Municipality of York.
We are pleased to renew this transformative partnership with UNITAR, the Regional Municipality of York, and the Regional Municipality of York Police Services Board. I look forward to continuing this important collaboration and building on the successes of CIFAL York – the first CIFAL Centre in Canada, says Rhonda Lenton, President and Vice-Chancellor of York University. "By continuing to work together, we will maximize our impact on advancing the SDGs to drive the kind of positive change needed to make a difference in the world today.
This partnership with UNITAR and our partners from the Region of York and York University is vitally important as it reinforces for our entire organization, and our community, that we are on the right track when it comes to our efforts to ensure diversity and inclusion both internally and externally, highlighted Chief Jim MacSween, York Regional Police.
[1] Refer to York Regional Police Bureau: Road Safety Bureau - York Regional Police (yrp.ca)
[2] Refer to UNDESA "The World's Women Trend Report 2020": The World's Women 2020: Trends and Statistics | United Nations
Source: https://unitar.org/about/news-stories/news/unitar-york-university-york-region-and-york-regional-police-collaborate-offer-joint-training