Home » Category Listing »
Canada's leading tax law graduate program celebrates 30 years with a debate about a wealth tax
TORONTO, May 10, 2023 — Should Canada impose a wealth tax on its richest one per cent?
One of the country's best-known journalists and a leading tax expert will debate that question May 25 at an event celebrating the 30th anniversary of Canada's foremost graduate program in tax law.
Journalist Linda McQuaig and tax lawyer John Tobin of Torys LLP will go face to face to argue for and against a wealth tax as they join in marking the three-decade milestone for the Professional LLM in Taxation Law program offered by Osgoode Professional Development (OsgoodePD), the continuous learning division of Osgoode Hall Law School at York University.
The special anniversary event is slated for May 25, 2023 at 5:30 p.m. at Osgoode's downtown Toronto campus, 1 Dundas St. W. on the 26th floor.
It will also include a panel discussion featuring Chief Justice Marc Noёl of the Federal Court of Appeal, Justice Siobhan Monaghan of the Federal Court of Appeal and Heather Evans, CEO and executive director of the Canadian Tax Foundation. They will be joined by program co-director and Osgoode tax law professor Jinyan Li, as well as Osgoode tax law Professor Emeritus Neil Brooks.
"Our offline and online offerings in the program are unparalleled in the country," said Li. "The program prepares people to become better tax practitioners. And on the instructor side, we have some of the top people in the country."
Originally developed by Neil Brooks and Scott Wilkie, a tax law senior counsel with Blake, Cassels & Graydon LLP and a distinguished professor of practice at Osgoode, the Professional LLM in Taxation Law filled a need for concentrated, systematic instruction in the area of tax law, accessible notably to students who had already begun practising in tax.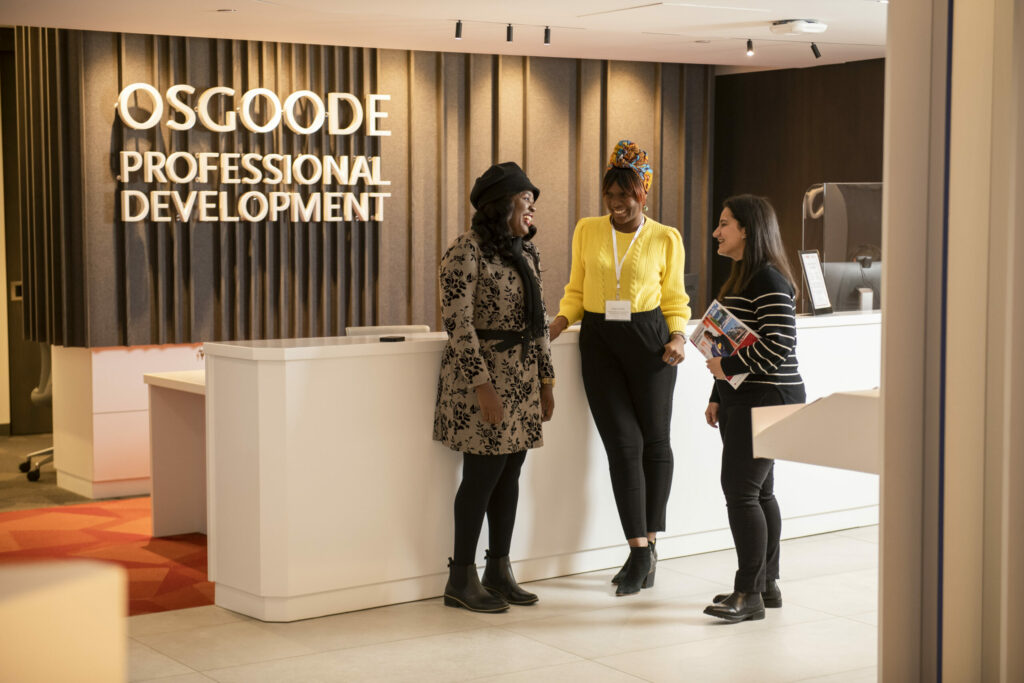 Over three decades, several graduates have gone on to judgeships with the Tax Court of Canada and the Federal Court of Appeal. And numerous students have won awards for papers they have written.
"In ways we think are different from other universities, Osgoode has made a real effort to create a focus on taxation as a core law school discipline," said Wilkie, "and one of the consequences of that is it's been able to draw on a rich adjunct pool with not only academic depth but deep practice experience."
The program's part-time and full-time options make it available to students from across Canada – both lawyers and professionals in the field.
"It's a program that works for a lot of people," said OsgoodePD's Director, Professional Graduate and International Programs Meghan Thomas. "It has a lot of flexibility and makes for a rich environment in learning."
The full-time program tends to attract many internationally trained lawyers and junior lawyers who are already practicing in Canada, said Thomas. By contrast, the part-time program draws more experienced Canadian lawyers and non-legal professionals working in the taxation field.
John Sorensen, a graduate of the Professional LLM in Taxation Law who now teaches in it, said the experience gave his career a significant boost. He currently serves as the Toronto-based co-leader for tax dispute resolution with Gowling WLG.
Sorensen said the program provides a special opportunity to dive deeply into tax law with like-minded professionals – and its unique combination of academic and policy analysis with practical and vocational training sets it apart.
"What it offers the tax bar is the chance for practitioners to up their game both academically and practically," he added.
Save your spot and register today to be part of the celebration!
About Osgoode Professional Development
Osgoode Professional Development (OsgoodePD) is a world leader in law school lifelong learning. Part of Osgoode Hall Law School, OsgoodePD offers credit and non-credit programs for Canadian and internationally trained lawyers, paralegals, professionals, and firms and organizations. OsgoodePD offers the broadest range of programs for internationally trained legal professionals in Canada and online, including LLM degrees, non-credit and preparatory programs to help them achieve their academic and professional goals. A total of 650 students are enrolled in OsgoodePD's degree and diploma programs.
About Osgoode Hall Law School
Osgoode Hall Law School of York University, founded in Toronto in 1889, is among the oldest, largest and most distinguished law schools in Canada, with a diverse and accomplished alumni community of more than 18,000 worldwide.
About York University
York University is a modern, multi-campus, urban university located in Toronto, Ontario. Backed by a diverse group of students, faculty, staff, alumni and partners, we bring a uniquely global perspective to help solve societal challenges, drive positive change and prepare our students for success. York's fully bilingual Glendon Campus is home to Southern Ontario's Centre of Excellence for French Language and Bilingual Postsecondary Education. York's campuses in Costa Rica and India offer students exceptional transnational learning opportunities and innovative programs. Together, we can make things right for our communities, our planet, and our future.
MEDIA CONTACTS:
Anna Perelman, Director, Marketing & Enrolment Management, Osgoode Professional Development, (647) 291-2127, aperelman@osgoode.yorku.ca .
John Schofield, Communications and Media Relations Specialist, Osgoode Hall Law School of York University, (416) 736-5820, jschofield@osgoode.yorku.ca.