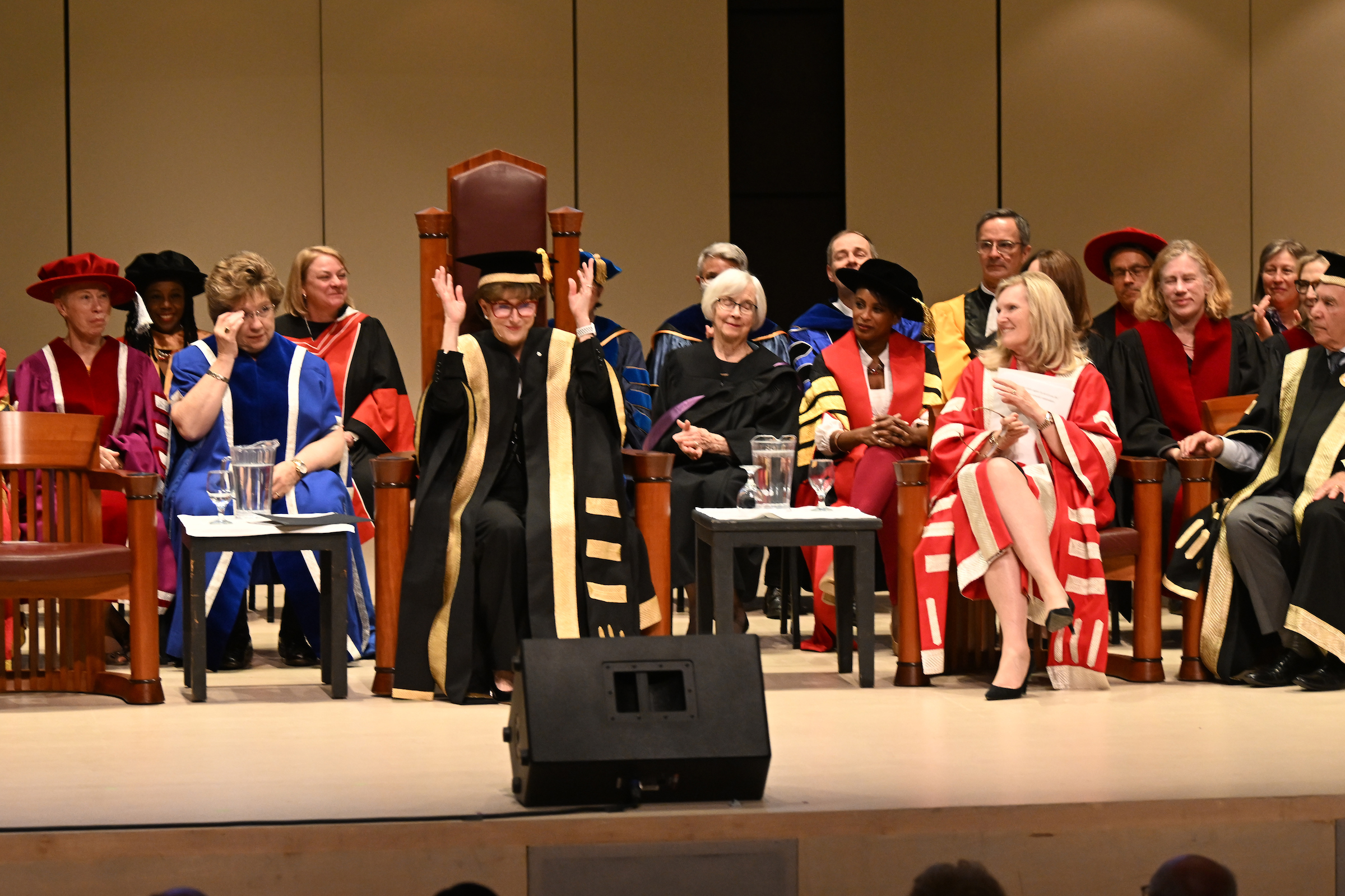 Home » Category Listing »
Canadian trailblazer installed as York U's first woman chancellor inspired by experience as a York student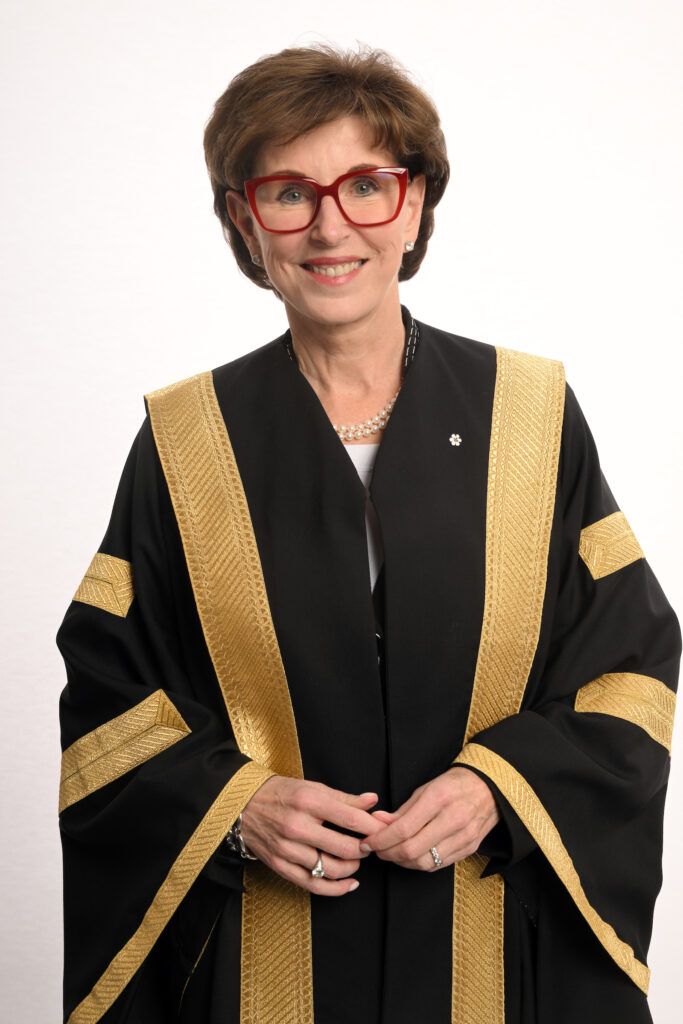 A woman who has blazed a trail as a business executive in Canada has marked another first when she was installed as York University's first woman chancellor on Wednesday.
Kathleen Taylor became the first woman to chair the board of one of Canada's big five banks when she took the helm of the Royal Bank's governing body a decade ago. She also served as the first president and CEO of the Four Seasons Hotels and Resorts chain following its iconic founder and was the first woman to lead a major branded international hotel company.
She credits her professional accomplishments as a leader in the public and private sectors and her dedication to breaking down barriers for others, to the education and inspiration she gained as a student at York University. She was the first in her family to attend university.
"Kathleen Taylor's illustrious career has spanned many industries, and she has tirelessly served her local and global communities," said Rhonda Lenton, York University's president and vice-chancellor.
"She is an inspiration in her new role as chancellor, because she embodies the positive change our students, staff, faculty and researchers all strive for and what York U is known for."
Taylor, who took over from the Hon. Gregory Sorbara to become York's 14th chancellor in January, was installed at a special ceremony at the Tribute Communities Recital Hall Accolade East Building on Keele Campus. Many community members came out to join the celebration.
"As a York alum and a champion for higher education, Ms. Taylor represents what can be accomplished when we stretch the limits of what we perceive as possible and challenge the status quo to support a more inclusive and sustainable world," said Paul Tsaparis, chair of York U's board of governors.
Her first public act as chancellor will be conferring degrees on thousands of new graduates at the spring convocation, June 9-23. It will also bring her full circle. Almost four decades ago, Taylor herself was graduated from York with a Juris Doctor from Osgoode Hall Law School and a Master of Business Administration from the Schulich School of Business.
"I learned many lessons at York — in the classroom and on campus — that continue to inspire me today," Taylor said. "York is a unique place where academic opportunities align with passion and ideas that can have a positive impact on the world."
The result, she said, is a globally engaged University she is proud to be part of.
"The clear nexus of my humble beginnings and the kind of career I've had the honour, privilege and pleasure to enjoy is education. The skills, the relationships, the experience that came with that were foundational to my career."
Chancellors hold the University's top ceremonial position and become a member of the board of governors. They serve as a connector, inspiring leader and respected member of the community.
Along with Sorbara, Taylor joins a long tradition of distinguished chancellors that began in 1959 with Wilfred Curtin, former chief of air staff of the Royal Canadian Air Force. Former Ontario premier John P. Robarts held the post from 1977 to 1982, while acclaimed jazz pianist Oscar Peterson was York's chancellor in the early '90s.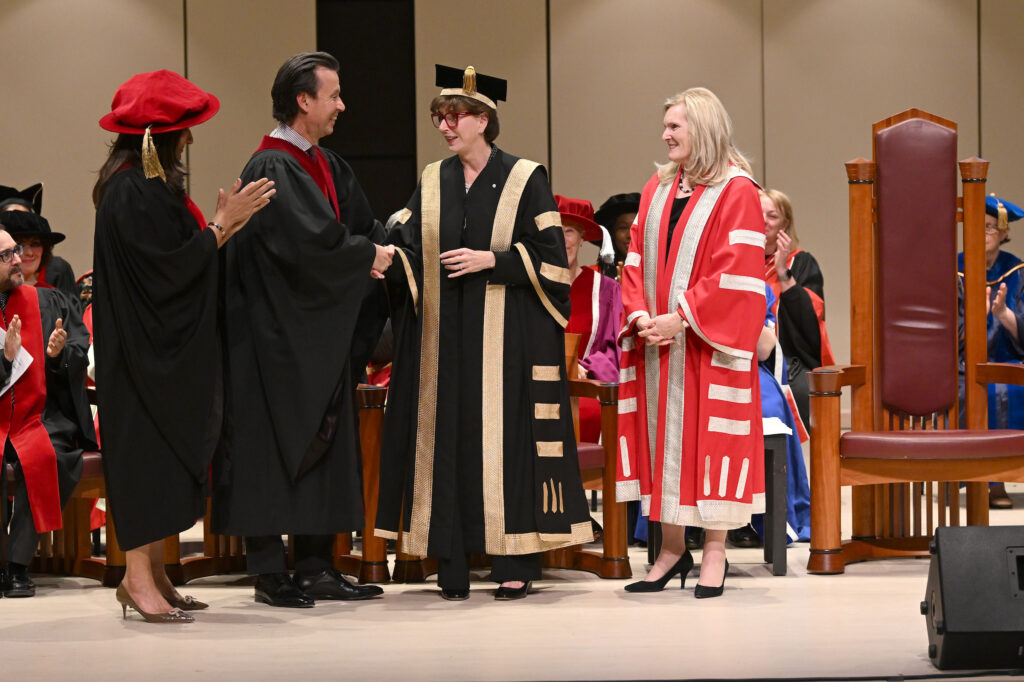 "I am honoured and excited to take on this important role with York University," said Taylor, who has received many prestigious recognitions over the span of her career, including being admitted as a member of the Order of Canada in 2016.
She received the Schulich School of Business Award for Outstanding Executive Leadership and the inaugural Medal for Career Achievement from the Hennick Centre for Business and Law at York. She received an Honorary Doctorate of Laws from York, McGill, the University of Toronto and Trent. She also received an Honorary Doctorate of Humane Letters from Mount Saint Vincent and an Honorary Doctorate of Divinity from Huron University College.
A champion of women and children, Taylor works tirelessly to ensure greater diversity and inclusion in boardrooms and executive ranks. She is the Chair of the Board of Trustees of the Hospital for Sick Children and the Immediate Past Chair of the SickKids Foundation. She is also a Founding Visionary and Co-Chair of the Advocacy Committee of the Prosperity Project, a national non-profit devoted to the advancement of women in leadership and the economy.