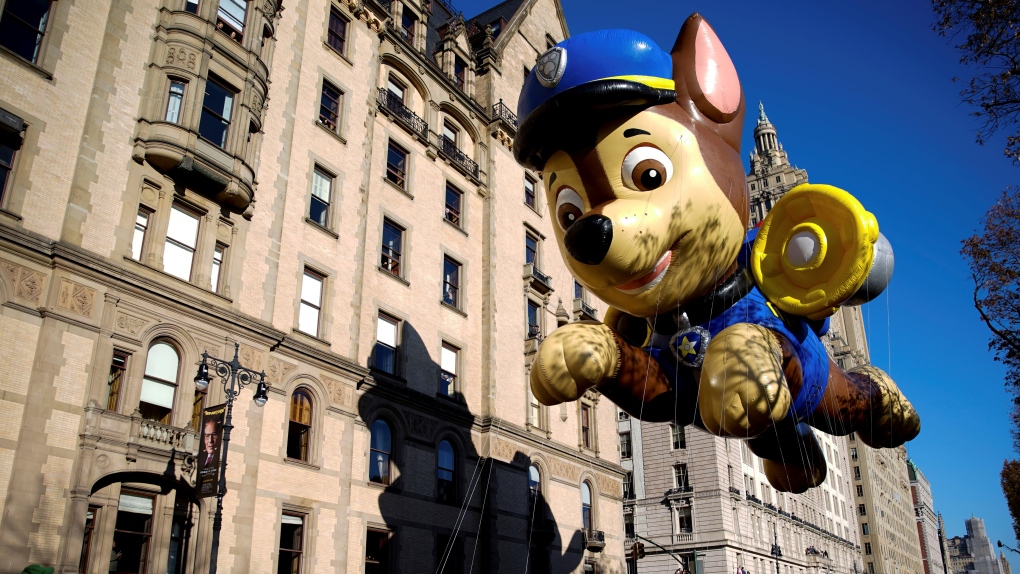 Home » Category Listing »
How Canada is a children's TV powerhouse, from 'You Can't Do That On Television,' to 'Paw Patrol'
The children's show Paw Patrol, launched by Spin Master Entertainment 10 years ago, is broadcast in more than 30 languages across nearly 180 countries and reaches 350 million households. Retail sales of Paw Patrol merchandise have surpassed US$14 billion.
Yet, despite its huge international success, it isn't celebrated as a Canadian success in the same way other Canadian TV shows such as Schitt's Creek or Murdoch Mysteries have been.
A recent Globe and Mail article on the boom in Canada's children's TV noted that "Canadians are working on the highest quality content, globally."
Shows like Big Blue, created by Ghanian Canadian animator Gyimah Gariba, have global reach and have received critical acclaim. Big Blue follows adventures of two Black siblings in an underwater universe and airs on CBC Kids, Nicktoons in the United Kingdom and the Cartoon Network in Africa.
Yet, there is little awareness here in Canada of the country's global reach in children's television content production.'Big Blue' trailer from CBC Kids.
Near and dear to our hearts
In the past 70 years, shows such as Fraggle Rock (1983-87 and 2022), You Can't Do That On Television (1979–90) and Caillou (1997-2010 and 2023) have become internationally renowned.
Many of these shows are near and dear to our hearts and we hold deep nostalgia for them. Mr. Dressup (1967-96) for example, was voted as Canada's most memorable (English) television show in a Twitter battle hosted by CBC journalist Justin McElroy. The show handily beat The Kids in the Hall (also well-loved, and now back in a new series on Prime).
Children's media is massively under-researched or ignored in scholarship about Canadian cultural industries, and similarly in overlapping areas like Canadian media studies, media history, children's studies or even Canadian children's history.
Redefining values and representation
There is a long history of children's TV shows produced in French. For example, Bobino (1957-85), featured a whimsical friend and his little sister. Passe-Partout originally ran between 1977-92, featuring playful human characters and a family of puppets that are still cherished today. The show relaunched in 2019 and is still running.
Originally financed by Québec's Department of Education, Passe-Partout was so popular that adults who grew up watching the original show are often referred to as the Passe-Partout generation.
There is also a rich history of television content by Indigenous creators. Takuginai, launched in 1986 and still running, is produced by the Inuit Broadcasting Corporation. It has over 800 episodes that blend animation, live hosts and puppets. These are featured alongside documentary film clips of Elders and local artists teaching Inuktitut and Inuit culture.'Takuginai' episode from the Inuit Broadcasting Corporation.
Other Indigenous shows include the stop-motion series Wapos Bay (2005–11), that traces the adventures of four children from a Cree community in northern Saskatchewan. Vistas (2009) is a short film series on nationhood produced in collaboration between the National Film Board and APTN from 13 Indigenous filmmakers.'Wapos Bay' trailer from WaposBayProductions.
In the past 70 years, many of these aforementioned shows have contributed significantly to redefining national values and symbols and contributed to a fuller picture of cultural and racialized diversity. But as research from the Children's Media Lab at Toronto Metropolitan University indicates, there is still a ways to go with representing children across the country.
Canada as hub
Canada is also an international hub for the children's entertainment industry.
For example, the children's media program at Centennial College is world-renowned, as is Sheridan College's animation program. And Kidscreen — the top trade publication for the global children's entertainment industry — is produced in Toronto, demonstrating the depth of cultural capital here.
Children's TV is one of our country's biggest media exports. According to a recent report by the Canadian Media Producers Association, in 2021-22 Canadian children's and youth television companies co-produced $73 million of content in partnership with other countries (such as the U.K. and France) making this content the largest contributor to Canada's television.
Children's media and policy, funding decisions
We are missing an appreciation of our history. Canadian children's television has shaped children's media around the world and has had a big impact on how media should tell stories to child audiences.
For example, much of Nickelodeon's early programming was Canadian children's TV often produced by local TV stations. Shows such as You Can't Do That On Television (1979–90) and Today's Special (1981-87) were the backbone of the station's programming schedule, and were revolutionary in positioning the child audience as an empowered citizen.
Without an appreciation for Canada's long history of children's media production, the danger exists that the industry won't be prioritized in policy decisions or in funding opportunities.
For example, the Canadian government is currently struggling to figure out how to regulate streaming content with Bill C-11, the Online Streaming Act. It is unclear how the bill will impact the industry and the content that Canadian children have access to.
Museum exhibits: telling the stories
If you are looking for something to do this summer, there are two museum exhibits that rectify this oversight in unknown stories of Canadian children's media.
The Canadian Museum of History, in Ottawa-Gatineau, is currently holding a special exhibit called From Pepinot to Paw Patrol — Television of our Childhoods, until Sept. 1, 2023, covering 70 years of Canadian children's TV from coast to coast to coast.
Featuring 100 shows and 85 artifacts, the exhibit aims to create an intergenerational and intercultural experience for the whole family.
On a smaller scale, Myseum in Toronto, in its exhibit From Mr. Dressup to Degrassi: 42 Years of Legendary Toronto Kids TV, on until Aug. 19, 2023, focuses on celebrating children's TV programs produced in Toronto from the 1950s to 1990s.
These two exhibits are a start in reclaiming the legacies of Canadian children's media. Let's hope this new recognition for these rich productions and these not-so-well-known cultural exports will be the start of a new beginning.
By Natalie Coulter, Associate Professor of Communication Studies, and Director of the Institute for Research on Digital Literacies in the Faculty of Liberal Arts and Professional Studies, York University. Olivier Côté from the Canadian History Museum co-authored this story.
This article is republished from The Conversation Canada