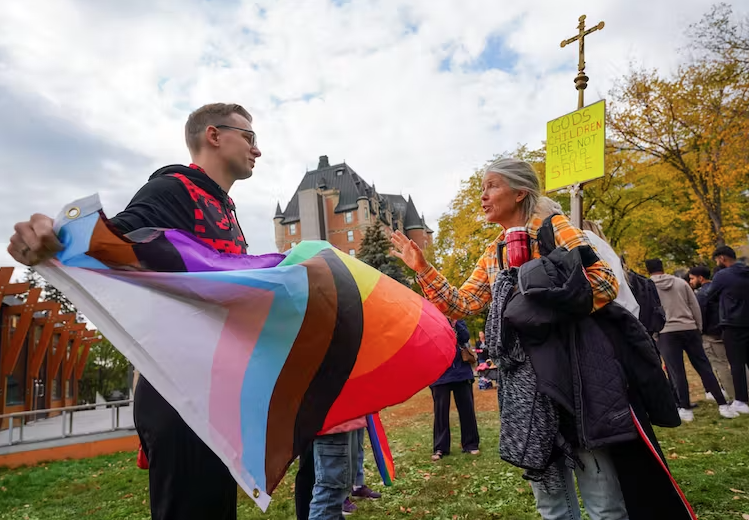 Home » Category Listing »
Queerphobic hate is on the rise, and LGBTQ+ communities in Canada need more support
In the past few years, people who identify as LGBTQ+ have been facing increasing harm and discrimination. Canada is not insulated from growing anti-queer and anti-trans sentiment.
The Saskatchewan government recently passed a controversial bill that requires students to get their parents' permission to change their pronouns in school. Critics have called the bill a "humiliation" for the province and experts have warned that it could further endanger at-risk youth.
The bill is part of a wave of reactionary anti-LGBTQ+ sentiment that has been on display in legislatures and on the streets. In September, marches were held across the country to protest inclusive public education.
Drag queen story hours across Canada have been targets of coordinated attacks, with one in Québec being forced to move to an undisclosed location because of safety concerns.
In the United States, the number of anti-LGBTQ+ bills introduced in state legislatures has surpassed 500, and the rate of online harassment against LGBTQ+ people has been increasing.
Discrimination against LGBTQ+ people is also taking place online. Sexual minority Canadians are twice as likely to experience inappropriate behaviours online, and LGBTQ+ youth in Canada are significantly more likely to be cyberbullied than their straight, cisgender counterparts.
We at the Ontario Digital Literacy and Access Network (ODLAN) use the term "queerphobic online hate" to refer to all forms of online discrimination and hatred directed at LGBTQ+ people. ODLAN is a volunteer-led non-profit organization with a mission to enhance digital literacy, remove access barriers and support marginalized communities who experience challenges, including digital harms.
Some examples of digital harms include cyberbullying, online harassment and non-consensual image sharing. Queerphobic online hate can also start online and continue in person. For example, an LGBTQ+ gym in Edmonton was forced to close because of doing.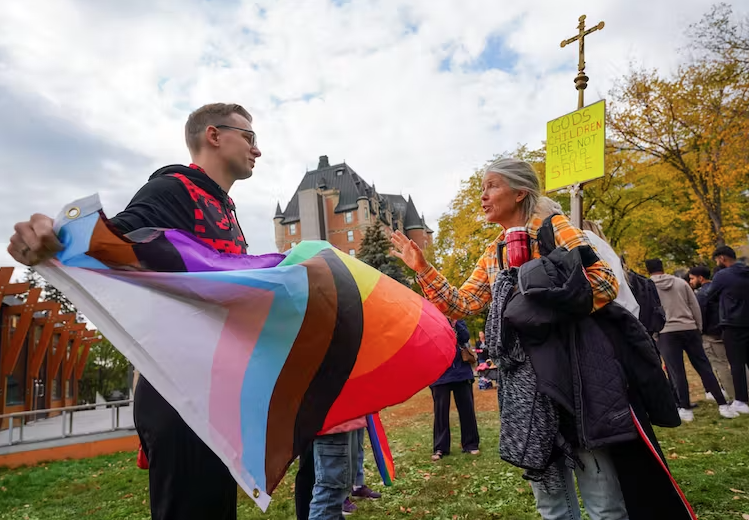 Queerphobic online hate
Our goal at ODLAN is to develop digital strategies that mitigate problems LGBTQ+ communities face online. We recently partnered with Wisdom2Action, a consulting firm that works to facilitate positive change related to gender justice and LGBTQ+ inclusion, to conduct a research project on how LGBTQ+ individuals and organizations in Canada have experienced queerphobic online hate.
For this project, we conducted six focus groups with a total of 17 participants, including one focus group for racialized participants; one for trans, non-binary, Two-Spirit, genderqueer, agender, and gender non-confirming people; one for people with disabilities, two for any LGBTQ+ anglophones; and one for any LGBTQ+ francophones.
Our research found that LGBTQ+ people and organizations experience queerphobic online hate in many ways. This hate can happen on social media, including in the form of public comments or private messages. Participants also reported receiving anti-LGBTQ+ comments in emails directed at them or their organization. Queerphobic online hate was expressed through text, images, videos and emojis, and many spoke about being victims of trolling and anti-trans rhetoric.
Queerphobic online hate can be perpetuated through virtual events. One participant said their organization frequently saw high levels of hateful activity during publicly live-streamed webinars.
Unfortunately, queerphobic online hate can sometimes come from LGBTQ+ people. Our research found that cisgender, gay, white men, including those from older generations, may speak out against trans, queer and non-binary people. Aphobia (prejudice against asexual and aromantic people) was identified as another form of lateral hate (when members of a marginalized group perpetuate harm against members of their own group). Other participants stated that transphobia is not uncommon in LGBTQ+ spaces and that those spaces are often unwelcoming to racialized people.
Misinformation and disinformation
The roots of misinformation and disinformation about LGBTQ+ communities are diverse and rooted in pseudo-science and religion. While this is not new, today's digital world means that anti-LGBTQ+ beliefs can easily be spread far and wide online.
Sometimes, information is misinterpreted and misappropriated to justify anti-LGBTQ+ hate. Misinformation like this may not be shared intentionally, but it still causes harm. Disinformation about LGBTQ+ people, such as them being "groomers," is both intentional and harmful, having severe real-world impacts.
As trans people have gained visibility, the trans identity has been framed as a contagion that is rapidly spreading, particularly among young people. Information about rates of de-transition (when someone in the process of transitioning stops or returns to their gender assigned at birth) is often misinterpreted, taken out of context and posted to social media. Disinformation like this aims to discredit trans people and justify discrimination against them.
Discriminatory and conspiratorial beliefs
Our research found that anti-LGBTQ+ ideologies were often combined with other bigoted and discriminatory beliefs and far-right politics. One racialized participant reported that they had seen anti-immigration sentiment tied to claims that queer and trans people were immigrating to Canada.
Queerphobic online hate has been justified by pseudo-scientific beliefs or arguments about protecting children from perceived threats. With an apparently growing parental rights movement and escalating anti-LGBTQ+ hate in Canada, more research on queerphobic online hate is urgently needed. LGBTQ+ organizations, staff and volunteers also need solidarity and support.
We recommend creating and providing targeted resources that help people deal with queerphobic online hate and develop digital literacy skills. This should be done at multiple levels, including the local level with community organizations, as well as the provincial and federal level with government agencies. It also means filling existing deficits among LGBTQ+ organizations by improving resources, offering mutual aid and sharing resources.
Queerphobic online hate must also be countered with systemic solutions like enhancing the resources and services available to LGBTQ+ organizations, including better and more accessible mental health support. We at ODLAN are invested in these goals by, for example, developing and launching training modules to help organizations develop strategies to address queerphobic online hate and protect themselves from such harms.
Until we have a society that is inclusive and safe for all LGBTQ+ people, individuals and organizations need to keep fighting against queerphobic online hate across Canada.
By Christopher Dietzel, Postdoctoral fellow, Gender and Sexuality, McGill University; Hannah Maitland, PhD Candidate in the Department of Gender, Feminist, and Women's Studies, York University, and Stephanie Jonsson, PhD candidate, Gender, Feminist and Women's Studies, York University.
This article is republished from The Conversation Canada.