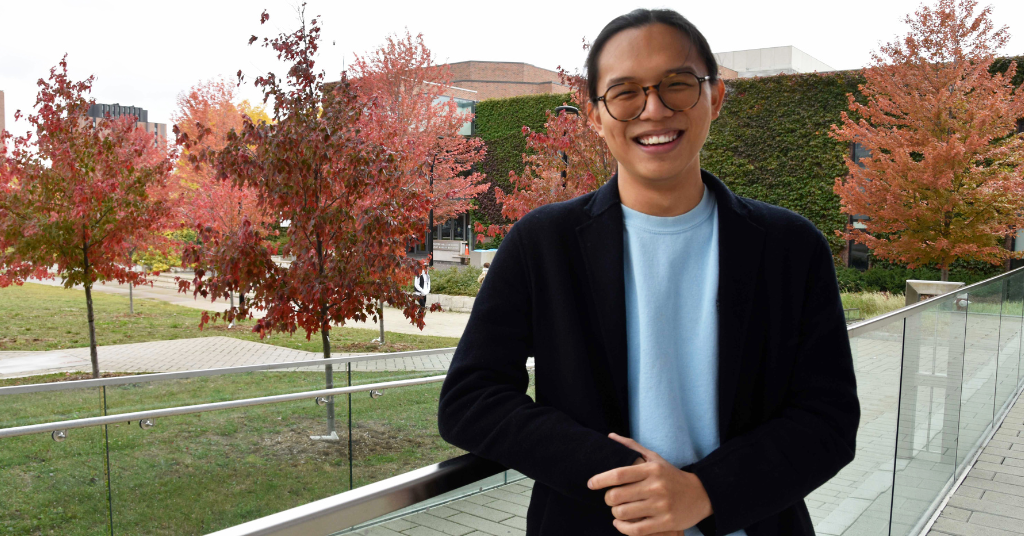 I am an international student from Malaysia, and came to Canada about 4-5 years ago to study one year of English with the goal of transitioning to York University. English is not my first language, so when I came to Canada, I had to learn everything. I only knew the basics. As a result, I experienced a lot of struggles during my first year however, York provided me with a solid support system. I am now in my fourth year of the Commerce program in the Faculty of Liberal Arts and Professional Studies doing an specialization in Accounting.
My first year was a transition period for me. In the beginning, I spent most of my time at home, in lectures or at the library – it was kind of boring. One of my residence dons recommended a few ways to get involved, so I began volunteering at a student club called "Entrepreneurship Development Association" under New College. From there, I built a community of friends, joined orientation, and all the YFS hosted events. I wanted to be there, to be present.
By putting myself out there, I created a community of people I really connected with, and it produced many fond memories. As the years progressed, I achieved executive positions within the student club and during my third year, I became Co-President. This type of involvement laid the foundation for me to network and connect with resources throughout the University. To me, networking is more than solely speaking to professionals in your field or industry, but rather it is about connecting with people who may be going through the same experiences as you. This gives you all the chance to grow together, as well as share experiences and opportunities with each other.
I also started volunteering at various places, such as by being a Peer Mentor at New College and York International. One of the highlights of giving back to the York community was when I helped host a "Women in Entrepreneurship" networking event as it helped bridge the gender and racial gap within industries and empowered students to start their own businesses. As a York student, you can start anything, and the University provides you with a bridge to connect you with like-minded people to mentor and inspire you.
All of the social and community-based experiences I've had at York have contributed to my professional and career aspirations. I came into my first year as an Undecided Major and then transitioned into the Commerce – Marketing Specialization program. Between learning English, I didn't do as well as I could have done. After speaking to my professors and TAs, I realized that Accounting would be a better fit for me. I put myself out there and figured it out, and from that came growth. York University gave me the safe space to learn and grow from my mistakes.
My goal before I graduate from York is to leave an imprint. Through my position at York International, I support students and make a positive impact within their transition period into university and empower them with the knowledge that we are here to support them. I trust that as I do this work and focus on my personal goals, I will leave a legacy and a positive impact on the York community.
Eugene Ting is in his final year at York University studying Accounting, Commerce. Being an international student from Malaysia, I have always felt the pressure of living up to others' expectations without figuring out the purpose of my work, passions, and goals. Therefore, given a space to create my own path through leading an entrepreneurship club, being a Peer Mentor for New College and York International, Orientation Leader, and my work-study positions as a Student Lead for the Global Peer Program has defined the years of my journey here at York University.