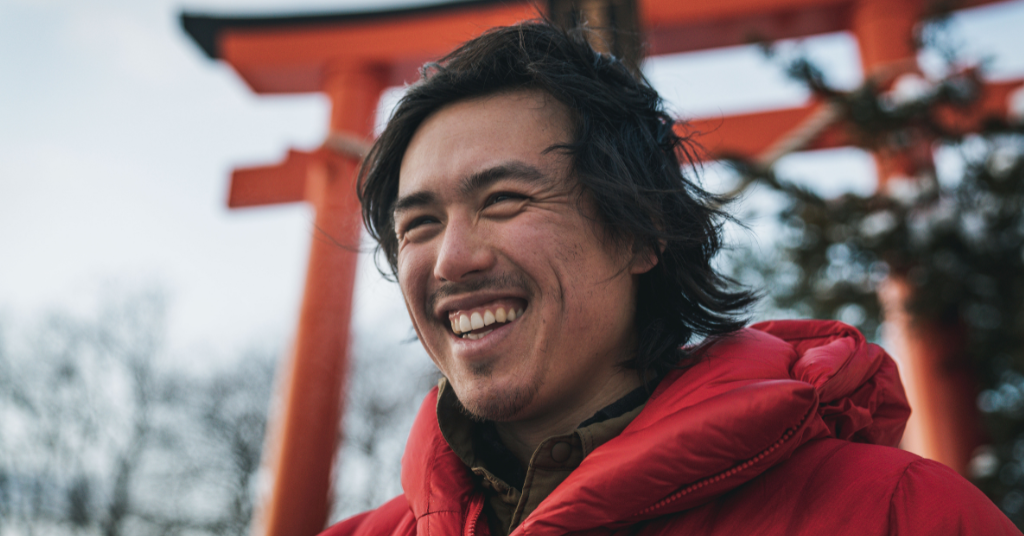 I didn't plan on being a documentary filmmaker. I didn't plan on being an activist or community organizer either, but it is funny how things work out. My parents were a big part of sparking my love of being in the mountains and back country skiing. It became an obsession, and I was a total adrenaline junkie. Growing up, we were involved in snowboard movies, and through those experiences of being around cameras, you see how they function, and you also see the power of film as a medium.
I grew up in the Coast Salish territory in Vancouver. But my roots from my dad's side of the family are from Chile, and my mom's side of the family is from Kumamoto, Japan. I always joke that those two skinny countries got together and made me. When I was young, my dad passed away, and when something like that happens you reassess what you're doing, you ask yourself what truly matters, and those type of moments really make life feel finite; it kicks your butt into gear. For me, it was asking myself what am I passionate about? What am I going to do on this short little stint on planet earth? I've always been passionate about going down to Chile, snowboarding, and seeing family. The effects of climate change down there, especially with melting snow in the Andes and the droughts, all the impacts that I was seeing first-hand on my travels down there, it was an issue I wanted to get involved with and start organizing around it.
About 11 or 12 years ago, a group of my friends and I got together and started a project called Beyond Boarding. Our goal was to integrate our learnings through organizing and reflect it back to the community that we grew up in and raised us, the outdoor crowd. Beyond Boarding integrated snowboarding into a bigger picture issue, it played a foundational role in people and made a big difference in their life. While we were snowboarders, this transition time was where we found ourselves as community organizers. At Beyond Boarding, we have a non-profit branch which runs some of our youth programs, but it is primarily volunteer based. We also do youth land-based programs and through those filming experiences we've been able to connect with Indigenous communities along the coast. Most of our projects stem from friendships and relationships that we build along the way.
Northern Grease was one of the first films we did alongside my friends Jasper Snow-Rosen and John Muirhead. We converted an old school bus to run on waste cooking oil and went on an 8-10 month trip all over BC. We connected with a variety of communities and spoke to people about the social impacts of oil and gas, stemming from the natural gas proposals in Northern BC and tar sands. It changes the local communities; from the violence it brings to communities to the increase in high school drop-out rates.

Our latest film is Klabona Keepers. This film took 7 years to make, and it premiered as an opening night film at the Human Rights Watch Hot Docs event in Toronto. My biggest hope was to share the resilience and the strong heart of the elders and how they pass down these teachings to the next generations, I wanted to make sure those stories were shared and told.
The focus of completing my MES at York University has been on action research within the field of impact producing in so-called Canada. Therefore, I look at how film production integrates into community, movements, and society to create change. So rather than measuring success simply through the number of attendees, we measure success by how likely attendees are to feel activated by the films. Once I'm done with my MES studies, I'm going to double down to launch a campaign for the Klabona Keepers film and expand to another campaign with "No Visible Trauma", which is a powerful documentary covering police brutality in Calgary, Alberta.
Tamo Campos is a filmmaker, impact practitioner, community organizer and extreme sports athlete. His films include The Klabona Keepers (2022), Ru-Tsu (2020), The Radicals (2018), A Last Stand For Lelu (2016), Northern Grease (2013) & over fifty shorts. Tamo embeds himself in the community wherever he goes and is dedicated to combining social impact with his adventures in sport, activism, and filmmaking. His previous projects have had a strong outreach focus that collaborated deeply with participants within his films.  His work has focused on Indigenous land defense, Indigenous health models, climate justice and anti-racism. He is also the co-founder of the nonprofit collective Beyond Boarding, a board member of Rediscovery International, and recently finished his Masters Degree with York University with a focus on Canadian Impact Producing. Campos is also currently an Impact Fellow for StoryMoneyImpact, a Canadian organization growing the field of Impact Producing.