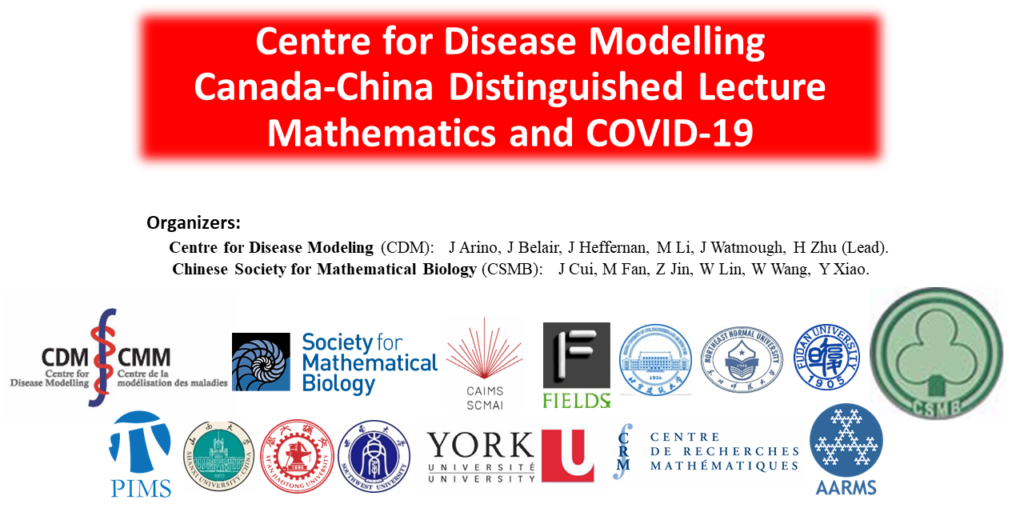 About the lecture series
To promote the application of mathematics and mathematical modelling in combating COVID-19, the Centre for Disease Modeling (CDM) together with the Chinese Society for Mathematical Biology (CSMB) has launched a weekly distinguished lecture series, "Mathematics and COVID-19". There will be 16 distinguished speakers to present topics that will cover and examine how mathematics can contribute to the understanding of SARS-CoV-2 to inform public health policy decision making.
You are invited!
Webinar: https://yorku.zoom.us/j/98615589444?pwd=S1JYcVA0R291blBoZzBnRkhDdW56dz09 .
Organizing Committee
Julien Arino - University of Manitoba
Jacques Bélair - Université de Montréal
Jingan Cui - Beijing University of Civil Engineering and Architecture
Meng Fan - Northeast Normal University
Jane Heffernan - York University
Zhen Jin - Shanxi University
Michael Li - University of Alberta
Wei Lin - Fudan University
Wendi Wang - Southwest University
James Watmough - University of New Brunswick
Yanni Xiao - Xi'an Jiaotong University
Huaiping Zhu - York University (Lead organizer)
Webinar IT support: Bertland Imai, Steven Chen, Grant McNair
CDM York Local organizing Team:Jane Heffernan, Jude Kong, Pei Yuan, Elena Aruffo,Tingting Zheng,Juan Li, Qi Li, Yi Tan, Raad Angie, Jun Li, Huaiping Zhu
Lectures
Speaker: Dr Jacques Belair (Universite de Montreal)
Date, Time: Thursday, August 27, 2020 8:30 pm – 9:30 pm (EST)
Speaker: Dr Sanyi Tang, (Shaanxi Normal University)
Date, Time: Thursday, August 20, 2020 8:30 pm – 9:30 pm (EST)
Speaker: Dr Wei Lin, (Fudan University, China)
Date, Time: Thursday, August 13, 2020 8:30 pm – 9:30 pm (EST)
Speaker: Dr Wendi Wang, (School of Mathematics and Statistics, Southwest University, China)
Date, Time: Thursday, August 6, 2020 8:30 pm – 9:30 pm (EST)
Speaker: Dr Jorge Velasco Hernandez (Instituto de Matematicas Unidad Juriquilla Queretaro, Mexico)
Date, Time: Thursday, July 30, 2020 8:30 pm – 9:30 pm (EST)
Speaker: Dr. Nick Ogden, Director, Public Health Risk Sciences Division National Microbiology Laboratory (NML) Public Health Agency of Canada (PHAC)
Date, Time: Thursday, July 23, 2020 8:30 pm – 9:30 pm (EST)
Speaker: Dr. Nathaniel Osgood, University of Saskatchewan
Date, Time: Friday, July 17, 2020 8:30 pm – 9:30 pm (EST)
Speaker: Dr. David Earn, Mathematics & Statistics, McMaster University
Date, Time: Friday, July 10, 2020 8:30 pm – 9:30 pm (EST)
Speaker: Dr. Zhilan Feng, Department of Mathematics, Purdue University,Mathematical Biology Program, DMS, National Science Foundation, USA
Date, Time: Friday, July 3, 2020 8:30 pm – 9:30 pm (EST)
Speaker: Dr. Hongjie Yu, School of Public Health, Fudan University
Date, Time: Friday, June 26, 2020 8:30 pm – 9:30 pm (EST)
Speaker: Dr. Yuan Lou, Department of Mathematics, Ohio State University
Date, Time: Friday, June 19, 2020 8:30 pm – 9:30 pm (EST)
Speaker: Xiaonong Zhou, Professor, Director National Institute of Parasitic Diseases at Chinese Center of Disease Control and Prevention & Chinese Center for Tropical
Date, Time: Friday, June 12, 2020 8:30 pm – 9:30 pm (EST)
Speaker: Dr. Daniel Coombs, Mathematics, University of British Columbia
Date, Time: Saturday June 6, 2020 8:30 pm – 9:30 pm (EST)
Speaker: Dr. Caroline Colijn, Mathematics and Statistics, Simon Fraser University
Date, Time: Saturday May 30, 2020 8:30 pm – 9:30 pm (EST)
Speaker: Dr. Junling Ma Mathematics and Statistics University of Victoria
Date, Time: Saturday May 23, 2020 8:30 pm – 9:30 pm (EST)
Speaker: Prof. Lydia Bourouiba, The Fluid Dynamics of Disease Transmission Laboratory, MIT
Date, Time:Saturday May 16, 2020 8:30 pm – 9:30 pm (EST)
Speaker: Dr. Michael Li Department of Mathematics, University of Alberta
Date, Time: Friday, May 8, 2020 - 20:30 to 21:30 (EST)
Speaker: Dr. Mac Hyman, Department of Mathematics, Tulane University
Date, Time: Thursday, April 30, 2020 - 20:00 to 21:00 (EST)