Baijul Shukla, a graduate of the B.A.S. programme and of this course, will speak on topics relevant to Attitude Change, from his varied work experience.

Depending on time, we will then either proceed to group presentations or to in-class work on projects.
Exercise


Changing Attitudes

Groups will create impromptu presentations of the concepts below based on the group projects. You will be given acetates and markers; some groups will have ready-made overheads
CHANGING ATTITUDES THROUGH COMMUNICATION
Persuasion - Reciprocity, Scarcity, Authority, Consistency, Consensus
Tactical Decisions - models, message, media, markets
Elements of Communication
The Communications Model
Overhead-CTR15
AN UPDATED VIEW: INTERACTIVE COMMUNICATION
Permission Marketing - getting consumers to "buy into" listening to the message
Uses and Gratifications - Consumers are active & goal-directed, not passive
Who's in Charge of the Remote?
Consumer input and information seeking
* Levels of Interactive Response
First Order vs Second Order
THE SOURCE
- Credibility
Who will believe you and why?
- Attractiveness
Celebrities - are they worth it?
THE MESSAGE
sending, framing, chunking, dual-component model
Constructing the Argument
One vs Two Sided Arguments
Drawing Conclusions
* Comparative Advertising

Overhead CTR-16
ad for Texas Instruments Notebook

Overhead CTR-17 - Drawing Conclusions
Types of Message Appeals
Emotional vs Rational
* Sex, Humour, Fear
THE SOURCE VERSUS THE MESSAGE
The Elaboration Likelihood Model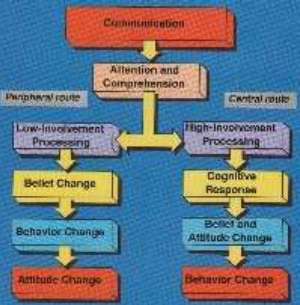 Overhead CTR-18
---
Group time during this class is your in-class work