Contesting Racial Banishment: Evictions and Community Resistance in Firgrove, Black Creek and Jane & Finch
Join Us on our Panel Discussion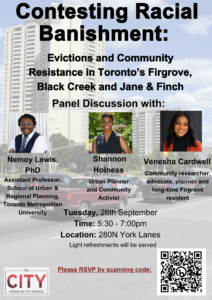 You are invited to attend "Contesting Racial Banishment: Evictions and Community Resistance in Toronto's Firgrove, Black Creek and Jane & Finch," which will take place this Tuesday, Sept 26, 5:30 to 7pm at 280N York Lanes, York University.
Given the housing crisis, rapid infrastructure-led gentrification and mass evictions in Firgrove, Black Creek and along the Finch West LRT corridor, this topic is of utmost importance to our YorkU community and the City of Toronto. You will hear from three brilliant speakers who will provide recent data on the financialization of rental housing in these neighbourhoods, how it connects with current mass evictions, and community-based experiences, organizing, and social justice activism to contest racial banishment in response to these dynamics.
This is the first Research Seminar Event organized by the CITY Institute @ York, of this academic year. It will be chaired by Professor Ranu Basu, Global Geography Program Coordinator and Research Faculty at the Centre for Refugee Studies. Light refreshments will be served.
Speakers
Nemoy Lewis
Assistant Professor
Biography
Nemoy Lewis is an assistant professor in the School of Urban and Regional Planning. He received his PhD in human geography from Queen's University in Kingston, Ontario. Lewis earned both his undergraduate and master's degrees in geography at the University of Toronto. For his doctoral research, Lewis analyzed the ongoing foreclosure crisis in the United States and its effects on Black people and low-income communities in Chicago, Illinois and in Jacksonville, Florida. Lewis' research explores how space is racialized by examining the co-production of racialization and financialization in North American urban housing markets, and the growing affordability problems impacting Black renters. His current research investigates a relatively new type of financialized landlord – primarily private equity, asset management firms and REITs – and their impacts on the physical infrastructures and urban social geography of disenfranchised communities.
Shannon Holness
M.E.S (Pl.), OPPI Candidate Member
Biography
Shannon is currently a Project Planner with WSP. She has over 8 years supporting development planning, public engagement, project, and program development. Her experience enables her to successfully steward equitable urban change with multiple stakeholders, including community organizations, businesses, and municipalities. Shannon is most proud of her art-based community engagement project called "Humans of Connections" which used audio, storytelling, and photography to capture the narrative of resident experiences in Toronto Community Housing's closure of 132 units in her community. This project was the starting point for her career in planning and engagement. Shannon has supported and led initiatives such as the Jane Finch Mall Redevelopment, where she facilitated discussions with ~2,000 community members through one-on-one conversations, walking tours, working sessions, community-wide virtual events and "Open Door" sessions. Shannon has been a guest lecturer at the University of Toronto and her alma mater, York University. She has been a member of the Ontario Community Changemakers Advisory Board since 2021 and is also a part of the Selection Committee for the One City Scholarship, an award which celebrates the resilience of Toronto's youth.
Venesha Cardwell
Community researcher, advocate, planner and long-time Firgrove resident
Biography
Venesha Thomas is a Jamaican-Canadian community planner and advocate from Firgrove, Jane–Finch. Currently, she is a researcher at Monumental Projects informing inclusive city-building processes in Northwest Toronto. Venesha has supported neighborhood revitalization initiatives in Firgrove and Lawrence Heights. She is also a community facilitator for the JFM+ (Jane Finch Mall) redevelopment. Venesha holds a Bachelor of Health and Human Services and a Social Service Worker Diploma. She is passionate about housing equity, and when she's not conducting research or conversing with community members, she is writing and performing spoken word poetry. Her piece titled "The Projects" featured in The Downsview Advocate and Congress 2023, highlights her lived experience in Firgrove and its redevelopment underway. She has aspirations to further her work in employment equity for youth in racialized communities. You can connect with Venesha on LinkedIn at Venesha Thomas.