About the Project
A partnership between Emery Collegiate Institute and Calumet and Stong Colleges established a team of student volunteers from York and Emery that brought an idea into reality. A peer-led financial wellness project follows three characters as they age from 18 to 30 and learn about how their individual money attitudes influence their financial behaviours.
Funded by York-TD Community Engagement Centre, this project aims to reduce the financial anxiety experienced by students, parents, and teachers, and aid in a successful post-secondary transition.
---
Parent Night Event
On April 27th, 2021, Emery Collegiate Institute hosted Financial Planning for Post Secondary Education as part of the school's Parent Information and Education Series. The purpose of this session was to provide information to parents and students about financial wellness and strategies for funding post-secondary education.
During this event, the team premiered one of the videos along with a presentation that complimented the information shared. Parents, teachers and students were invited to complete a survey after viewing the video and presentation.
---
The York University Magazine
In winter 2021, The York University Magazine featured the financial wellness project as a Bright Spot: Community and University partners work to create change during the pandemic. Read about the inspiration and collaboration between Calumet and Stong Colleges and Emery Collegiate Institute.
Click here to read the article from The York University Magazine
---
Teaching in Focus (TiF) Conference 2021
The Teaching in Focus (TiF) pan-university conference was held on May 10th and 11th, 2021 and its theme focused on Engaged Teaching Wherever We Are. The team was invited to present in a live panel format on May 10, 2021.
The panel of Calumet and Stong students, staff, College Heads and Emery Collegiate students and staff discussed the project; Fostering successful student transition to post-secondary education during COVID-19: The Use of Participatory Videos to Improve Student Finances, and panellists  shared their learning experience, highlights, challenges, lessons learned and opportunities.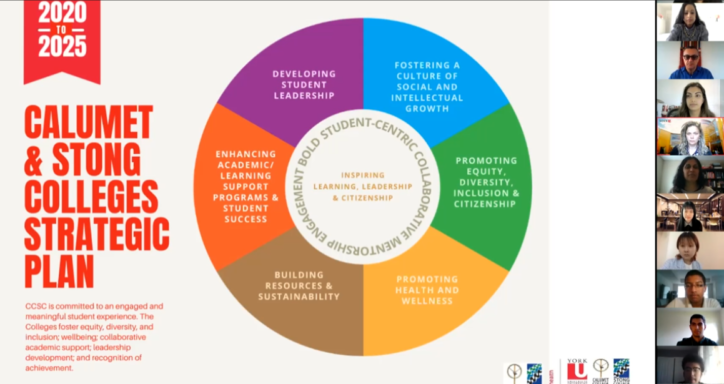 Click here to read the research abstract of this project
---
Bold Ideas
"In a community with a shared vision, being bold comes in different shapes and forms". Simi Sahota, Project Lead
On June 16th, 2021, the team presented at BOLD Ideas to share their personal experiences, challenges, and overall journey of the project. During a live panel, students, staff, and faculty members shared the lessons learned on creating animations, virtual team-building, peer-led leadership, sparking creativity, and more.
This project began with an idea by Simi Sahota,an undergraduate student in the Department of Psychology. With the support of Dr. Jennine Rawana (Head of Calumet College and Associate Professor, Department of Psychology), Dr. Mazen J Hamadeh (Head of Stong College and Associate Professor, School of Kinesiology and Health Science), Maria Palermo (Principal of Emery Collegiate Institute) and Agata Stypka (Student Success Coordinator, Calumet and Stong Colleges) they were able to recruit and support a group of student volunteers from York to assist with the research, develop the scripts and create the animations, and volunteers from Emery to develop lesson plans and present the material to students.
A special thank you to the York volunteers: Nicholas Cheng (Research Assistant), Jennifer Diep (Research Assistant), Kaman Hui (Research Assistant), Dema Talib (Script Writer), Kooshan Mazloomi (Script Writer), & Kaye Canoy (Video Editor).
A special thank you to the students of Emery Collegiate Institute: Hari Chand Balachandran Pillai, Hashir Ahmad, Beverly Lopez, Martina Hunter, Taufeeq Waheed Ahmed, and Mohammed Mahfooz.
And thank you to Dr. Deepinderjit Kaur Labana for leading the team of Emery student volunteers.
To accompany our videos, Emery and York peer leaders developed lesson plans for students and teachers to use in the classroom.

Contact Us
To learn more about this project, access other materials and resources, or if you have any questions, please email scchelp@yorku.ca