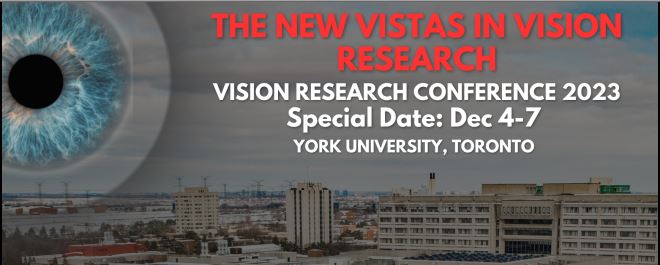 December 4 - 7, 2023
Join us for York University's 2023 Centre for Vision Research (CVR) and Vision: Science to Applications (VISTA) conference that features a list of exciting speakers from a variety of disciplines in vision research. This event will showcase cutting-edge transdisciplinary approaches to vision science, ranging from the biological and computational vision to the world of arts. The program will also feature interactive events such as lab visits, poster sessions, and demos. So, mark your calendars and join us for a journey into the exciting world of vision science!
Early bird registration deadline: September 29th, 2023
---
External attendees (not from York University): register here
Internal attendees (York faculty, staff, and trainees): Please send an email with your name and cost centre information to cvr@yorku.ca to register
Early Bird Price
(Untill September 29, 2023)
Regular Price
(September 30, 2023)
Faculty and general admission
$330
$400
Graduate students and post-doctoral fellows
$100
$130
Undergraduate students
$30
$45
Banquet
(Thursday, December 7th)
n/a
$80
Funding will cover the cost of basic economy airfare to and from the applicant's home, accommodations in Toronto, and the conference registration fee associated with attending the CVR-VISTA conference.
To be eligible, applicants must identify as either Black, Indigenous, or a person of colour. In addition, the applicant must present a poster at the conference.
To indicate that you would like to be considered for this travel award, check the "I would like to be considered for the BIPOC travel award" box when submitting your poster proposal (You can submit your poster proposal here: http://cvr-forms.apps01.yorku.ca/machform/view.php?id=18739 ).
Application deadline is September 29th, 2023. Awardees will be selected at random from the applicant pool.
| | |
| --- | --- |
| Alex Martin | National Institutes of Health |
| Bence Nanay | University of Antwerp |
| Blake Richards | McGill University |
| Charan Ranganath | UC Davis |
| Chris Pal | École Polytechnique de Montréal |
| Doug Crawford | York University |
| Eileen Kowler | Rutgers University |
| EJ Green | Massachusetts Institute of Technology |
| Eva Dyer | Georgia Institute of Technology |
| Fiona Macpherson | University of Glasgow |
| Grace Lindsay | New York University |
| Greg Zelinsky | Stony Brook University |
| Gunnar Blohm | Queen's University |
| Hansjörg Scherberger | German Primate Center |
| Jane Tingley | York University |
| Katharina Dobs | Justus-Liebig University Giessen |
| Maryam Vaziri-Pashkham | National Institutes of Health |
| Michael Proulx | Meta Reality Labs |
| Miram Spering | University of British Columbia |
| Miriam Bopp | Philipps-Universität Marburg |
| Richard Wildes | York University |
| Suliann Ben Hamed | Centre national de la recherche scientifique (CNRS) |
| Zeynep Saygin | The Ohio State University |
Please submit your poster proposal here as early as possible, but no later than September 29th, 2023
Abstracts should be no longer than 500 words.
Poster board dimensions: 71" wide by 47" tall.
Map key:
Second Student Centre - conference space, #102, E5
Atkinson visitor parking lot, #83, F5 (please note that while this parking lot is right outside the conference centre, it is small and often full. Your best bet is to park at the Arboretum parking garage)
Arboretum parking garage, #80, D4
York University subway stop, #100, D6
Pioneer Village subway stop, #101, A3
If you have mobility issues, please contact us at cvr@yorku.ca so we can make parking arrangements for you
Please note that there are a limited number of parking cash / credit card pay points on campus. You are encouraged to use the HONKmobile app for all your parking needs.
Learn more about downloading and using the HONKmobile app.
Below are links to accommodations around York University. These links are provided for your convenience only, and should not be taken as recommendations.
Special rates for conference attendees
Hilton Garden Inn: 18% off regular rates. Access via the link or call the hotel at (905) 660 - 4700 and ask for rates for corporate ID 2661834.
Other options
Please also note that York University is now accessible by subway via the University Line (the left branch of the yellow line).
Subway stops: York University and Pioneer Village
Approximate travel times:

35 - 50 minutes to from downtown
15 - 20 minutes from Yorkdale station
15 - 20 minutes from the Vaughan Metropolitan Centre station (closest to most of the hotels listed above)

Download the Toronto subway and streetcar map [PDF]. York University stops are highlighted on the top left side of the map.
The easiest way to travel using public transport in Toronto is to use the Presto Card. This card can be purchased at most subway stations and loaded with multiple fares. See here for more information about TTC fares and ticketing.
Toronto is a world-class destination for a reason. Check out this guide to Toronto attractions and activities and tick some items off your bucket list.
Most people travelling to Canada need either a Visa or an Electronic Travel Authorization (Citizens and green-card holders from USA are exempt). Please go to http://www.cic.gc.ca/english/visit/visas.asp to find out which travel document you need.
If you need a Visa, please fill out the following form asap: http://cvr-forms.apps01.yorku.ca/machform/view.php?id=10963 We need this information in order to provide you with a letter to Immigration Canada. Visas can take a while to process, so the sooner we can provide you with this document the more likely you are to get your travel documents on time.
You should also purchase travel health insurance for the duration of your trip unless already covered for medical expenses in Canada under an existing insurance plan.
---