Master of Disaster & Emergency Management
York's Master of Disaster & Emergency Management (MDEM) is the only graduate program of its kind in Ontario and one of just two in Canada. In this exciting and rapidly expanding field you will explore key concepts, methodologies and technologies used by emergency management professionals while honing your analytical, research and critical thinking skills. This program, offered on a full-time or part-time basis, prepares you to synthesize large amounts of complex information and make sound decisions in challenging and often difficult circumstances. The program is interdisciplinary, drawing on the strengths of faculty from across York to offer a wide range of expertise in areas like environmental risks and management, natural hazards, business continuity, public health, humanitarian aid and complex emergencies.
Application Period
Fall Application:
Oct 15, 2023–Feb 15, 2024
Disaster & Emergency Management at a Glance
Environmental Risks & Management
Featured Faculty
My way to York was long and full of challenges. Life is a challenge today…And yet I made it happen. But this is not a story about me, and this is a story of cooperation, support, friendship, hard, sometimes titanic effort, and faith.
— Iana Shatilova
Current Student, Master of Disaster & Emergency Management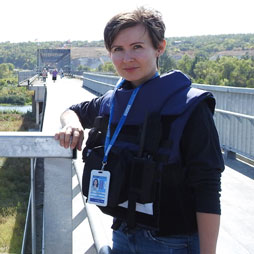 Learn More
The Graduate Program in Disaster & Emergency Management at York is an exciting environment to pursue innovative, socially engaging, career-ready education. Contact our Graduate Program Assistant to learn more.