TORONTO, Nov. 12, 2021 – Today, York University and Oak Valley Heath announced a local health partnership aimed at advancing innovative medical education and research collaboration opportunities as well as improving the health and health care of citizens in Markham, Whitchurch-Stouffville, Uxbridge and beyond.
Earlier today, York University President Rhonda Lenton was joined by Jo-anne Marr, President and CEO, Oak Valley Health, and Frank Scarpitti, Mayor of Markham, at a virtual signing event to celebrate this partnership and discuss the shared vision for the future.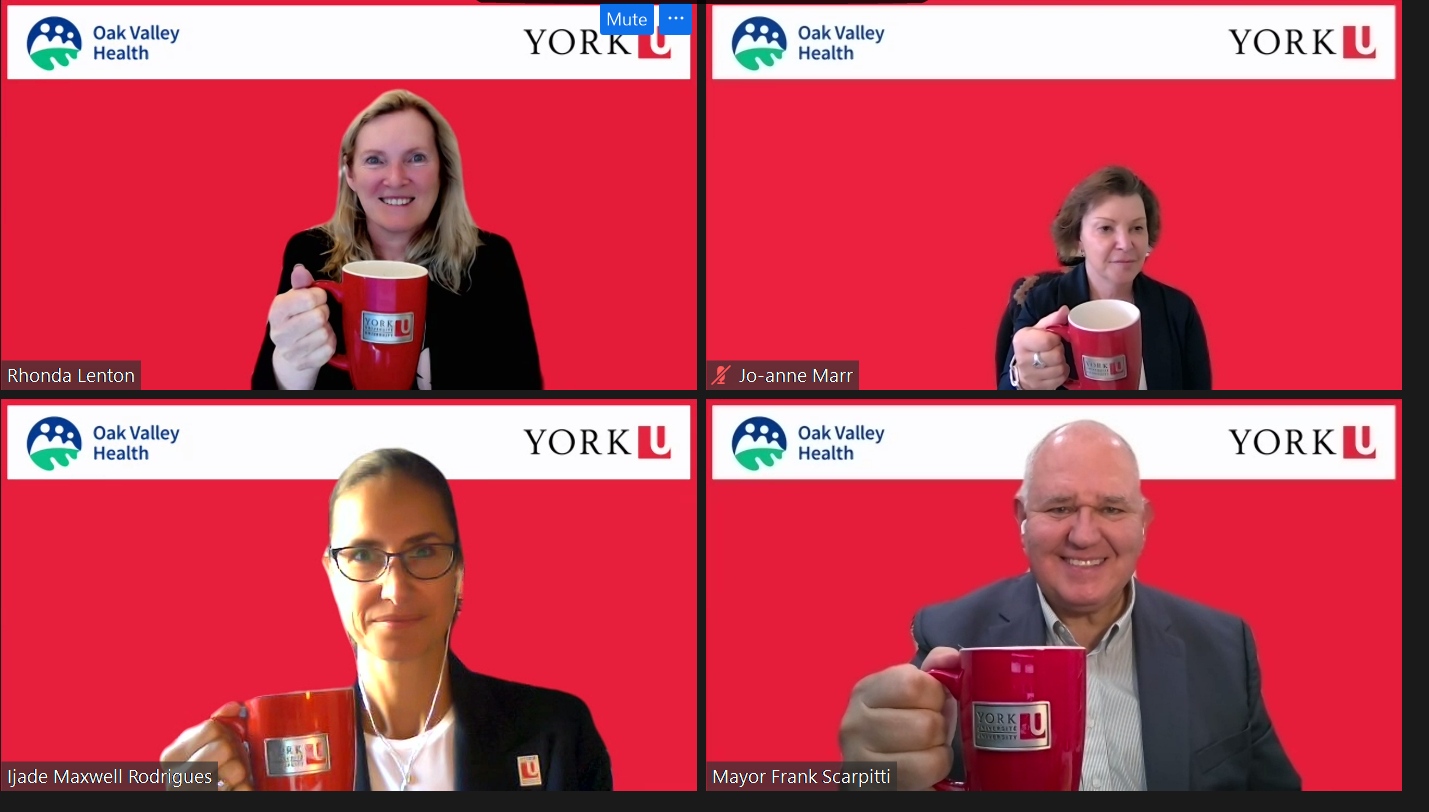 The Memorandum of Understanding (MOU) is a three-year agreement that sets out strategic areas of engagement and co-operation: future medical education partnerships; development of research capacity and opportunities between faculty and health care professionals and other hospital staff; clinical placements and experiential learning opportunities for students; continuing education and development for health care professionals and other hospital staff; health and wellness partnerships including clinics, community health initiatives, public and community education, global health initiatives and special events; information systems integration partnerships including learning management systems and test systems, and other mutually agreed educational or research programs including CIFAL York, to be housed at Markham Campus opening Fall 2023.
Watch video below:
QUOTES:
"Since establishing its Faculty of Health in 2006, York University has been steadily expanding its leadership in health education and research offered through programs and organized research units that build on our distinct interprofessional and interdisciplinary approach to keeping more people healthier longer in their communities. We are pleased to partner with Oak Valley Health to further enhance the future of medical education and the training of the next generation of world-class health professionals as we work together to create healthier and more equitable communities. We also appreciate the ongoing support of Oak Valley Health and local government leaders as we continue to advance our plans for a School of Medicine that will build on our strong foundation and innovative community collaborations to drive positive change both locally and globally." – Rhonda Lenton, President and Vice-Chancellor, York University
"We are thrilled to be partnering with York University and working towards a shared goal – providing meaningful learning opportunities to the future health care professionals and leaders in our region. By working together we will create even more opportunities for clinical placements, continuing education, information systems integration and many more initiatives. This partnership plays a foundational role in Oak Valley Health's academic strategy. It is our goal to continue fostering a collaborative and inclusive environment where our people will continue to grow and never stop learning." – Jo-anne Marr, President and CEO, Oak Valley Health
"The City of Markham strived to attract York University's new Markham Campus to build on our community's capacity for innovation and research. Now, more than ever, we appreciate the need for collaboration between healthcare providers and relevant partners. Oak Valley Health has demonstrated its strength in providing on-the-ground healthcare while advancing important clinical trials. Congratulations to both York University and Oak Valley Health on this agreement which further strengthens medical education and research in Ontario." – Frank Scarpitti, Mayor of Markham
QUICK FACTS
York University's Faculty of Health includes one of Canada's largest Nursing and Nurse Practitioner programs as well as outstanding bachelor and graduate degrees in psychology, kinesiology and health sciences, global health, health studies, health policy and management, health informatics, critical disability studies, and neuroscience.
York University is home to centres of research excellence in antimicrobial resistance, disease modelling, data visualization, advanced robotics, global health, healthy aging, and muscle health, among others.
York University's Centre for Vision Research is world-renowned and has an expansive network of global health partners.
IP Osgoode provides thought leadership on the ownership, use and governance of data, including personal health data.
York University is advancing health and healthcare in York Region and across the GTA by building capacity in health research, education, innovation, and commercialization through the Vaughan Healthcare Centre Precinct (VHCP) — a ground-breaking public/private partnership between the University, the City of Vaughan, Mackenzie Health, and ventureLAB.
About York University:
York University is a modern, multi-campus, urban university located in Toronto, Ontario. Backed by a diverse group of students, faculty, staff, alumni and partners, we bring a uniquely global perspective to help solve societal challenges, drive positive change and prepare our students for success. York's fully bilingual Glendon Campus is home to Southern Ontario's Centre of Excellence for French Language and Bilingual Postsecondary Education. York's campuses in Costa Rica and India offer students exceptional transnational learning opportunities and innovative programs. Together, we can make things right for our communities, our planet, and our future.
About Oak Valley Health:
Oak Valley Health is one of Ontario's leading community health systems. Across our two hospitals, Markham Stouffville Hospital (MSH) and Uxbridge Hospital (UXB), as well as our Reactivation Care Centre (RCC), we provide high quality, patient-centred care to more than 474,000 patients each year. We offer diagnostic and emergency services and deliver clinical programs in acute care medicine and surgery, addictions and mental health, and childbirth and children's services. We are proud to be part of the Eastern York Region North Durham Ontario Health Team (EYRND OHT).
Our 489 physicians, 28 midwives, over 2,900 staff and over 1,000 volunteers serve patients and families with an honoured to care mindset and are focused on delivering an extraordinary patient experience to the residents of Markham, Whitchurch-Stouffville, Uxbridge and beyond.
Media Contacts:

Kayla Lewis, York University, 416-455-4710, lewiskay@yorku.ca
Melissa Londono, Oak Valley Health, 416-270-6009, mlondono@msh.on.ca