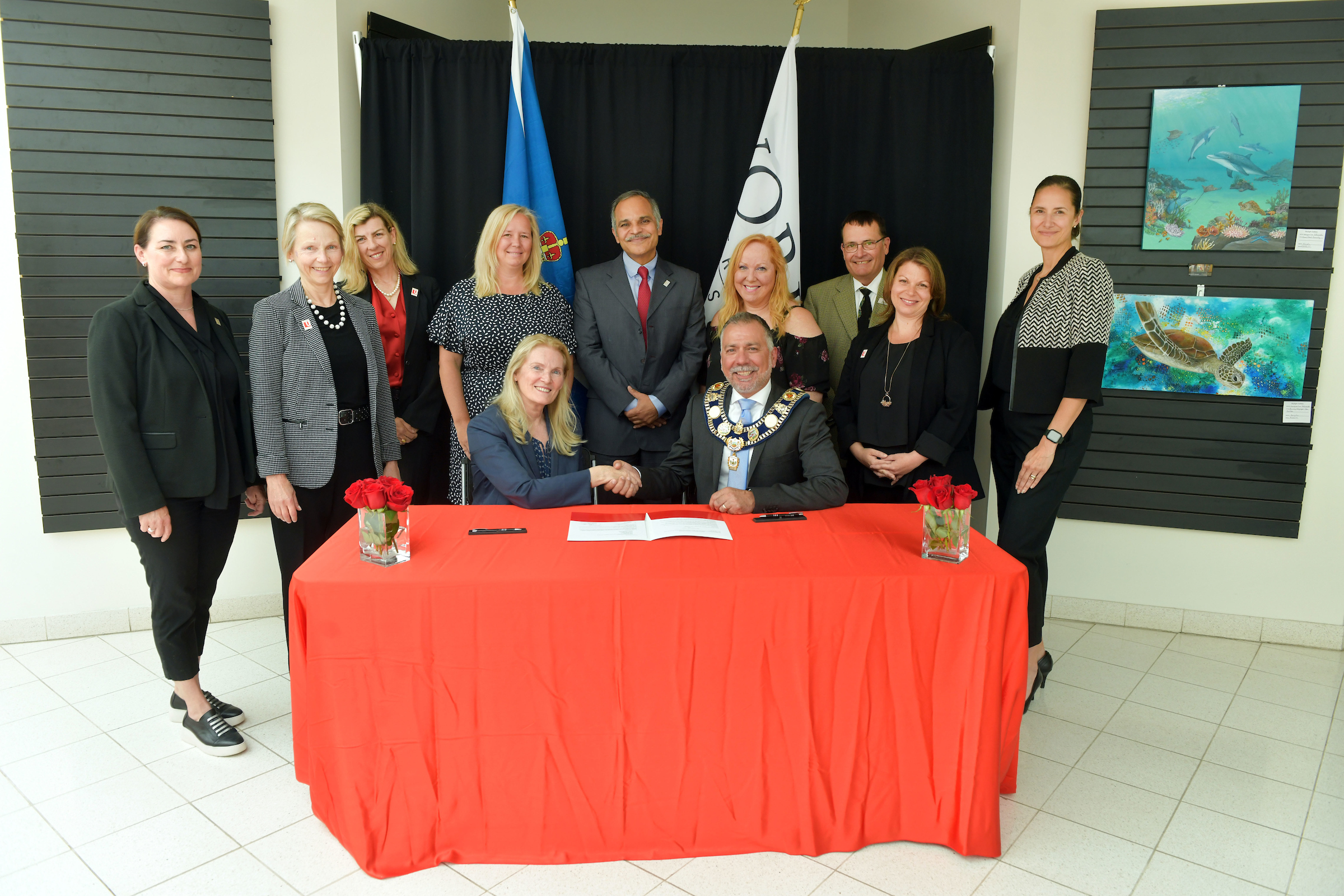 Home » Category Listing »
York U and Town of Aurora ink five-year pledge to build a better future together
On Monday, June 20, Aurora Mayor Tom Mrakas was joined by York University President Rhonda Lenton at a Memorandum of Understanding (MOU) signing at Aurora Town Hall.
The event was a celebration of a long history of partnership between York and Aurora as well as a cementing of common goals and a shared vision for a forward-looking collaboration that will bring tangible benefits to the Aurora community.
The MOU is a five-year agreement setting out a wide range of agreed-upon initiatives and priorities. The agreement specifies key areas in which the town and University have shared goals, including: community development, research, scholarship, learning and employment, economic growth, and sustainability.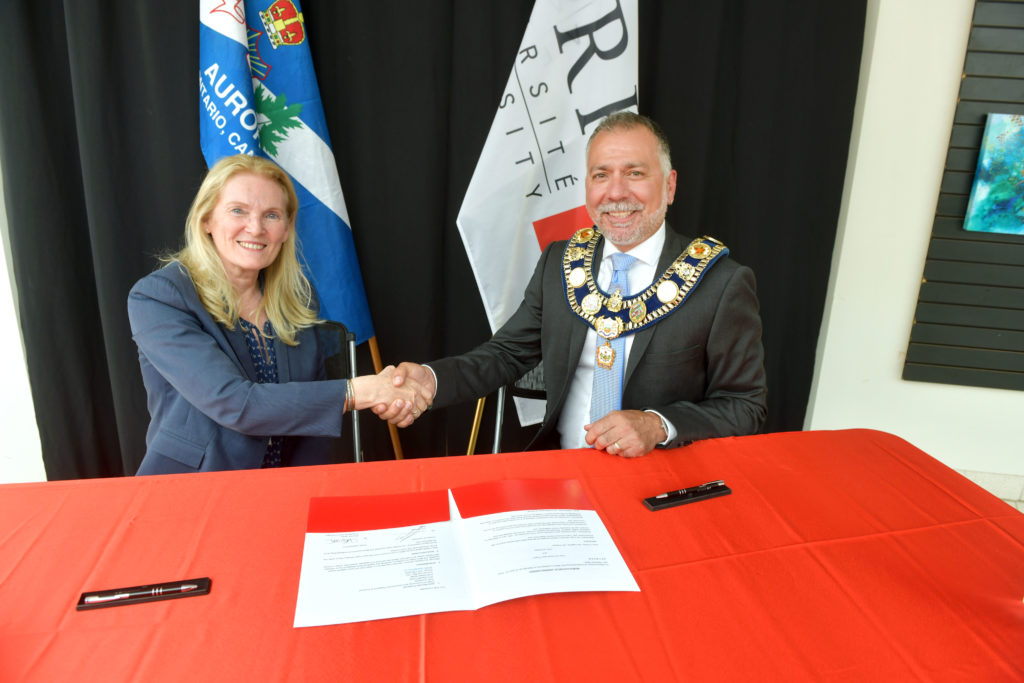 "The Town of Aurora has a long-standing relationship with York University having worked together on important efforts in various fields with the shared intent of improving and enhancing our community. Today's signing of the memorandum of understanding formalizes this relationship as we agree to work together to support each other's strategic priorities and bring more educational and learning opportunities to our community," said Mayor Tom Mrakas. "We are excited for the future possibilities of this partnership especially as we continue to develop our downtown core and build a strong community."
Specifically, the MOU contains shared pledges to pursue smart community technology; professional development opportunities for town council and staff; and learning and employment programs, including experiential education and work-integrated learning (WIL) opportunities in key areas such as urban planning and municipal law.
"We are pleased to partner with the Town of Aurora to contribute to the sustainable and economic prosperity of our communities," said Lenton. "The MOU pledges to pursue new professional development and learning opportunities and to participate in the development of leading-edge technologies that drive positive change while advancing key University priorities such as our commitment to sustainable development."
The MOU designates liaisons at the University and Town of Aurora who will oversee joint efforts that fall within the agreement's scope, organize periodic reviews, and track progress.
– 30 –
About Aurora:
The Town of Aurora is an innovative and sustainable community where neighbours care and businesses thrive. Located in the heart of the Greater Toronto Area, Aurora is home to over 60,000 residents and 2,200 businesses including approximately 150 different industries. Aurora's family friendly communities, local amenities, cultural and recreational activities, vibrant local economy, attractive natural environment and strategic location in York Region continue to attract residents and workers to the area. Aurora's location offers all the advantages of an urban centre while maintaining its small-town atmosphere. A scenic and friendly Town with a rich cultural heritage, recreational facilities and neighbourhoods make Aurora an ideal place to live, play and grow a business.
About York University:
York University is a modern, multi-campus, urban university located in Toronto, Ontario. Backed by a diverse group of students, faculty, staff, alumni and partners, we bring a uniquely global perspective to help solve societal challenges, drive positive change and prepare our students for success. York's fully bilingual Glendon Campus is home to Southern Ontario's Centre of Excellence for French Language and Bilingual Postsecondary Education. York's campuses in Costa Rica and India offer students exceptional transnational learning opportunities and innovative programs. Together, we can make things right for our communities, our planet, and our future.
Aurora Mayor Tom Mrakas' Office:
tmrakas@aurora.ca
All other media inquiries for the Town of Aurora:
Carley Smith, Manager, Communications, csmith@aurora.ca
York University media contact:
Matt LaForge, York University Media Relations, 437-242-1547, mlaforge@yorku.ca