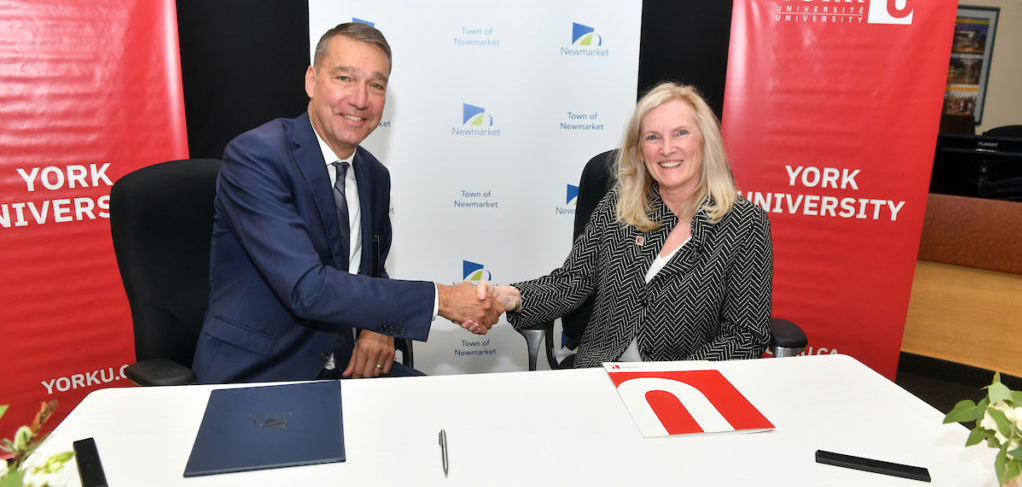 Home » Category Listing »
York University, Town of Newmarket sign five-year MOU to advance shared goals and demonstrate commitment to positive change
NEWMARKET, ON – Sept. 14, 2022 – Today, York University President Rhonda Lenton and Newmarket Mayor John Taylor signed a new five-year Memorandum of Understanding (MOU) – a clear commitment to advance shared goals and create positive change in Newmarket.
The signing ceremony was held in the Town of Newmarket Council Chambers and marks the beginning of an exciting, collaborative approach that will strengthen the relationship between Newmarket and York University.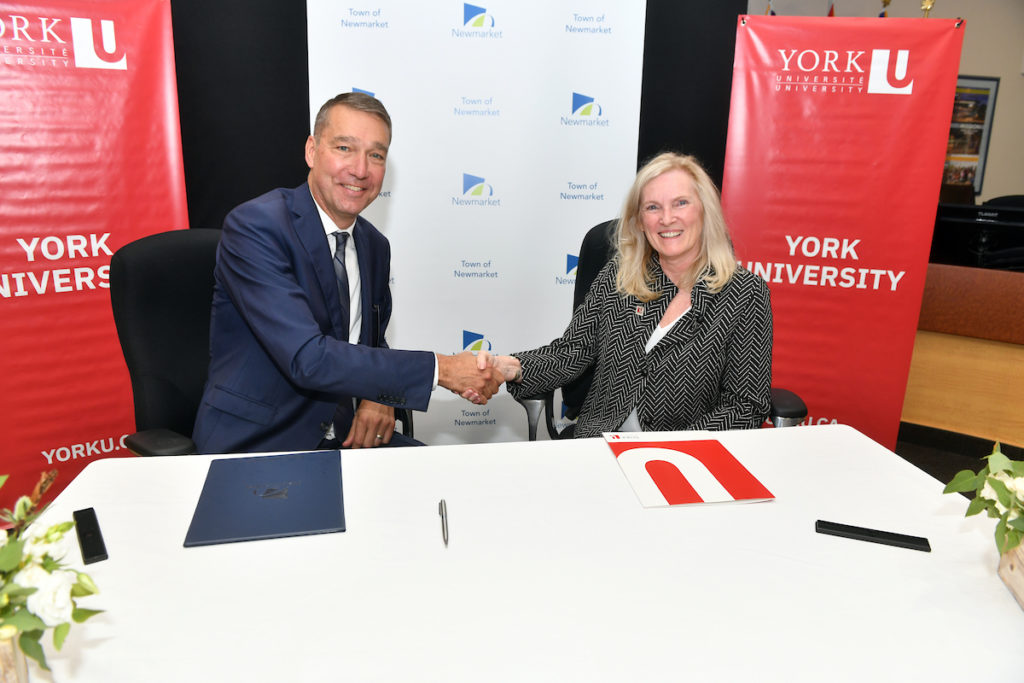 "We are pleased to partner with the Town of Newmarket to develop sustainable, equitable and prosperous opportunities that will enhance and enrich our communities and drive positive change," said Rhonda Lenton, president and vice-chancellor. "By collaborating together on innovative programming, diverse experiential learning opportunities, and cutting-edge research, we are enriching the student living experience, building the next generation of future leaders and strengthening our impact on the global problems affecting our local communities."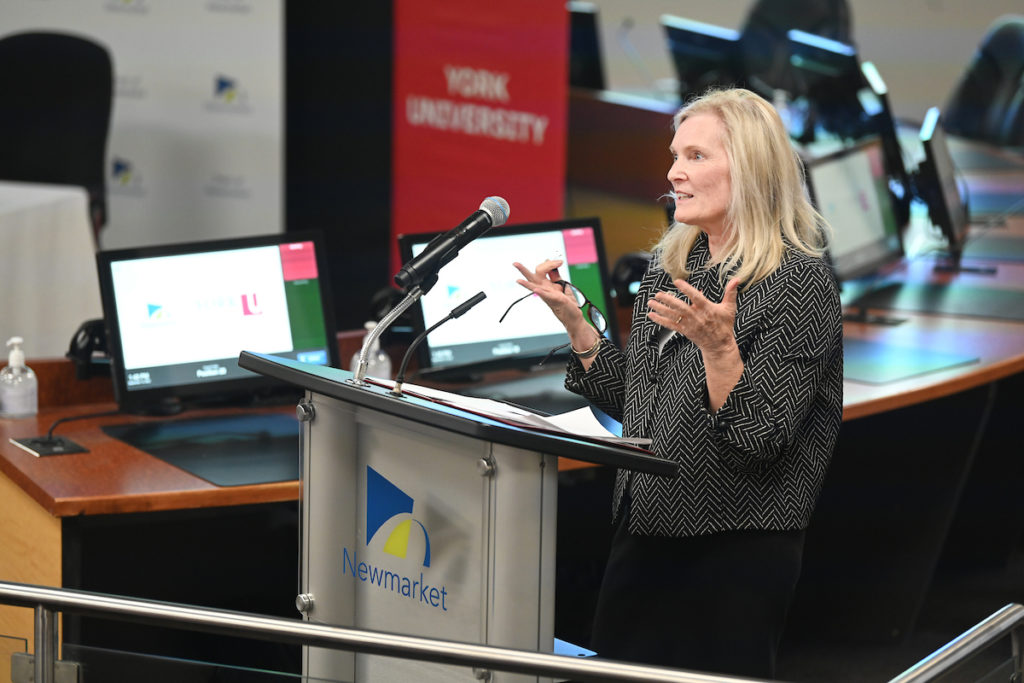 "Newmarket's success is tied to the strength of our partnerships. Newmarket has a history of working with York University on a variety of social and economic initiatives," said Newmarket Mayor John Taylor. "The agreement signed today formalizes our partnership and creates a framework to accelerate and expand the ways we work together and bring more benefits to the community. I'm excited to expand our partnership and its potential to make Newmarket even better."
The MOU is a five-year agreement that highlights three main areas of focus:
Exploring new opportunities for Newmarket to host York University programs, and/or to develop programming
Experiential learning opportunities at the Town of Newmarket for York University students in areas of importance like Public Policy Administration and Law, Urban Planning, Environmental Studies, Law, Glendon Interpretation Program, Engineering and Technology and more.
Collaboration on research, capstone projects, professional development and/or community education opportunities between the Town of Newmarket and York University faculty including but not limited to:

Executive Education opportunities for Town StaffAdvancing the Town's Smart City goals
Supporting the Town's needs related to transportation and traffic
Supporting the Town's goals related to equity, diversity, and inclusion
Advancing the Town's environmental and sustainability goals
About York University:
York University is a modern, multi-campus, urban university located in Toronto, Ontario. Backed by a diverse group of students, faculty, staff, alumni and partners, we bring a uniquely global perspective to help solve societal challenges, drive positive change and prepare our students for success. York's fully bilingual Glendon Campus is home to Southern Ontario's Centre of Excellence for French Language and Bilingual Postsecondary Education. York's campuses in Costa Rica and India offer students exceptional transnational learning opportunities and innovative programs. Together, we can make things right for our communities, our planet, and our future.
About the Town of Newmarket:
The Town of Newmarket is a thriving community in York Region, just north of Toronto. It is home to over 90,000 residents, over 41,000 local jobs, great restaurants, a regional healthcare facility and much more. Newmarket is consistently named one of Canada's most dynamic, diverse and desirable places to live and work. The Town is also widely considered a progressive place committed to collaboration, creativity, environmental initiatives and innovation. For more information visit www.newmarket.ca
– 30 –
For more information:
York University Media Relations: media@yorku.ca
Corporate Communications, Town of Newmarket, 905-953-5300 ext. 2040 or corporatecommunications@newmarket.ca