Home » News »
York U to host Ontario's only in-person National Portfolio Day event, following two-year hiatus
Emerging artists and designers have exceptional opportunity to meet experts from institutions around the world and receive feedback
TORONTO, Sept. 20, 2022 – On October 1, representatives from some of the world's leading post-secondary arts and design institutions will converge on York University's Goldfarb Centre for Fine Arts to participate in National Portfolio Day 2022.
Hosted by the University's School of the Arts, Media, Performance and Design (AMPD), National Portfolio Day offers more than 1000 emerging arts and design students the chance to receive valuable feedback on their work and the opportunity to explore some of the best educational creation and exhibition facilities in Canada.
"In AMPD, artists and designers continually refine and expand their creative practices by testing their ideas, techniques and thinking, and by receiving rigorous and supportive feedback on their work," says AMPD Dean Sarah Bay-Cheng.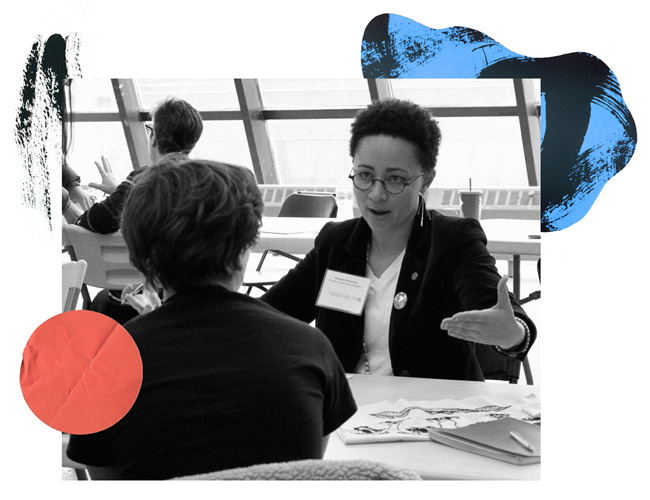 AMPD'S National Portfolio Day, the only one in Ontario this year, marks the event's return to an in-person format following the COVID-19 pandemic. Prospective students will receive expert insight on their arts and design portfolios, learn practical advice from counsellors, admissions staff and faculty, and connect with others who share a strong passion and commitment to art and design.
"The National Portfolio Day Association works with post-secondary institutions that maintain the highest standard of arts and design education available in the world," says Bay-Cheng. "It is an honour for AMPD to be recognized on a global stage as an innovator in our sector with the expertise, space, and accessibility to host an event of this scale and calibre."
Aside from Canada's top arts and design schools, several institutions from Europe and the United States, such as the School of the Art Institute of Chicago and the University of the Arts London (UK) will attend the international event – spearheaded by the National Portfolio Day Association.
-30-
About School of the Arts, Media, Performance and Design (AMPD)
School of the Arts, Media, Performance and Design (AMPD) is one of Canada's most comprehensive arts, culture, and design schools, offering 30+ competitive degree programs, nearly five football fields worth of premier facilities, a diverse community of 3,000 socially engaged students ranging in creative disciplines, and a network of more than 18,000 alumni leading in industries around the world. With 50 years of proven success and innovation, AMPD is a place for inclusive excellence, purposeful curiosity, and sustained career mobility.
About York University
York University is a modern, multi-campus, urban university located in Toronto, Ontario. Backed by a diverse group of students, faculty, staff, alumni and partners, we bring a uniquely global perspective to help solve societal challenges, drive positive change and prepare our students for success. York's fully bilingual Glendon Campus is home to Southern Ontario's Centre of Excellence for French Language and Bilingual Postsecondary Education. York's campuses in Costa Rica and India offer students exceptional transnational learning opportunities and innovative programs. Together, we can make things right for our communities, our planet, and our future.
Media Contact:
Gloria Suhasini, York University Media Relations, 647.463.4354, suhasini@yorku.ca