Home » Category Listing »
Creating positive change through artistic expression
With excitement continuing to build for York University's new Markham Campus, more than 50 people recently gathered to mark the unveiling of a community art exhibit called "Right The Future." The carefully curated exhibit has transformed the generic wooden hoarding in front the busy construction site into a public gallery depicting stories representing York's commitment to driving positive change in its communities, and to truth and reconciliation – while first and foremost honouring the site's Indigenous heritage which is part of the Treaty Lands and Territory of the Mississaugas of the Credit First Nation.
"From time immemorial art was woven through every aspect of traditional Indigenous life, yet in many Indigenous languages, there is no single word for art. Rather concepts of art contained in ancestral languages describe process and movement," said Susan Dion, York's inaugural associate vice-president of Indigenous initiatives, at the exhibit's opening ceremony in the nearby Markham Pan Am Centre on Sept. 28. "Today the definition of Indigenous art continues to expand and evolve, but one thing that is certain, Indigenous peoples are the makers of Indigenous art. It is through the practices of self-representation that we tell of our survival, our presence, and our resistance."
As Markham continues to grow, it retains a rich history and heritage that informs its future. Acknowledging that with its new campus, York will be a part of this tapestry, artists were asked to consider what it means to right the future at the Markham Campus. They were encouraged to contemplate the dimensions of time – past, present and future – sustainability, how different academic disciplines merge and reconciliation with Indigenous communities. York issued a call for artistic expression last spring, receiving 30 submissions. Eight artworks were selected to be part of the final exhibition. Featured artists received an honorarium per selected image and have been credited on-site as well as in all exhibit materials. The artwork will be displayed on the construction hoarding along Enterprise Blvd. until it is no longer required on site.
"I think you will agree that we achieved our goal of making the construction hoarding for our new Markham Campus visually appealing as people drive and walk by," said Rhonda Lenton, York University's president and vice-chancellor, at the unveiling ceremony. "But the art goes far beyond beautification – what you see here tells a series of stories that come from the imaginations and lived experiences of talented artists, all of whom are members of the York community."
(Article continues below)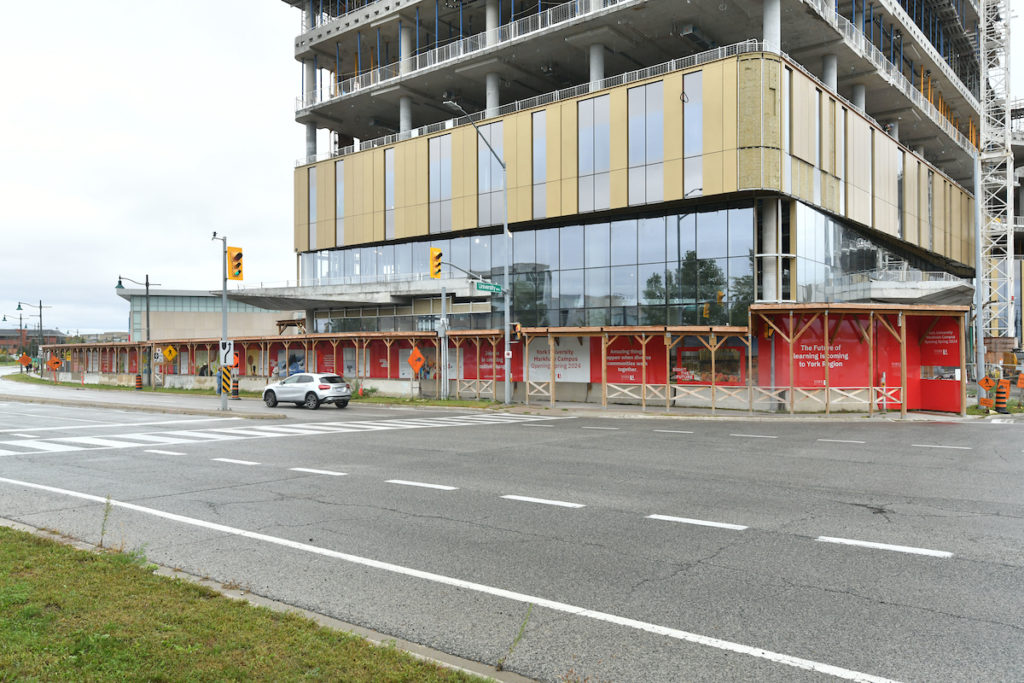 Among the artists are Jasmine Swimmer, an Afro-Indigenous multidisciplinary artist and mother whose work depicts connection between community, identity and resilience, and Marissa Magneson, a Cree-Métis artist, photographer, educator and workshop facilitator whose featured ethnographic photograph "Frozen Chains of Childhood," reflects on the isolating and immobilizing pain Indigenous children endured in the residential school system. Magneson is pursuing a PhD in Education at York this fall and her research explores Indigenous methodologies using beadwork as visual storytelling.
"This project has truly been a collaborative community public art project – and it is leading the way in the province on how public spaces and public art is considered by looking at untapped canvasses such as construction hoarding as locations to exhibit arts and culture… and democratizing the communities' access to art by showcasing it in the public realm," said Anjuli Solanki, the program director for STEPS Public Art, York's partner on the project.
The award-winning charitable public arts organization, prides itself for being at the intersection of public art, city building and community engagement. When it comes to city building and community engagement in Markham, there is now greater champion than Markham's Mayor Frank Scarpitti.
"Here in the City of Markham, we couldn't be prouder to have York University – we couldn't be prouder of the values that are part of your DNA – and I thank the artists for bringing those to light in a very public way with these wonderful examples of art," remarked Scarpitti. "This is a community that is certainly very proud about speaking the truth and I was so pleased to see that Indigenous art was included in this project. Congratulations to everyone who's been involved in this project."
Scarpitti went on to say that he hopes to see the pieces of art incorporated into the Markham Campus building, once complete.
To learn more about Markham Campus, visit yorku.ca/markham.