Home » Category Listing »
Global spotlight on AI's impact on health care, law and urban development
Innovative York University conference to focus on how interdisciplinary collaborations can help shape a more just, equitable, healthy and sustainable future
TORONTO, Nov. 8, 2022 – Researchers and scholars from across Canada and around the world will come together tomorrow, Nov. 9, to examine the burgeoning impact of Artificial Intelligence (AI) on health care, legal practice and urban design during a day-long conference at York University's Osgoode Hall Law School and livestreamed here.
The Bracing for Impact Conference: The Future of AI for Society, organized by IP Osgoode in partnership with Reichman University and Microsoft Corporation, will include three panel sessions: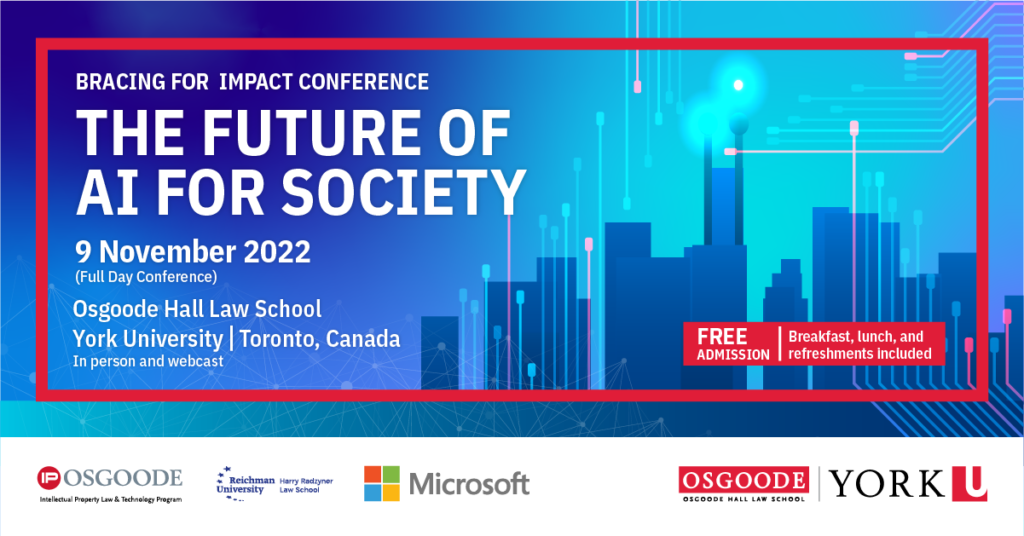 AI for the Future of Urban Development – Smart Cities, Transportation and Sustainability will explore the growing concerns about ubiquitous surveillance as municipalities increasingly employ digital technology and sensors to collect data.
AI for the Future of Legal Practice: Self-Regulation, Access to Justice and the Importance of Legal Data will explore how we can maximize this potential within the unique context of lawyers' professional self-regulation that has been so meticulously interrogated in recent years.
AI for the Future of Health: Data, IP and Equitable Access to Personalized Healthcare will highlight how the emerging paradigms of data-driven healthcare systems can and will shape the future.
"We are so excited to welcome a fantastic panel of experts contributing their diverse insights for this signature conference," says York Professor Pina D'Agostino, the conference chair. "It's the first time I have seen this done at any AI law conference in Canada. The future of AI is here," she says, adding that SPOT – the famous AI robot dog – will be in attendance to greet students and other participants, igniting experiential opportunities.
In addition to keynote speeches and other activities, the conference will include a special ceremony to officially launch the York University Centre for AI & Society. D'Agostino and Professor James Elder of York's Lassonde School of Engineering and the Faculty of Health, will serve as the inaugural co-directors of the centre.
For more panel details, including a full list of guest speakers, click here.
-30-
York University is a modern, multi-campus, urban university located in Toronto, Ontario. Backed by a diverse group of students, faculty, staff, alumni and partners, we bring a uniquely global perspective to help solve societal challenges, drive positive change and prepare our students for success. York's fully bilingual Glendon Campus is home to Southern Ontario's Centre of Excellence for French Language and Bilingual Postsecondary Education. York's campuses in Costa Rica and India offer students exceptional transnational learning opportunities and innovative programs. Together, we can make things right for our communities, our planet, and our future.
Media Contact:
Gloria Suhasini, York University Media Relations, 647.463.4354, suhasini@yorku.ca