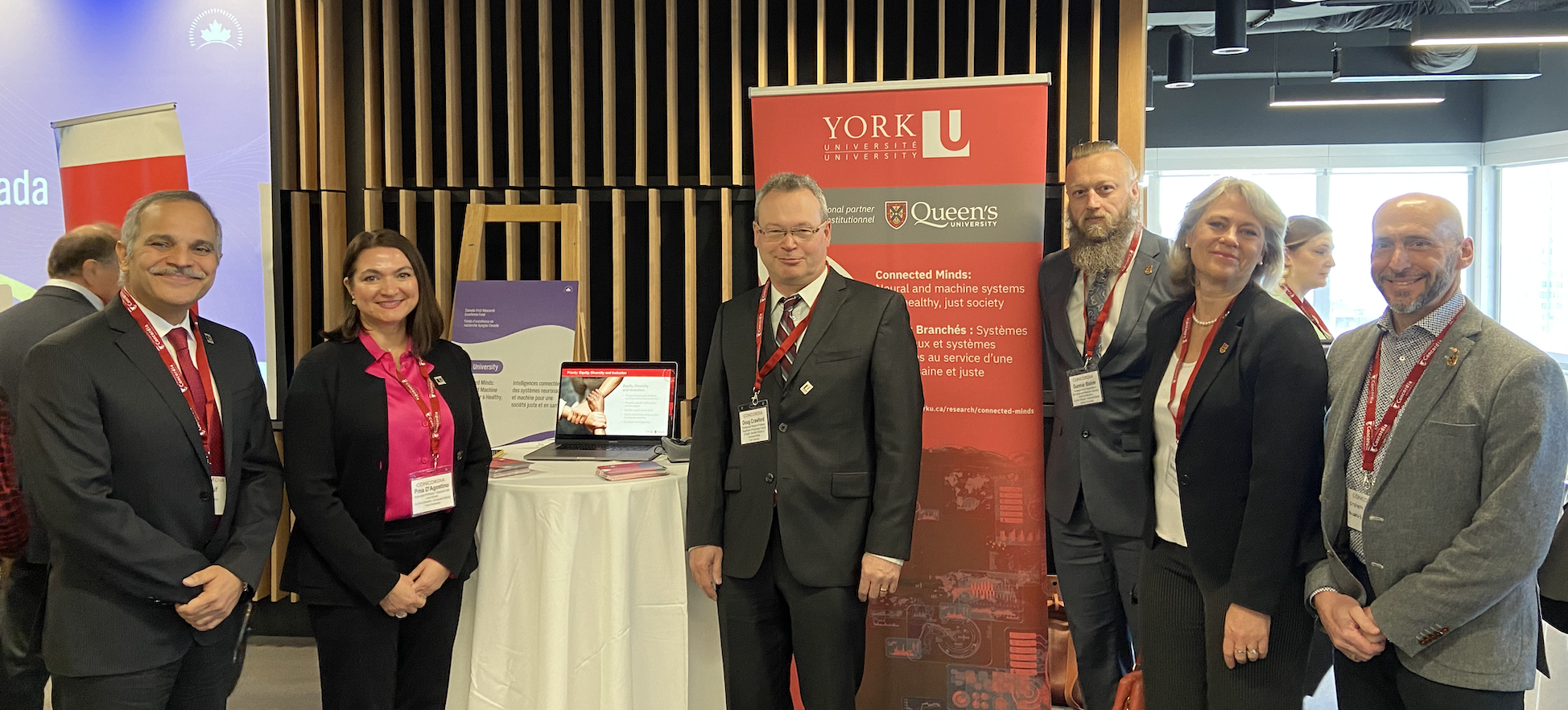 Home » Category Listing »
York University leads $318.4M first-of-kind inclusive next-gen technology research initiative
Together with Queen's University, the cross-disciplinary work is backed by $105.7M in federal funding through the Canada First Research Excellence Fund
TORONTO, April 28, 2023 — Is an equitable world that includes humans and machines possible? York University researchers believe it must be and have set out to make it so through a first of its kind interdisciplinary research initiative called Connected Minds: Neural and Machine Systems for a Healthy, Just Society.
From universities to industries, hospitals and policymakers, artists and Indigenous communities, York's Connected Minds will engage 50+ community partners and research collaborators over seven years supported by a historic $318.4 million in funding. Connected Minds has received a combined $105.7 million from the Canada First Research Excellence Fund (CFREF), announced earlier today by the Government of Canada. Of that, York received $82.8 million and institutional partner Queen's University received $22.8 million.
Led by York, Connected Minds brings together experts in multiple fields, including humanities, engineering, law, and life sciences, located across eight York Faculties and three Queen's Faculties. Researchers will examine the ways in which emerging technology, like Artificial Intelligence, is transforming and entangling society – dubbed the 'techno-social collective.' Researchers will work to discover how to balance both the potential risks and benefits for humanity.
Some of the program's proposed projects include explorations into a more inclusive metaverse, virtual reality and community organizing, neurotechnologies for healthy aging, Indigenous data sovereignty, and how human brain function changes when people interact with AI versus each other.
In addition to supporting interdisciplinary teams of researchers conducting research on promoting a healthy, resilient, and just techno-social collective, Connected Minds will fund 35 strategic faculty hires, partner-focused seed, team, and prototyping grants, knowledge mobilization and commercialization activities, and an ambitious multi-institutional micro-credential training program with 385 trainees and cross-sector stakeholders. All activities will require interdisciplinary participation, and projects that benefit Indigenous and other equity-deserving groups will be prioritized.
A key structural component of the program is an Indigenous-led focus and will feature a dedicated Indigenous research space on York's Keele Campus, as well as employing an overarching decolonization, equity, diversity and inclusion (DEDI) strategy.
The program's operations will involve a directorate led by internationally renowned neuroscientist Prof. Doug Crawford, as Scientific Director, along with intellectual property and technology law expert Prof. Pina D'Agostino, as Vice-Director and Indigenous health scholar Prof. Sean Hillier as Associate Director. Engineer and neuroscientist Prof. Gunnar Blohm joins as the Vice-Director from Queen's University.
The governance structure of Connected Minds includes a Board of Directors to supervise the program ramp up, oversee its progress towards achieving strategic goals and maintain fiduciary responsibility, an External Advisory Board to advise on the overall strategic direction, knowledge mobilization and commercialization activities, and an Indigenous Advisory Circle to counsel all aspects of Indigenous engagement, including issues of privacy and data sovereignty.
The total value of the Connected Minds projects is $318.4 million with the remaining funds, including in-kind contributions, being contributed largely by multi-sector partners, municipal governments, and collaborating institutions.
QUOTES
"Receiving this second CFREF award in the last two competitions reflects York's leadership as a research-intensive university that from its inception has understood the importance of an interdisciplinary approach in tackling complex, global problems. Connected Minds is particularly timely as we consider the implications of AI for creating a more equitable and inclusive world." – Rhonda Lenton, York University president and vice-chancellor
"York is an international leader in interdisciplinary research involving artificial intelligence and other disruptive technologies, social justice, and human science like neuroscience, philosophy, and psychology. The government's substantial investment will unite York's incredible strengths with Queen's health specialties to chart new territory in socially responsible, community-engaged research for a rapidly changing digital world." – Amir Asif, York University vice-president, Research and Innovation
"The current technological revolution will have transformative positive impacts, and likely unintended negative impacts, on humanity for generations to come. To predict these impacts and steer toward positive outcomes, one requires transdisciplinary expertise, multisector community engagement, and research and training at levels that can only occur in a large-scale program. We thank CFREF for providing Connected Minds with the resources to lead Canada and the world in this timely and critical enterprise." – Doug Crawford, York Distinguished Research Professor in Neuroscience and inaugural Scientific Director of Connected Minds
"New technologies are developing exponentially and systems like the law are simply not keeping up. York University's motto, tentanda via, the way must be tried, guides us, in everything we will do. We believe our inclusive, interdisciplinary approach that aligns with the UN sustainable development goals makes York University the perfect place for anticipating the way humans and machines will, and should, connect in an equitable society. This way must be tried." – Pina D'Agostino, director and founder of York's IP Innovation Clinic at Osgoode Hall Law School and Vice Director of Connected Minds.
"Connected Minds is informed by Indigenous perspectives and priorities to achieve outcomes that are culturally relevant and responsive to Indigenous ways of being and doing that impact how we think about and engage in life, health, and education. Our work will seek to address the unexpected consequences of technological innovation, like the growing digital divide for Indigenous communities to access remote health care, and issues of data sovereignty, ownership and digital colonialism." – Sean Hillier, director of York University's Centre for Indigenous Knowledges & Languages and Associate Director of Connected Minds
"The Connected Minds project builds on a history of partnership and collaboration between Queen's and York. Each institution brings unique but complementary research strengths to bear on the important challenges and opportunities that come with disruptive technologies and their impact on Canadian and global citizens."— Nancy Ross, vice principal research at Queen's University
"I look forward to working with Indigenous, community and industrial partners to develop more equitable and socially responsible research outputs for the benefit of all. I am also excited about the many educational and outreach opportunities that Connected Minds will produce – from school programs to graduate training and professional skills development. We want to democratize education and access to knowledge, with the aim of spreading a new culture of innovation for a more equitable, inclusive, and healthy society." – Gunnar Blohm, Professor in Computational Neuroscience and Vice Director of Connected Minds
-30-
For more information:
York U media contact:
Emina Gamulin
437-217-6362
Queen's media contact:
Julie Brown
343-363-2763