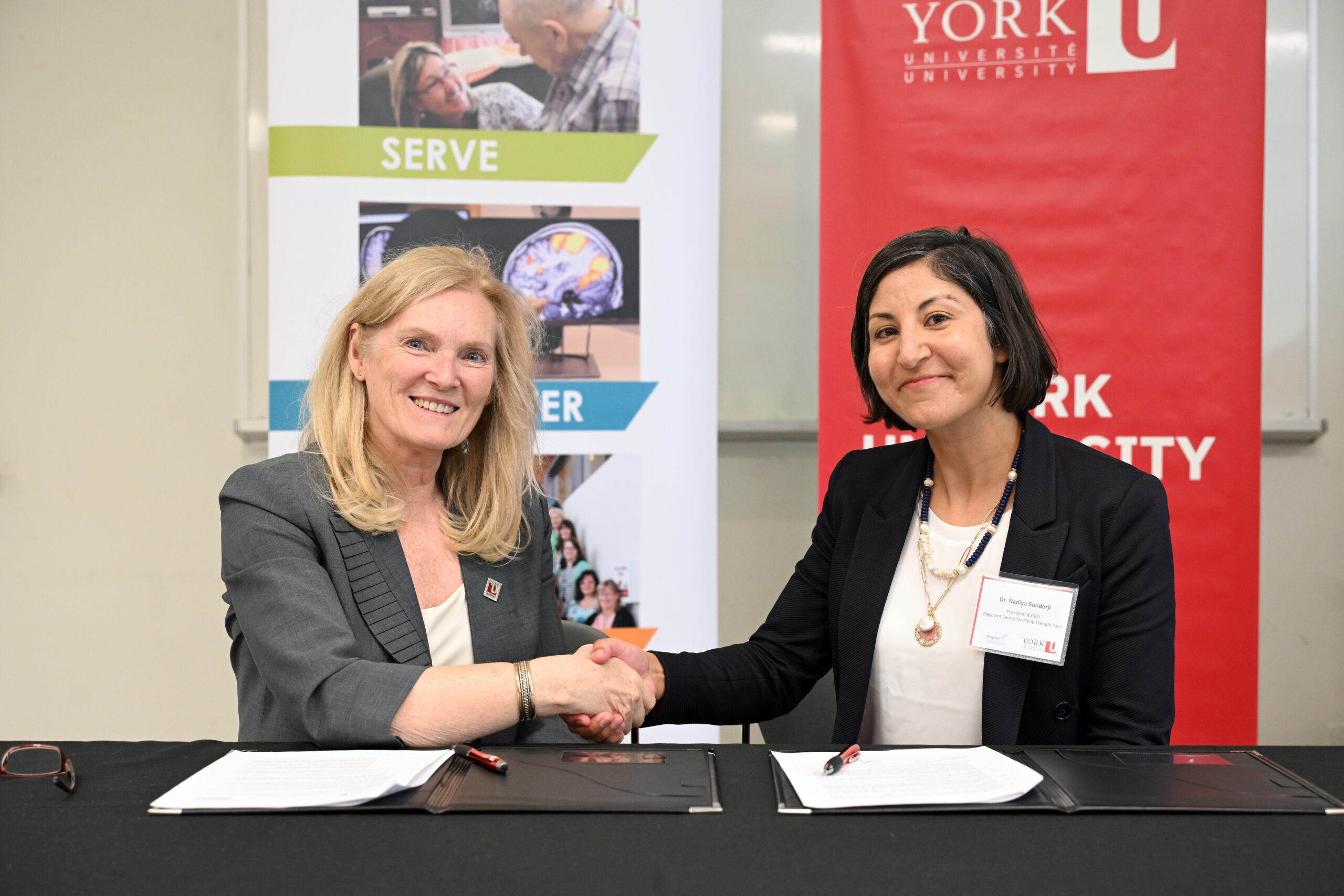 Home » Category Listing »
York U and Waypoint Centre for Mental Health sign three-year commitment that underscores strengths in health research and medical education
On Monday, October 16, York University President and Vice-Chancellor Rhonda Lenton was joined by Dr. Nadiya Sunderji, President and CEO of Waypoint Centre for Mental Health Care, along with other dignitaries including Simcoe North MPP and Minister of Colleges and Universities Jill Dunlop, to celebrate a shared commitment to drive positive change through a Memorandum of Understanding (MOU) that will deepen the ongoing partnership between the University and Waypoint.  
The MOU, signed at a ceremony on York's Keele Campus, will allow York and Waypoint – a specialty mental health hospital located in Penetanguishene, ON – to explore more opportunities to work together in health and wellness; clinical placements and experiential learning; medical education and continuing education for healthcare professionals and hospital staff; infant, child and adolescent health and development; healthy aging and seniors care; as well as research collaborations on topics such as mental health, data analytics, machine learning and artificial intelligence.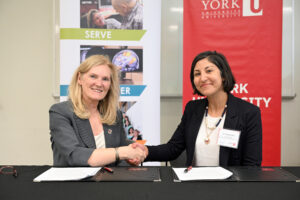 "Every one of us will either be impacted by mental illness, or someone we care about will be impacted," Lenton said. "That's why I am thrilled to announce that York University will partner with the Waypoint Centre for Mental Health to help address these issues and improve overall health."
"At a time when our healthcare system still remains under great strain and we are facing a shortage of family and primary care physicians, interprofessional collaboration in healthcare is critical to boosting health outcomes, well-being and quality of life." 
The agreement builds upon an impactful history of collaboration between York University and Waypoint that includes invaluable, real-world experiential education opportunities for students, and an academic research partnership with distinguished York alumni who are conducting impactful research at the Waypoint Research Institute. As well, York University Associate Professor of Health Informatics Christo El Morr is collaborating with Waypoint to create a first-of-its-kind early warning system to identify at-risk mental health inpatients to allow proactive modifications to their care.
"The research conducted at the Waypoint Research Institute is well known for playing a pivotal role in shattering stigma, influencing global policy making and healthcare practices, and most importantly, advancing access to evidence-based treatments in partnership with people with lived and living experience of mental illness, empowering them to shape science and care delivery," said Sunderji.
"Working together to provide world-class learning and development opportunities will position both of our organizations to successfully recruit the best students, staff and researchers."
As home to one of Canada's largest nursing and nurse practitioner programs, and with plans for a proposed School of Medicine aiming to tackle the growing need for healthcare professionals, York University has developed a longstanding reputation as a leader in health programming and research.