The Indigenous Peoples and Environmental (In)Justice team consists of researchers and collaborators. Since 2016, we have had many people work on the different IEJ projects. Our researchers include faculty researchers, students, postdoctoral fellows, and community members. Our collaborators have also played a vital role in generating and sharing knowledge on Environmental Justice.
For more information on the work of our researchers see Projects and Publications.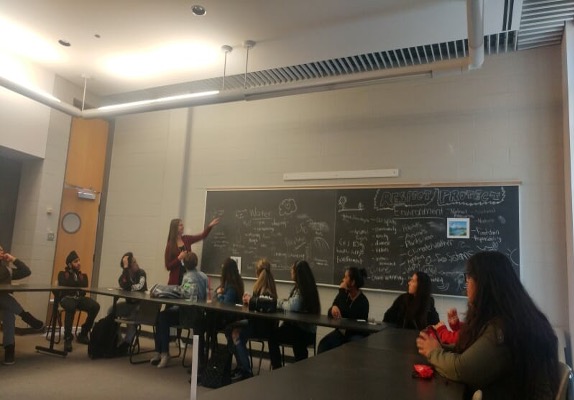 Our researchers include faculty, postdocs, students, and other researchers working on IEJ projects that further the understanding of Indigenous Peoples and Environmental Justice.
Deborah McGregor
Sarah Afriyie
Rachel Arsenault
Casey Bas
David Bazargan
Dali Carmichael
Tara Chandran
Jayce Chiblow
Pippa Feinstein
Leora Gansworth
Dan Kendure
Angelika Kuzma
Aamina Masood
Ethan Persaud-Quiroz
Samantha Pugliese
Mahisha Sritharan
Noah Verhoeff
Our collaborators include researchers whose primary research is not IEJ but whose work intersects and interacts with our projects.
Dr. Alan Corbiere is a proud Anishinaabe from M'Chigeeng First Nation on Manitoulin Island. He is a historian, who has made remarkable contribution to the research of the Anishinaabe language, cultural practices, and material culture for many years. Dr. Corbiere completed a B.Sc from the University of Toronto, a Masters in Environmental Studies and a Ph.D in History from York University. Previously, Dr. Corbiere was the Anishinaabemowin Revitalization Program Coordinator at Lakeview School, M'Chigeeng First Nation, where he and his team worked on a culturally based second language program that focused on using Anishinaabe stories to teach language. He has also conducted research on wampum belts with known Anishinaabe associations, and researched medals, gorgets, and other diplomatic gifts. He has recorded elders speaking in Ojibwe about their crafts and work. Additionally, Dr. Corbiere is the Executive Director at the Ojibwe Cultural Foundation and is one of the co-founders of GRASAC.
Dr. Lisa Myers is an independent curator and artist with a keen interest in interdisciplinary collaboration. She has a Master of Fine Arts in Criticism and Curatorial practice from OCAD University. Myers' recent work involves printmaking, stop-motion animation, and performance. Since 2010, she has worked with anthocyanin pigment from blueberries in printmaking and stop-motion animation. Her participatory performances involve sharing berries and other food items in social gatherings reflecting on the value found in place and displacement; straining and absorbing. Myers has exhibited her work in solo and group exhibitions in venues including Urban Shaman (Winnipeg), Art Gallery of Peterborough and the Art Gallery of Ontario. Her writings have been published in a number of exhibition publications in addition to the journal Senses and Society, C Magazine and FUSE Magazine. She is a member of Beausoleil First Nation, and lives in Port Severn and Toronto, Ontario.
Jesse Abell
Nevada Anwhatin
Melanie Bartosh
Brandon Bear-Jeanes
Max Corne-Klein
William Dandie
Meagan Dellavilla
Andrea De Shield
Meghan Fowler
Nasreen Hussain
Emilia Khalil
Lauren King
Max Klein
Adrianne Lickers
Mika Mackinnon
Peter Mangaly
Laura McClean
Lance Morrison
Nasra Moumin
Jackie Peat
Salisha Purushuttam
Abdeali Hatim Saherwala
Monica Shafik
Kim Tran