February 9, 2022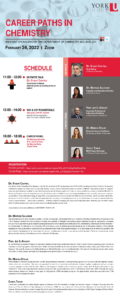 Please see the poster advertisement for the upcoming Career Day event being co-ordinated across several groups in the department: Seminars, Recruitment, Chemistry Society (CSY), and Working for Inclusivity in Chemistry (WIC). Sign up now to join us on Zoom for either (or both) events, using the links provided on the poster (and below).
The event consists of a keynote from Dr. Stuart Cantrill (hosted by Christine Le), Chief Editor at Nature Chemistry, in addition to a Career Panel with Q&A for students from chemistry graduates in a variety of positions in the working world (more details on the poster).
We would greatly appreciate if you all could advertise the event in your lectures, with your friends, to your research teams, and share it with any alumni you think would like to be involved. You can register using the following links:
Keynote (11-noon): https://yorku.zoom.us/webinar/register/WN_e3O4Py8yRgSPas0NzaoMRg
Undergraduate and Graduate Roundtable (1-2:00): https://forms.gle/x3LEe2aLFju1duSg8
Career Panel (4-6:00): https://yorku.zoom.us/webinar/register/WN_-qY1S3jgSqm0nE3u4WJmGw
Undergraduate and graduate students are invited to a dedicated round table discussion with Dr. Cantrill to learn more about his career path (no faculty will be present). Discussion leaders from CSY and WIC will moderate this. Please register!