IMPROVING THE ECONOMY WHILE ENHANCING THE ENVIRONMENT DIALOGUE(IEEED)
Sessions are open to all by registration
Scroll down to register
FEB 9 | FEB 16 | FEB 23 | MAR 2 | MAR 9 | MAR 16 | MAR 23 12:30PM-2:00PM VIRTUAL ON ZOOM
ORGANIZED BY CIFAL YORK & BEST
Background
SARIT Scholarship Program has launched a Scholarship Competition for Canada's University Students. Participating students will win nearly $250,000 in prizes and micromobility electric vehicles by submitting an essay to SARIT Scholarship entitled: "If you were the Prime Minister of Canada, what clear-cut policies and principles would you establish to improve the economy while also enhancing the environment?"
CIFAL York and BEST at Lassonde School of Engineering are organizing the IEEED speaker series. The purpose of the IEEED webinar series is to give experts, from academia, the media, and professional organizations, the opportunity to bring their perspectives to the challenge of how we might BOTH improve the economy and protect the environment. The speaker series is designed to provide thought provoking insights to help students develop ideas where they can integrate these two perspectives and relevant UN SDGs for their essay.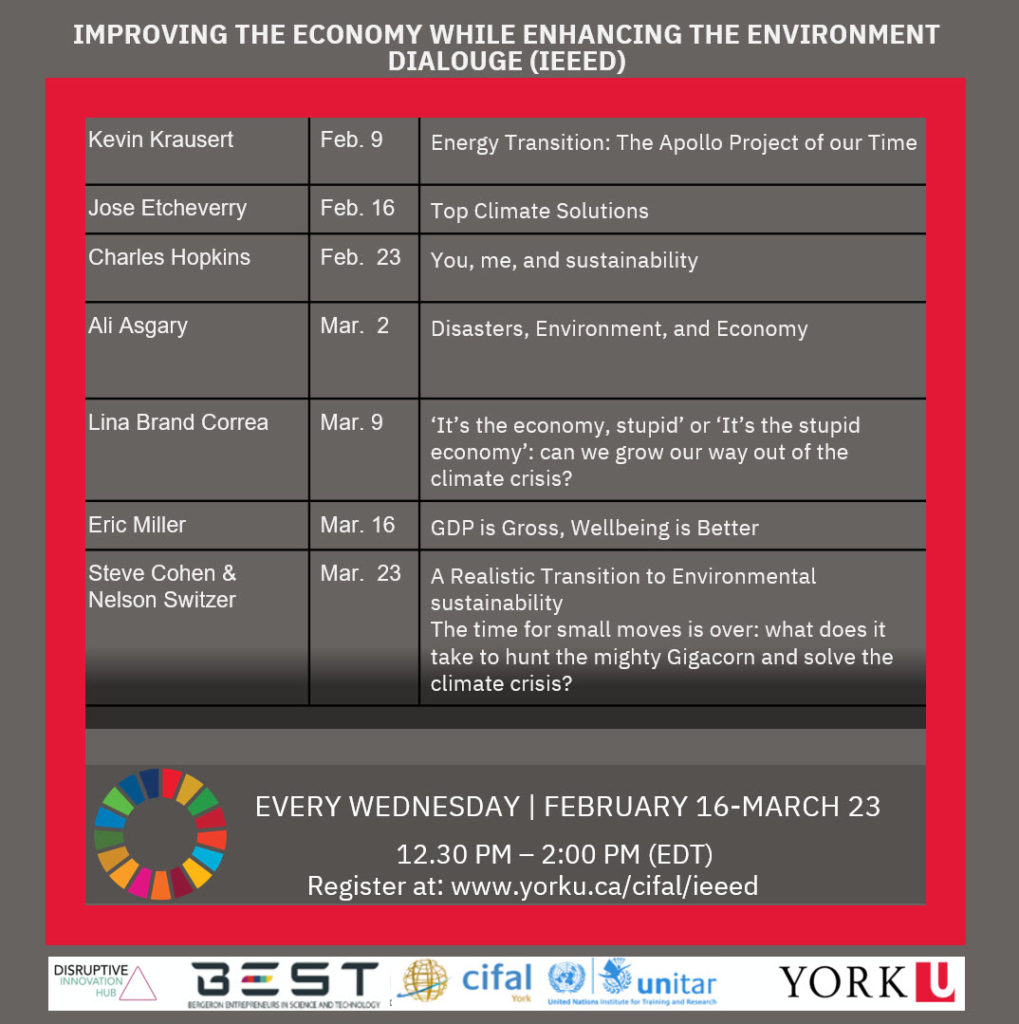 Date, Time and Format
Dates: February 9, February 16, February 23, March 9, March 16, March 23
Time: 12:30 – 2 pm,
Format: 45 minute presentation; 30 minute Q and A.
Platform: Zoom (The link will b shared with registered participants in advance )
Past Sessions Recordings:
---
Session 7: Steve Cohen, Senior Vice Dean, School of Professional Studies, Columbia University, City of New York & Nelson Switzer, Managing Partner, Climate Innovation Capital