CITY's Faculty Affiliate and former member of CITY's Executive Committee, Prof. Vidya Shah received the 2022 Mentor of the Year award. The following note was extracted from the post published by the Ontario Institute for Studies in Education (the full post can be found here).
The 2022 winners of the OISE Leaders and Legends awards have all contributed greatly to the Ontario Institute for Studies in Education's ongoing mission to enhance the social, economic, political and cultural wellbeing of individuals and communities locally, nationally and globally.
Through their good works, this year's six winners – nominated by their OISE alumni, faculty, staff, students, and retirees – Ella Karia, Correnda Downey, Xin Wang, Karen Brown, Kamala Jean Gopie and Vidya Shah are recognized for their excellence in leadership in teaching, research and advocacy.
They were celebrated virtually at the OISE Alumni Association's Biennial General Meeting on June 8 – OISE alumni, the winners' nominators and friends all in attendance to cheer them on. Professor Kristin Snoddon, chair of the Leaders and Legends Awards Committee announced the winners and spoke about their impact.
"I wish to congratulate a truly remarkable group of winners," said Snodden, an OISE alumna and professor at Toronto Metropolitan University. "What they have in common is creativity, passion, and leadership in various anti-racism and social justice initiatives, as well as initiatives that support communities in important ways.
"We are celebrating them for the inspiration and guidance they provide.
(…)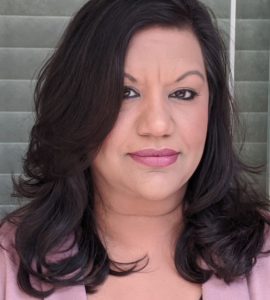 Mentor of the Year Award
Winner: Dr. Vidya Shah, EdD, M.T.
This award honours an individual who has offered exceptional support, guidance and encouragement to members of the OISE community.
Dr. Vidya Shah, this year's winner, is an Assistant Professor in the Faculty of Education at York University. Dr. Shah teaches in the Master of Leadership and Community Engagement, as well as undergraduate and graduate level courses in education. She has worked in the Model Schools for Inner Cities Program in the Toronto District School Board and was an elementary classroom teacher in the TDSB.
Dr. Shah has exemplified the qualities of excellence, leadership and mentorship through her scholarship, work in the community and school boards, and her engagement with junior scholars. She has been generous with her time, advice and feedback. She is actively engaged in equity work demonstrated through her scholarship, work on committees and in community.
How do you believe you best encapsulated this award? Can you provide one example of how?
Mentorship is such an important aspect of my life as someone who has amazing mentors and who in/formally mentors others. It reinforces the idea that achievements and acknowledgments are never individual, isolated experiences. We are because of all of those around us, whose labour and wisdom, both seen and unseen, have paved pathways, built bridges, and opened doors. Mentorship that is multi-directional and flexible helps us remember that we are part of collectives and communities. There is tremendous power in that​. Respectful and reciprocal mentoring relationships are beneficial for all involved and invite us into deeper awareness of who we are and who we might be.
Aside from formal mentoring relationships, people reach out to me for support because they have read my work, seen a webinar, or engaged with me on social media. These connections are so important to me because they keep me connected to classrooms and communities, push my thinking, and invite opportunities for new relationships and collaborations.
How grateful are you to have been recognized with the Mentor of the Year Award?
I am very grateful to receive an award that recognizes the importance of relationships in this work of movement building and liberation.
Who would you like to thank for this award?
I would like to thank Jocelyn Shih for nominating me. As we have worked on The UnLeading Project, we have had the opportunity to play with ideas of leadership and be in the questions of leadership together. Such a beautiful experience! I would also like to thank Professor Joseph Flessa and Professor Sue Winton for writing nomination letters. It is such an honour to be nominated for a mentorship award by two of my amazing mentors. 
The full article by the Ontario Institute for Studies in Education, OISE, can be found here.