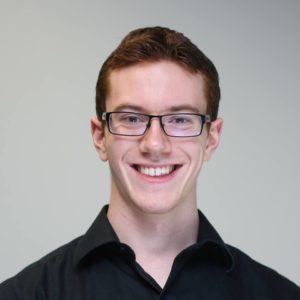 The Centre for Refugee Studies is delighted to announce that Michael De Santi has received the 2021 Anthony Richmond Scholarship. This scholarship recognizes promising graduate student research on the intersections of forced migration and environmental changes, such as climate change, flooding, drought, forest fires, and land or sanitary degradation.
Michael De Santi is completing his master's degree in civil engineering at York's Lassonde School of Engineering. His research aims to enhance water quality in forced migration contexts. He uses artificial neural networks, a type of machine learning tool, to generate chlorination targets for refugee and internally displaced persons (IDP) settlements using water quality monitoring data.
To ensure that his research provides tangible benefits to displaced populations, these analytics have been incorporated into the Safe Water Optimization Tool, which is a free and open-source tool developed in partnership between the Dahdaleh Institute of Global Health Research, the Lassonde School of Engineering, and Médecins Sans Frontières. These analytics are currently used by Médecins sans Frontières and the United Nations High Commissioner for Refugees to generate chlorination targets for refugee settlements in Bangladesh, Tanzania, Nigeria, South Sudan, and Kenya.
Michael will be embarking on doctoral studies in 2021-22, where he will expand on his research to investigate new modelling approaches using water quality data and incorporating human health risks. Together these novel approaches will improve the ability of water system operators to provide safe drinking water in refugee and IDP settlements while also contributing to a broader move towards evidence-based solutions for water, sanitation, and hygiene interventions in situations of population displacement.
According to Centre for Refugee Studies Director Sean Rehaag: "Michael's exciting research leverages new technologies to enhance evidence informed policies in quality of water for people experiencing displacement. It is great to see graduate research at York with immediate positive impacts on policy questions that have become increasingly challenging, as climate change and environmental degradation have made water quality especially precarious in many forced migration settings."
The Richmond scholarship was created by Freda Richmond in memory of her husband, Anthony (Tony) Richmond, Professor Emeritus at York University. Tony established the Department of Sociology's graduate program and was a founding member of the Centre for Refugee Studies. He was known for his civility, lack of pretense, sense of fairness and commitment to scholarly life, as well as his encouragement to women scholars in sociology. His academic interests began with studies in race relations and moved on to migration, refugees and refugee policy. His final book, "Global Apartheid: Refugees, Racism and the New World Order", examined policies that "White" and wealthy countries had instituted to restrict the number of migrant workers and refugees from developing countries – describing the result as a form of Global Apartheid.