2023 Critical Social Science Perspectives in Global Health Research Workshop
Critical research often involves the use of critical theory with social justice aims. Critical social science perspectives in global health are transdisciplinary, participatory, experimental, or experiential analyses that seek greater effectiveness, equity, and excellence in global health. This means engaging directly with global public health actors, structures, and systems to transform global public health while remaining committed to social science theory and methodology.
Join us for the fourth annual Critical Social Science Perspectives in Global Health Research Workshop on Wednesday, March 29 at 9 a.m. to noon ET.
Participants will engage with the research community at York University from a variety of disciplines to create new insights, foster collaboration, and learn more about research opportunities.
York faculty and researchers (with the support of a York faculty member) are invited to deliver a brief five-minute, two-slide presentation on any current or planned research project that takes a critical social science approach to global health at the workshop.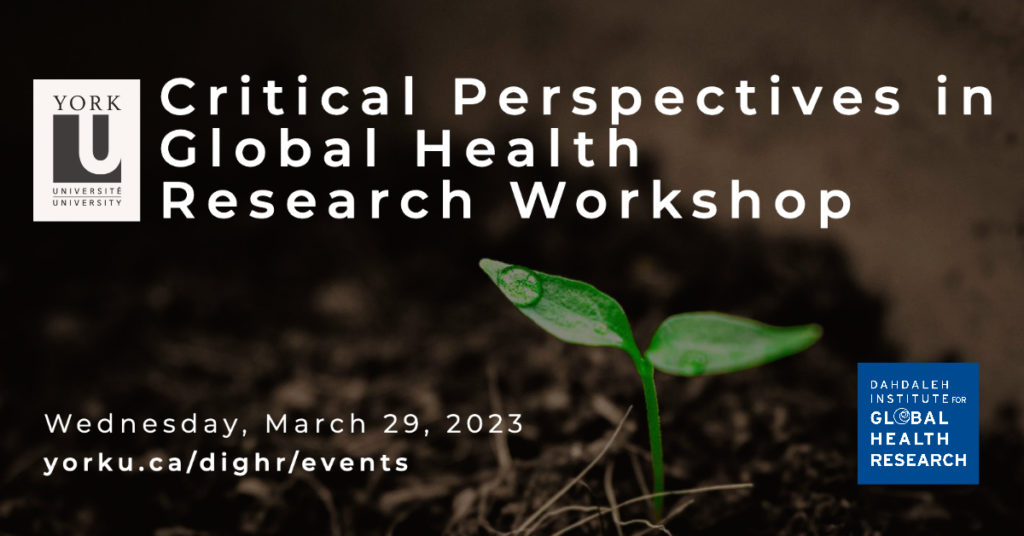 Following the workshop, the Dahdaleh Institute will again announce a call for Critical Perspectives in Global Health Seed Grant applications and award five research seed grants of up to C$5,000 each. The seed grants will support critical global health research that contributes to the research themes of the Dahdaleh Institute, which are planetary health, global health and humanitarianism, and global health foresighting.
Agenda
8:30
Continental Breakfast at Dahdaleh Institute (DI)
9:00
Welcome and Overview to Workshop
9:10
Keynote Presentation with Professor Harris Ali
9:45
Research Updates from the 2022 CPGH Seed Grant Recipients

"Covid-19 and Healthcare Waste Management in Urban Africa"- Jeffrey Squire
"Can Post-Vaccination Sentiment Increase Acceptance of Booster Jab?" - Blessing Ogbuokiri
"State Capacity and Health Equity in a Post-Slavery Context: The Case of the Quilombolas in Brazil" - Simone Bohn
"How is the Drug Misoprostol Being Used in Humanitarian Emergencies for Reproductive Indications?" - Maggie MacDonald
"Decolonizing Planetary Health Through Williche Ecologies of Repair" - Pablo Aránguiz
10:50
CPGH Seed Grant Overview and Application Process
11:10
Research Ideas Presentations from York researchers
11:55
Closing Remarks
12:00
Lunch at Dahdaleh Institute (DI)
RSVP
Registration for this event has closed.