A Planetary Health Advocacy Framework, with Carol Devine and Yasmin Al-Sahili
The Planetary Health Advocacy Framework aims to visualize key advocacy principles, actors and actions for humanitarian, global health and climate actors and beyond. Please join this interactive session for an overview of the crowd-sourced updated framework and contribute your feedback to the final (but living) version.
Additional Readings and Materials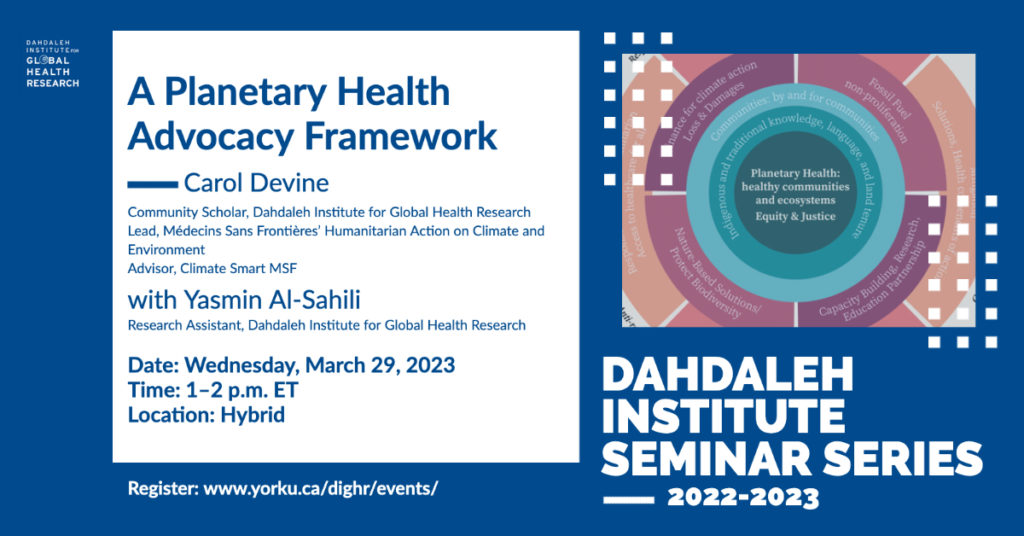 Speaker Profiles
Carol Devine is a Community Scholar, Dahdaleh Institute for Global Health Research working on a framework for health and humanitarian actor climate action and a related framework for Planetary Health Advocacy. She leads Médecins Sans Frontières' (MSF) HACE, Humanitarian Action on Climate and Environment and advisor to Climate Smart MSF. Carol co-authored MSF's Humanitarian Policy Briefs in the Lancet Countdown and was a member of MSF's COP27 delegation in Egypt in Nov 2022.
Yasmin Al-Sahili joined the Dahdaleh Institute as a research assistant working on equity, diversity, inclusion, and decolonization projects in 2021 and collaborating in 2022 with Carol on the Planetary Health Advocacy Framework. She recently completed her fourth year in the global health program, specializing in health policy, management, and systems.
Register below and join us on Wednesday, March 29 at 1 p.m.
RSVP
Registration for this event has closed.