Addressing Inequities in Access to Medical Countermeasures During Health and Humanitarian Emergencies: My Lived Experience, with Emmanuel Musa
In a world where health and humanitarian emergencies can happen at any time, everyone should have access to life-saving medical countermeasures. However, inequities continue, leading to deaths and significantly negative impacts on people's lives and communities. On September 27, Dahdaleh community fellow Emmanuel Musa will discuss methods to improve global health and how everyone can contribute to creating a more equitable world for all.
Medical countermeasures (MCMs) refer to the strategies and tools used to address health threats, including infectious disease outbreaks, natural disasters, and chemical and biological threats. MCMs aim to prevent, treat, or mitigate the impact of such events on people and communities. Global health research in the area of MCMs presents numerous opportunities to enhance our preparedness for health and humanitarian emergencies and safeguard public health worldwide. Through reflecting on his personal experiences, Dr. Musa will explore how research may be used to understand and address inequities in access to medical countermeasures during health and humanitarian emergencies. He will also discuss innovative solutions and practical recommendations for a more equitable future.
This seminar isn't just about attending and listening; it's about empowering everyone to take action, expanding their perspectives, and inspiring them to contribute to the solution. Join us to learn about influencing meaningful change through lived professional experience and global health advocacy and research.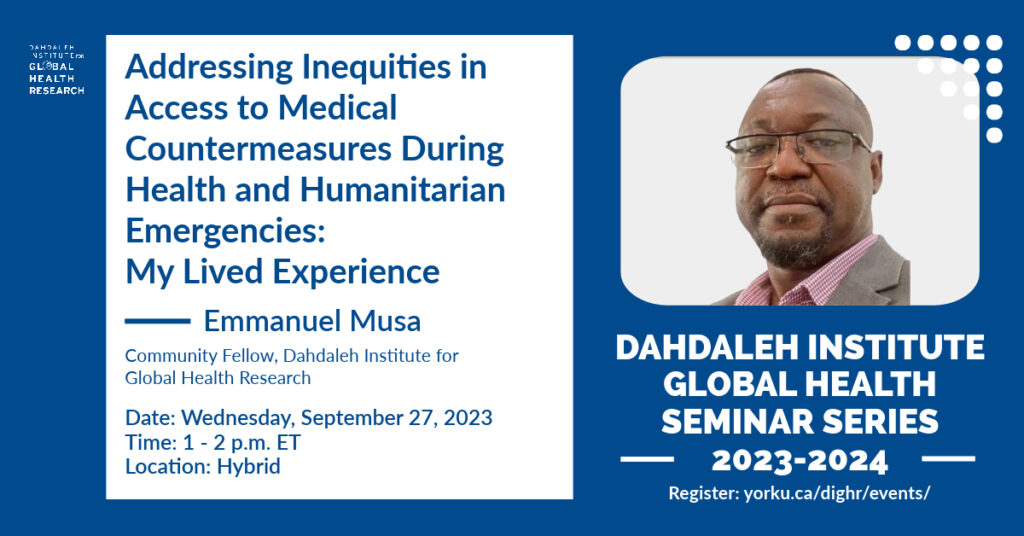 Speaker profile
Dr. Emmanuel Musa is a medical doctor, clinical scientist, epidemiologist, and public health expert. He served as team lead for High Impact Epidemics for the World Health Organization's Health Emergency Programme in Geneva, Switzerland, and as senior medical officer for Emergency Risk Management, responsible for technical support to 47 countries under the Africa Regional Office of WHO in Brazzaville, Congo. The Health Emergencies Programme of the WHO is responsible for delivering global assistance to countries to help them prepare for and respond effectively to health emergencies such as disease outbreaks, pandemics, and disasters.
Dr. Musa began working with the WHO in Nigeria in April 2001 and spent the next two decades in various operational and leadership roles in disease outbreaks, emergencies, humanitarian aid, polio eradication initiative, primary healthcare, and building resilient health systems in several countries. His contributions significantly strengthened health systems and enhanced emergency preparedness, response capacities, and disease prevention and control initiatives. Before joining WHO, he served in teaching, research, oversight, and leadership roles in clinical, community health, primary healthcare system management, and undergraduate and postgraduate medical education in Africa.
Dr. Musa holds an MD, MPH, and a Master of Science in Health Systems Management (Liverpool, United Kingdom). He is a PhD candidate in health research at the University of Bath in the United Kingdom. He also holds a Global Health Diplomacy Certificate from The State University of New York, Albany, and a fellow by distinction of the Faculty of Public Health Medicine, Royal College of Physicians of the United Kingdom. Dr. Musa's current areas of interest include global health research, infectious disease epidemiology, clinical public health, humanitarian aid, climate change and impact on health, developing health system resilience, digital public health intelligence/surveillance systems, and global health security. With a relentless determination to positively impact global health, Dr. Musa continues to apply innovative approaches and an unwavering commitment to improving the well-being of individuals and communities throughout the world.
Register below and join us on Wednesday, September 27, at 1 p.m.
RSVP
Registration for this event has closed.