Modelling the Health Impacts of Global Warming in Malawi, with James Orbinski
As part of the York University's Organized Research Units (ORUs) Climate Change Research Month – an Overview of the Complex Adaptive Modelling Climate Change Health Impacts in Malawi Project at the Dahdaleh Institute.
The Wellcome Trust-funded project involves a transdisciplinary team that includes researchers, policymakers, practitioners, and community stakeholders, with capacity to use evidence to drive climate action. From the outset, the research team has engaged community members and policy decision-makers. They use Agent Based Modelling and Systems Dynamics Modelling, evidence, and simulations to empower community-led adaptation to the health impacts of climate change.
The impacts of climate change include changing patterns of infectious diseases such as cholera, schistosomiasis and malaria, and food security impacts, nutritional impacts such as malnutrition, growth stunting and kwashiorkor secondary to the decreasing quantity and quality of crop yields. For over three years, researchers have focused on engaging localized knowledge, experience and community valuations of health priorities, infrastructure and other needs, in determining the expressed needs and choices of people in the Chilwa Basin of Malawi.
In this seminar, Dr. Orbinski will explore the partnership between York University, University of California, and University of Malawi to expand dialogic and iterative engagement of the affected communities in the Chilwa Basin – with the objective to help further the understanding of policy makers and/or practitioners in the framing, delivery, and communication of our research on the health impacts of global warming.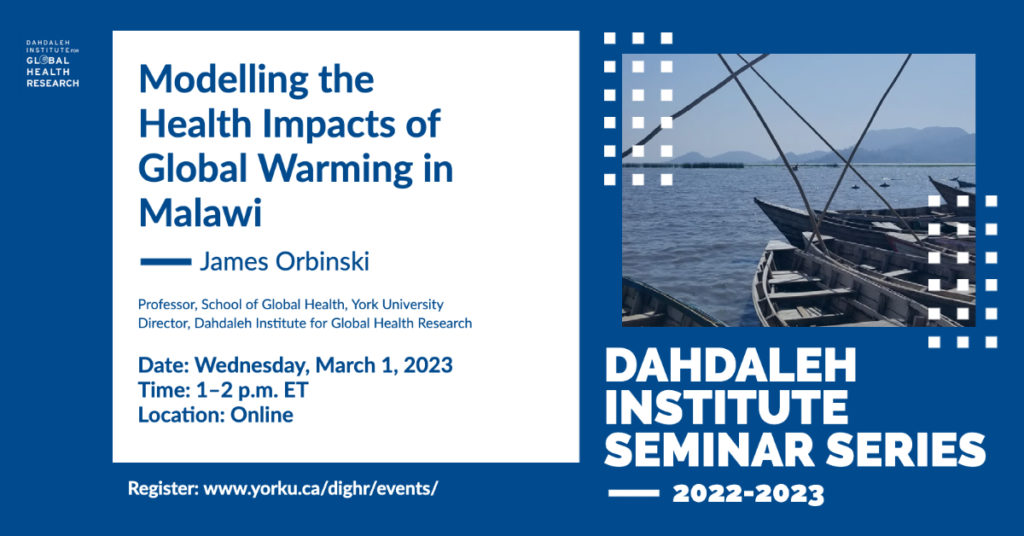 Speaker Profile
Dr. James Orbinski is a professor and the inaugural Director of York University's Dahdaleh Institute for Global Health Research. As a medical doctor, a humanitarian practitioner and advocate, a best-selling author, and a leading scholar in global health, Dr. Orbinski believes in actively engaging and shaping our world so that it is more just, fair and humane.
A champion of health and humanitarianism throughout his career, Dr. Orbinski has extensive leadership, advocacy, and research experience in global health. He has worked providing medical humanitarian relief in situations of war, famine, epidemic disease and genocide with Médecins Sans Frontières / Doctors Without Borders (MSF). He was elected International President of MSF from 1998-2001, accepted the Nobel Peace Prize awarded to MSF in 1999, and co-chaired the founding of the  Drugs for Neglected Diseases Initiative  in 2004, which has since launched six new drug treatments for tropical diseases. He also co-founded Dignitas International, which researched health systems and clinical care, trained more than 12,000 Health Workers, and supported more than 370,000 people with full treatment for HIV and AIDS in Malawi. Dignitas also worked with First Nations communities in Northern Ontario on community based interventions for diabetes.
Dr. Orbinski is a board Member of Grand Challenges Canada, and has been a member of several bodies committed to improving health equity both in Canada and around the world. These include the  Global Alliance for TB Drug Development, the  Stephen Lewis Foundation, Canadian Doctors for Medicare, and the Climate Change and Health Council. He is an invited member of the Davos World Economic Forum's  Global Agenda Council on Health Care Systems and Cooperation and the Canadian Academy of Health Sciences 2011  Expert Panel on Canada's Strategic Role in Global Health.
Dr. Orbinski holds a BSc from Trent University, an MD degree from McMaster University, and an MA in International Relations from the University of Toronto. He is an Officer of the Order of Canada, and has received the  Meritorious Service Cross  for his leadership in providing direct medical relief in Kigali during the 1994 genocide in Rwanda. He is a member of the College of Family Physicians of Canada.
Register below and join us on Wednesday, March 1, at 1 p.m.
RSVP
Registration for this event has closed.