Public Awareness of One Health, with Cary Wu
One Health is recognized as an increasingly important approach to global health. It has the potential to inform interventions and governance approaches to prevent future pandemics. Successfully implementing the One Health approach in policy will require active engagement from the public, which begs the question: how aware is the public of One Health? In this talk, Dahdaleh faculty fellow Cary Wu will discuss the significance of promoting public awareness of One Health and share survey findings concerning the level and distribution of One Health awareness among the general public in China.
Wu, Cary, Astbury, Chloe Clifford, Lee, Kirsten Melissa, Gong, Z., Chen, S., Li, A., Tsasis, P., & Penney, Tarra (2023). Public awareness of one health in China. One Health, 17, 100603. https://doi.org/10.1016/j.onehlt.2023.100603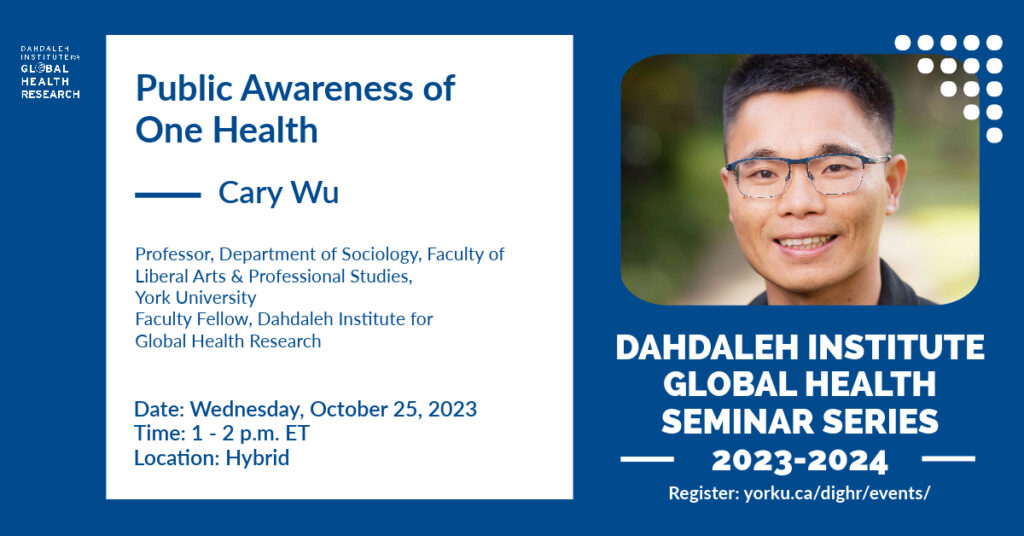 Speaker Profile
Cary Wu is a York Research Chair in Political Sociology of Health. His research focusing on trust and health inequality has appeared in peer-reviewed journals including Daedalus: Journal of American Academy of Arts and Science, PNAS, JAMA Network Open, Public Opinion Quarterly, and Ethnic and Racial Studies as well as in public TV and news outlets such as The Washington Post, The Economist, Toronto Star, CBC, and BNN Bloomberg.
Register below and join us on Wednesday, October 25, at 1 p.m.
RSVP
Registration for this event has closed.