Arctic Water Research Symposium
You're invited to join the Borealis Council to learn about recent water research projects in the Arctic with confirmed speakers:
Susanne Berglund (Naalakkersuisut, Environmental Technologist, Government of Greenland)
Anne Carabin (PhD Candidate, University of Victoria)
Stéphanie Guilherme (Assistant Professor, University of Ottawa)
Jennifer Korosi (Associate Professor, Faculty of Environmental and Urban Change, York University)
Amanda Little (PhD Candidate and NSTP Fellow, Faculty of Environmental and Urban Change, York University)
Judith Yvonne Aline Maréchal (PhD Candidate, Technical University of Denmark)
Gord Marinic (Regional Municipal Engineer, Community and Government Services, Government of Nunavut)
Morten Siersbæk (Lawyer, Siersbæk Law Professional Corporation)
Kathy Lynn Young (Professor, Environmental and Urban Change, York University)
This event has a limited in-person capacity of 40 people and 15 spots have been reserved for undergraduate and graduate students from York University. The event will be streamed over Zoom for registrants who wish to join remotely.
In-Person Registration*: robarts@yorku.ca
*In your email please state your name and current position (student, faculty, member of the general public, etc.)
Zoom Registration: www.tinyurl.com/Arctic-5Dec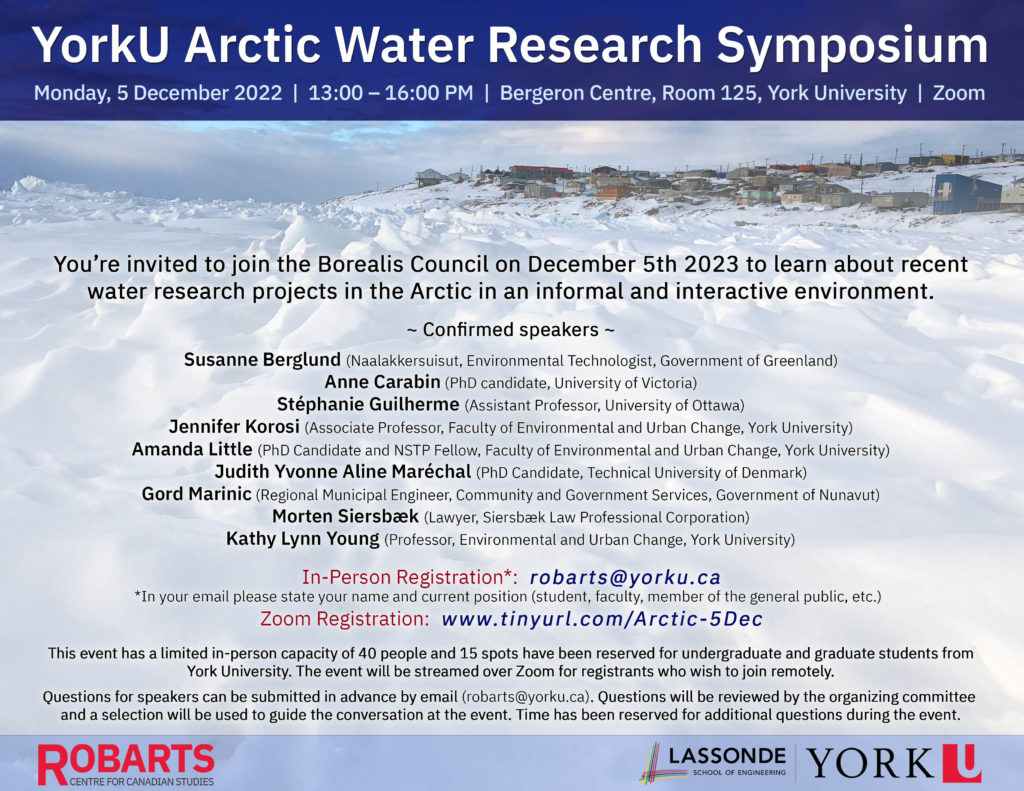 For more information, please visit: https://www.yorku.ca/research/robarts/events/yorku-arctic-water-research-symposium/
Join us on Monday, December 5, 2022 at 1:00 p.m. ET at Room 125 Bergeron Centre for Engineering Excellence (11 Arboretum Ln. Toronto, ON), York University or Zoom.