Group Exercise and Personal Training
Barre is a total body workout inspired by elements of ballet, yoga and pilates. It involves low-impact, high intensity movements designed to strengthen your body, lengthen your muscles and improve your posture.
Additionally, barre develops your agility and flexibility, improves balance and can increase your range of motion.
Barre classes are very beginner-friendly and adaptable to all levels of fitness and a great compliment to other forms of exercise. Because of its low-impact characteristics, the class is suitable for all ages as well as pre- and postnatal women. No dance experience is required.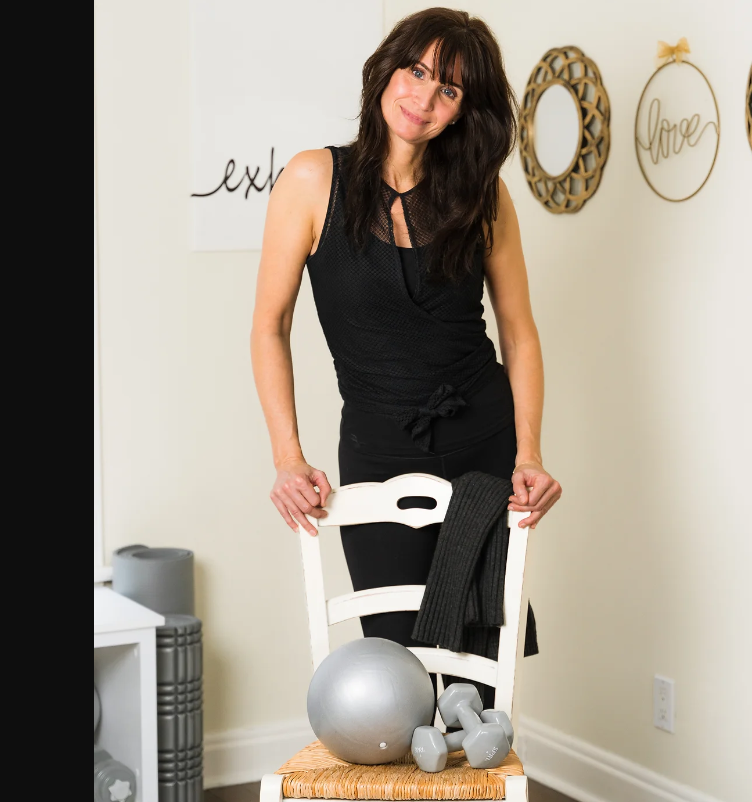 Group Cycling is an exercise program that utilizes the latest Schwinn bikes (with power consoles) that will provide the participant with both a physical and mental workout. Classes are led by certified instructors and are held in our Cycling Studio. A typical workout lasts about 55 minutes during which time the instructor uses a variety of visual, technical and verbal techniques, along with music to motivate the class.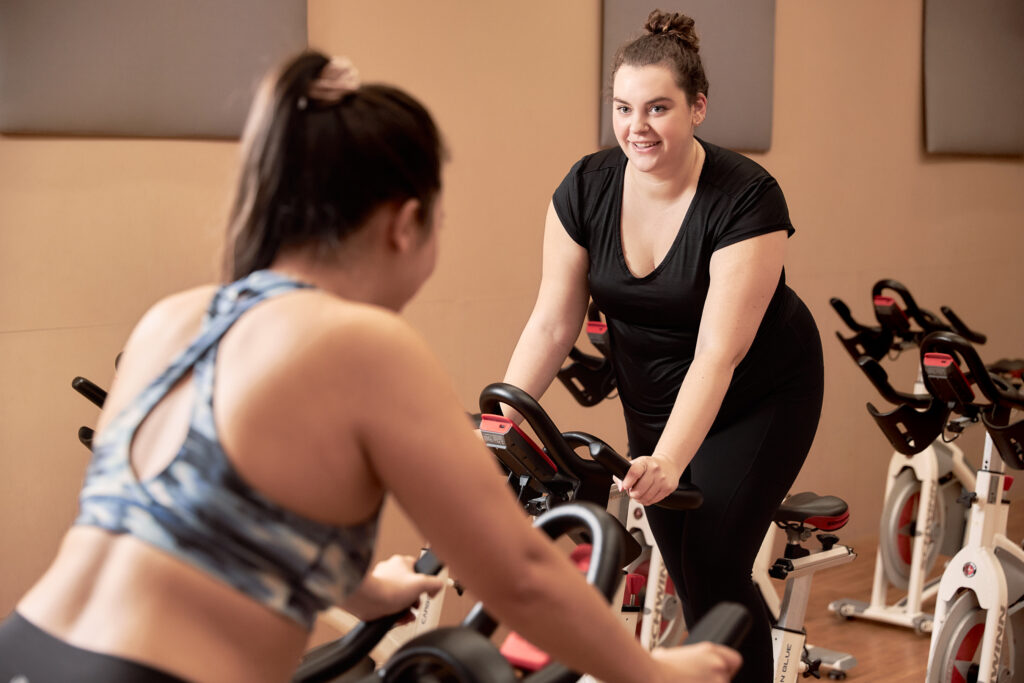 Here is a workout where you can look forward to engaging in a variety of dance styles. Fun is the key and everyone at all levels is welcome – and you will fire up your creative and emotive juices in this unique music-oriented class.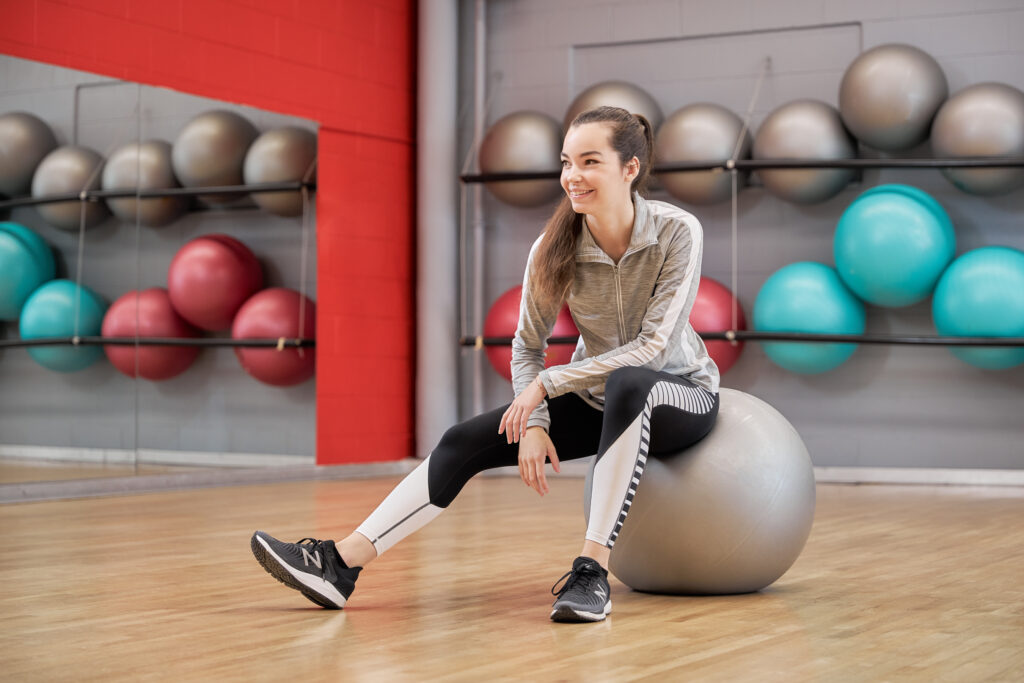 A motivating interval workout class that alternates cardio with weight training, approximately 2:1 ratio. Tone and strengthen your muscles, increase your heart rate, and build a repertoire of exercises that you can incorporate into your personal program.
A class dedicated to muscle and strength gains, encompassed by a general theme of mobility and functionality. This class will meld elements from Bodybuilding, Calisthenics, Yoga and HIIT. Some expected outcomes are : enjoyment of movement, muscle and strength gains, flexibility and a greater understanding of movement.
The intensity is governed by the participant and depends on the level of progression chosen.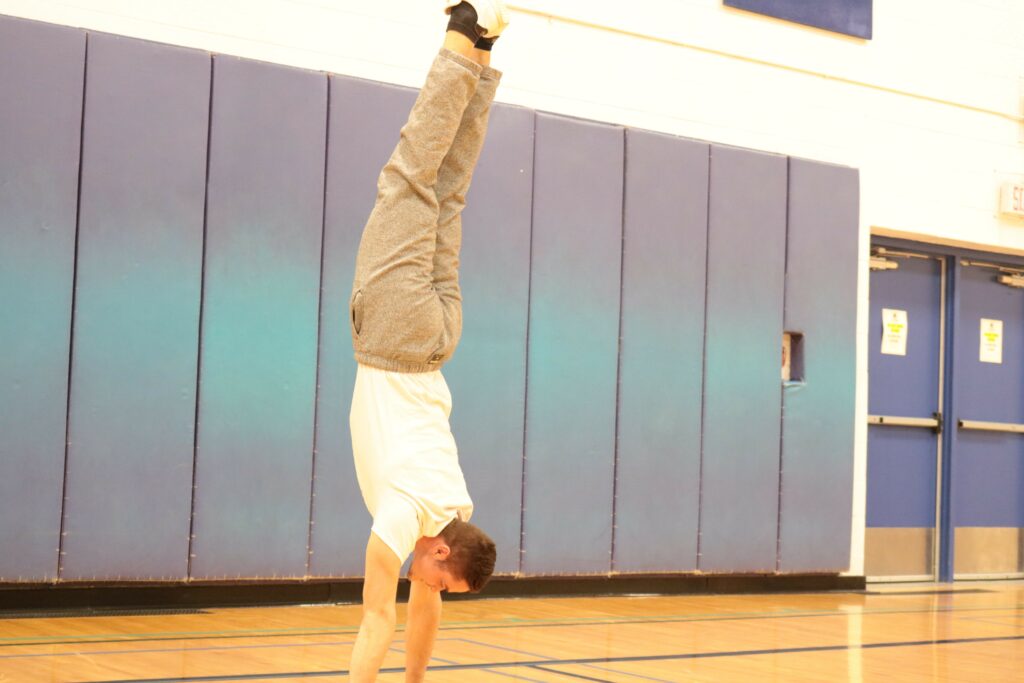 This class is a total body workout that includes a low impact Cardio segment, Conditioning both for the upper and lower body, Resistance training exercises with weights to increase bone density targeting all the major muscle groups while strengthening and balancing the body musculature, using dumbbells, stretch bands, various balls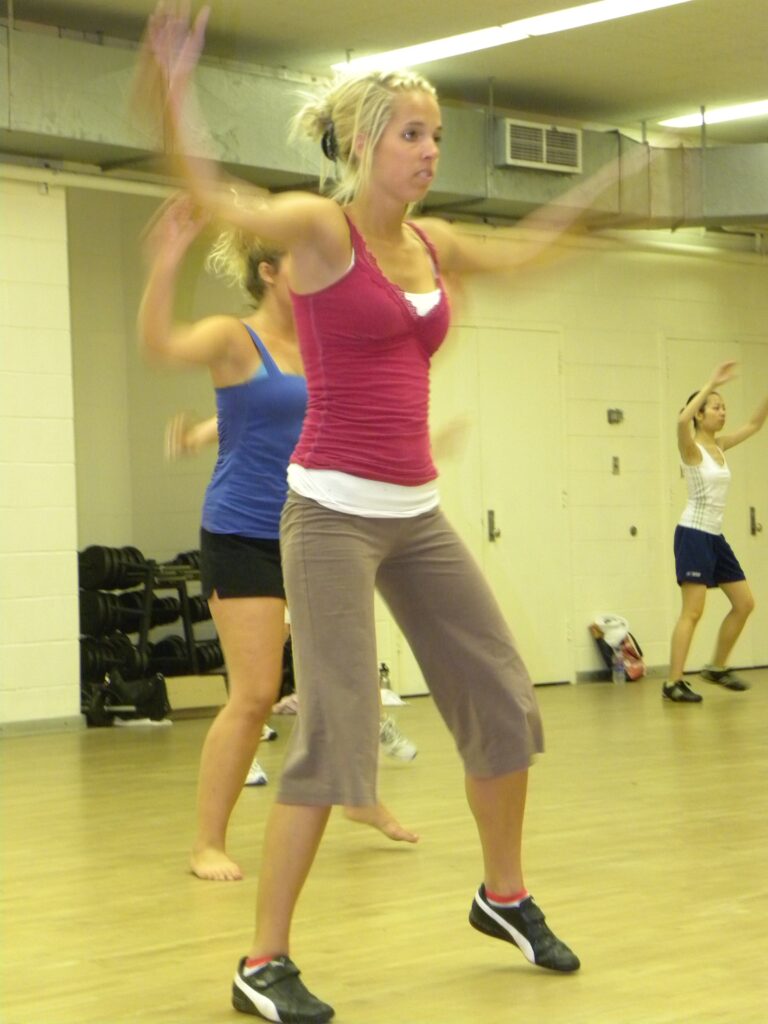 Here is a workout where you can look forward to engaging in a variety of dance styles. Fun is the key and everyone at all levels is welcome – and you will fire up your creative and emotive juices in this unique music-oriented class.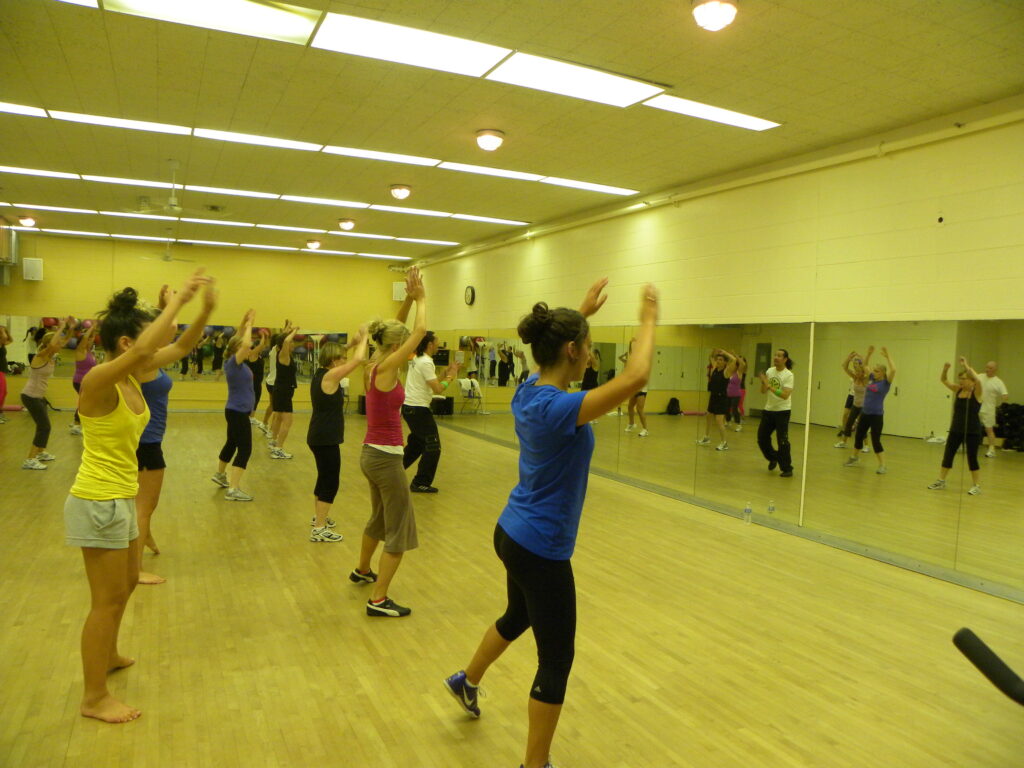 This class is a blend of mobility, balance, and yoga practice, and is for all fitness levels. It is designed to help improve balance, joint flexibility and range of motion.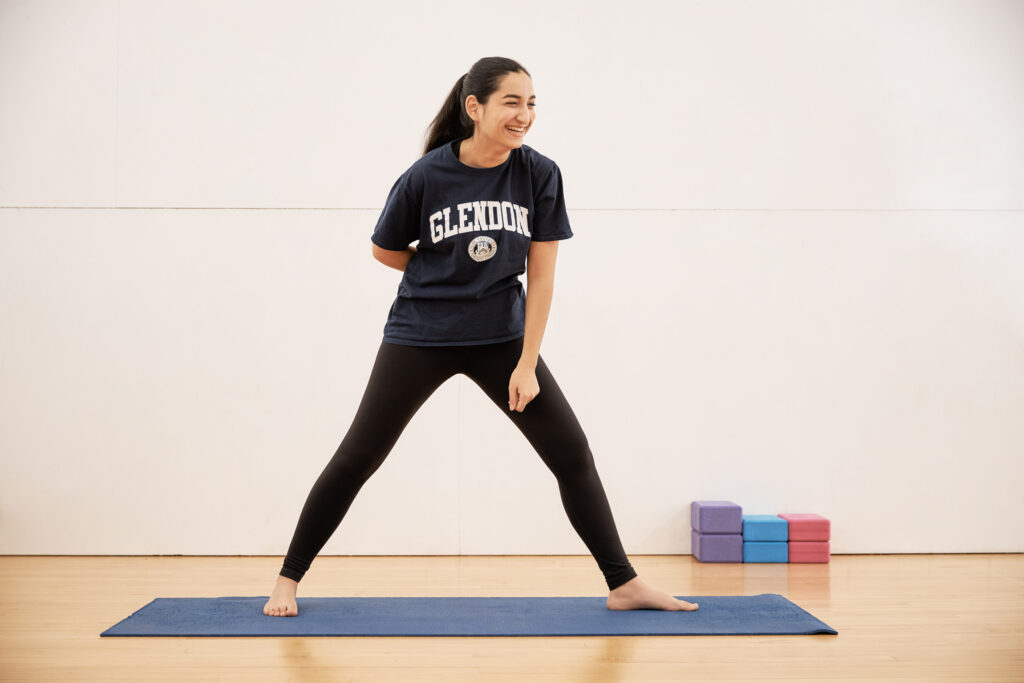 Muay Thai is an ancient martial arts from Thailand, also known as the art of 8 limbs. In this class for beginners, we will explore the basic fighting technique, movements, combinations, as well as strength and conditioning.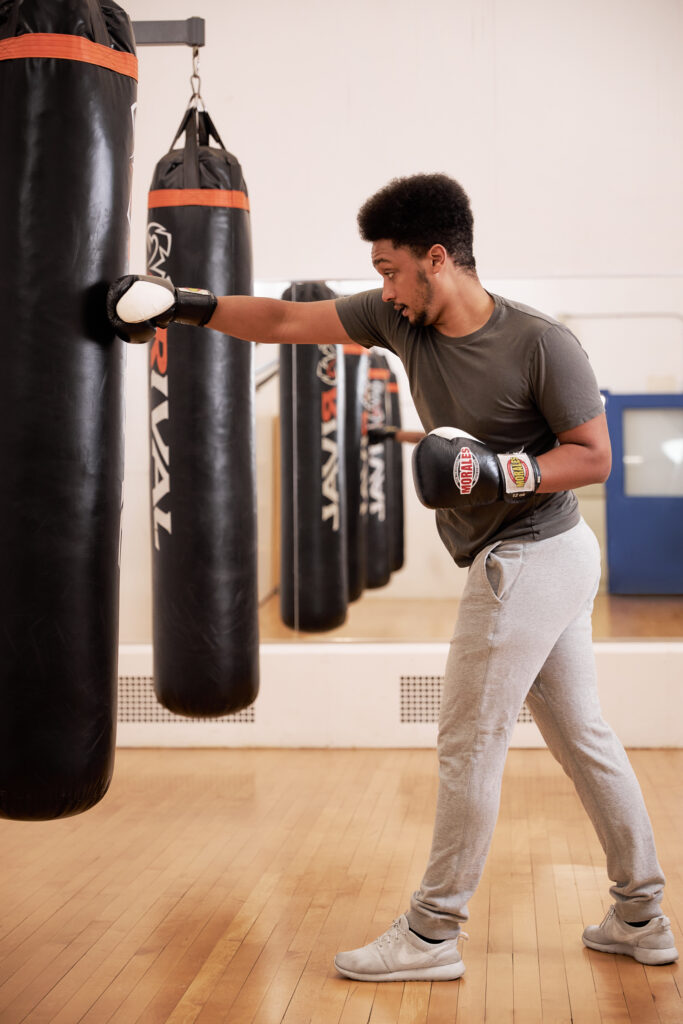 This dynamic class focuses on core stability, balanced muscular strength, improve posture, body alignment, greater flexibility, mobility, coordination and range of motion, all geared to ease functional movement in everyday living, promote freedom of movement and sense of well being.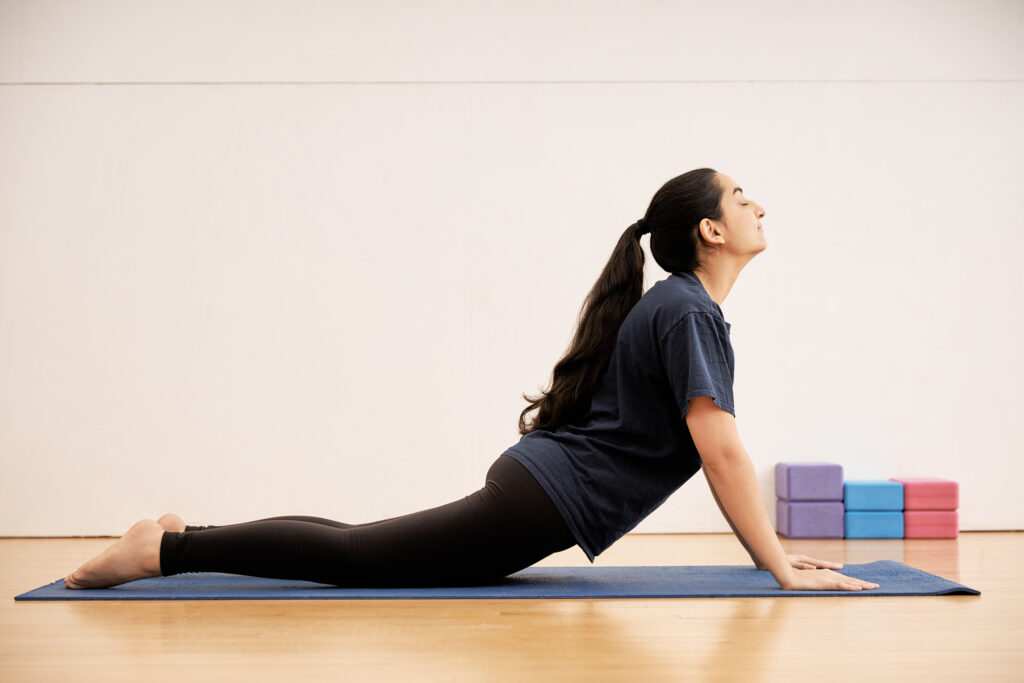 This is an hour of gentle mobility and stretch for all the muscles of the body, done on the mat using straps, modifications, and incorporating the breath. (Suitable for all ages and fitness levels). 30 minutes of myofascial release techniques followed by 30 minutes of deep stretch for the full body, to improve recovery and promote relaxation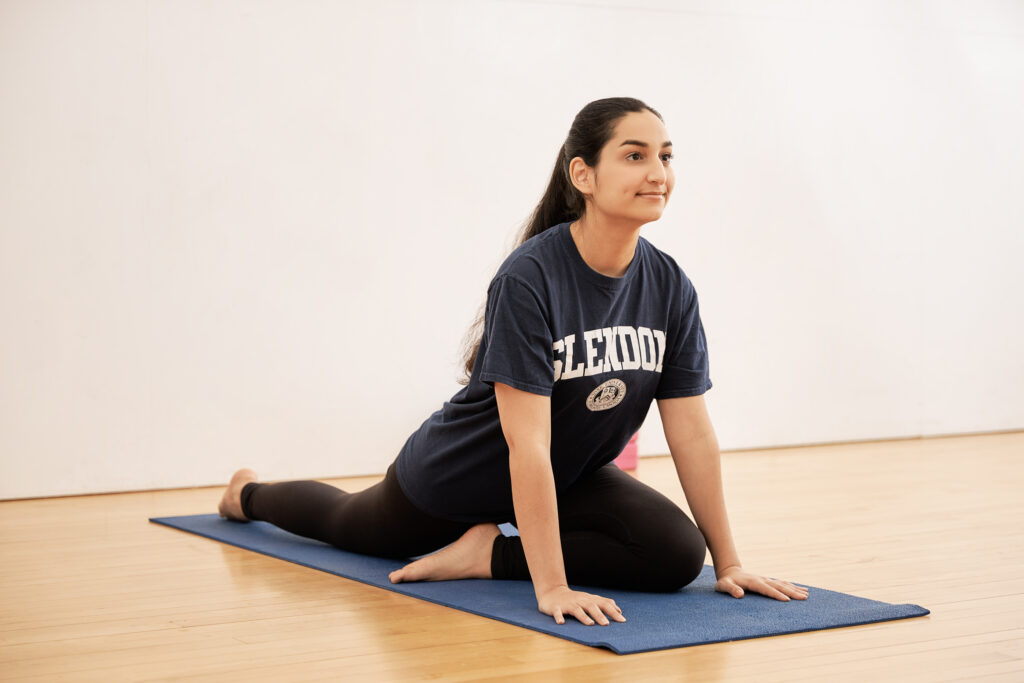 This workout is a unique way to practice balance, stability, improve overall muscular endurance, and strengthen core. Improve your core strength (abdominals, back and glutes) using the stability ball. This class improves overall flexibility, range of motion, balance and strength.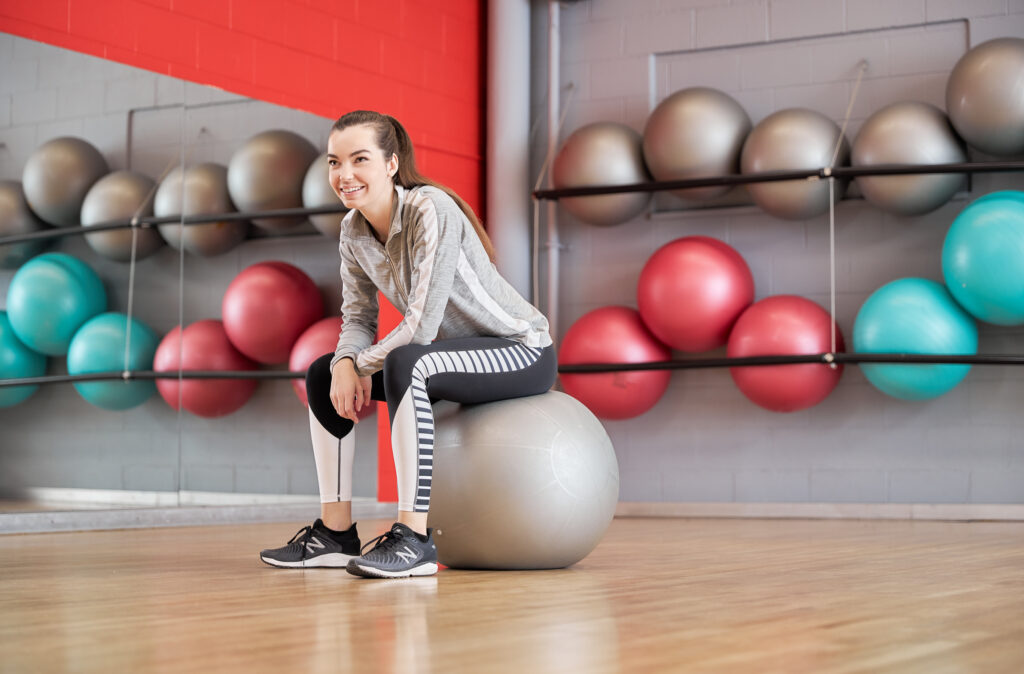 Learn to relax and stay fit in this healthy Workout for BOTH your Body and Mind. Tai Chi, also known as Taiji, Tai Chi Chuan or Taijiquan, is an ancient Chinese internal martial art system. Tai Chi means literally "supreme ultimate" and "quan" boxing, and incorporates the theory of Yin and Yang. Tai Chi's classification as "internal" (martial) art distinguishes it from "external" systems in that it is based on softness and relaxation – both are important conditions to develop awareness in the use of our inherent strength (whole body strength) under the control and guidance of the mind.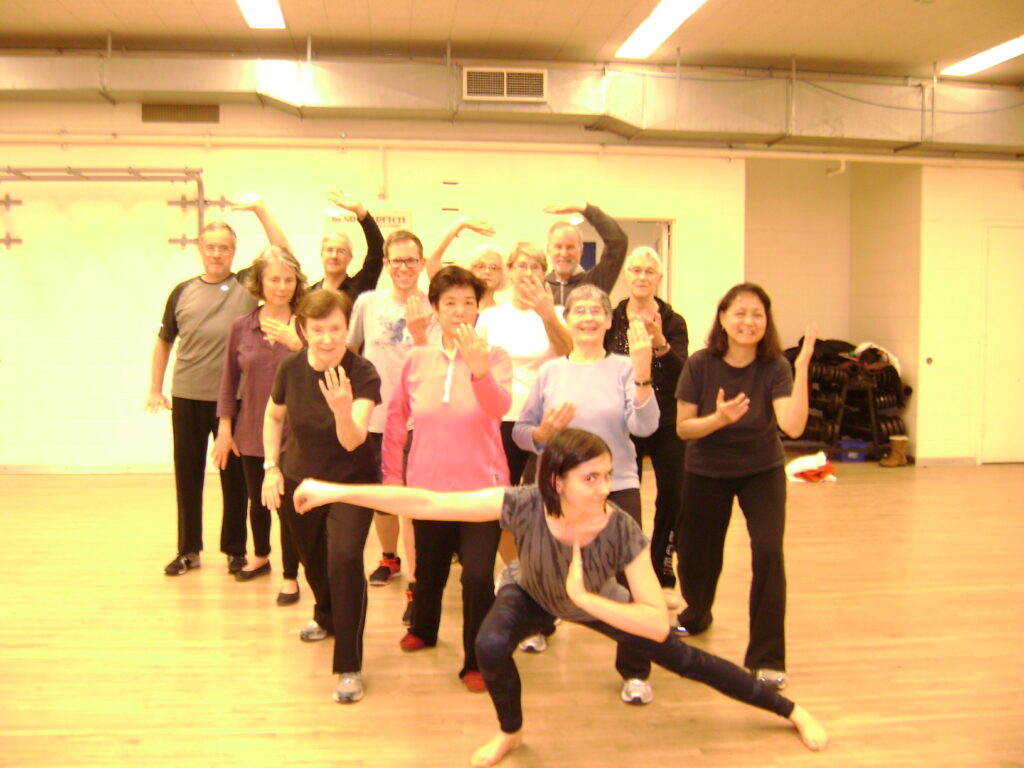 A classic full body muscle strengthening workout, utilizing dumbbells, bars, and body weight training. Starting with a locomotive warmup and ending with a stretch, participants are encouraged to push their abilities of strength and muscular endurance, with safe and proper technique.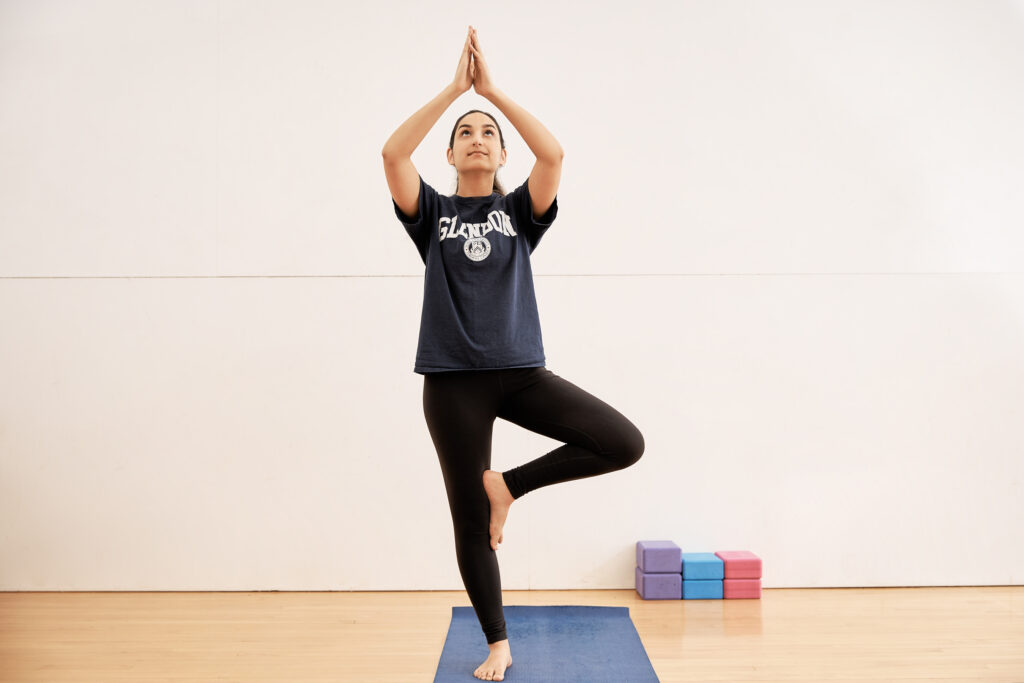 Hatha yoga is a meditative, stress-busting practice which hones in on many of the basic yoga postures, making it a perfect introduction for beginners and experienced yogis alike. In Sanskrit, the word "hatha" refers to the union of two opposites: sun (ha) and (moon) in Sanskrit. This form of yoga is filled with a series of postures, or asanas, that both strengthen the body and improve flexibility. Each pose is its own strength and endurance exercise while they also stretch and move through their full range of motion. It helps correct and support better posture and alignment as well as helps with stress management. It is strongly suggested that participants provide their own Yoga mats.
Begin your Sunday morning with invigorating sun salutations so that you leave feeling energized, limber and relaxed. The practice will include static postures to develop strength as well as balancing postures and backbends.
Vinyasa is a style of yoga characterized by stringing postures together so that you move from one to another, seamlessly, using breath. Commonly referred to as "flow" yoga, Vinyasa Yoga helps to develop a more balanced body as well as prevent repetitive motion injuries that can happen if you are always doing the same thing every day. Vinyasa yoga can be practiced by any "body "with modifications and variations offered by the instructor. Vinyasa is synonymous with movement. Breath initiates the movement of Vinyasa. Vinyasa helps Build strength, coupled with flexibility, by emphasizing and exploring slower options. Doing so will help you create a sustainable, life-long practice. Vinyasa Yoga is a more complete type of class as it typically moves through all of the various asana families in a single session. It is strongly suggested that participants provide their own Yoga mats.
This practice is designed for those who are new to yoga AND for experienced yogis who would like to hone their alignment as we work through a broad range of poses. Each practice will feature new postures. Expect detailed cues throughout the class. Low/moderate intensity.
Using a fusion of Latin and International music/dance themes, Zumba creates a dynamic, exciting, effective fitness system! The routines feature aerobic/fitness interval training with a combination of fast and slow rhythms that tone and sculpt the body, targeting glutes, legs, arms, abdominals and most importantly, the heart. You don't need to know how to dance to Zumba.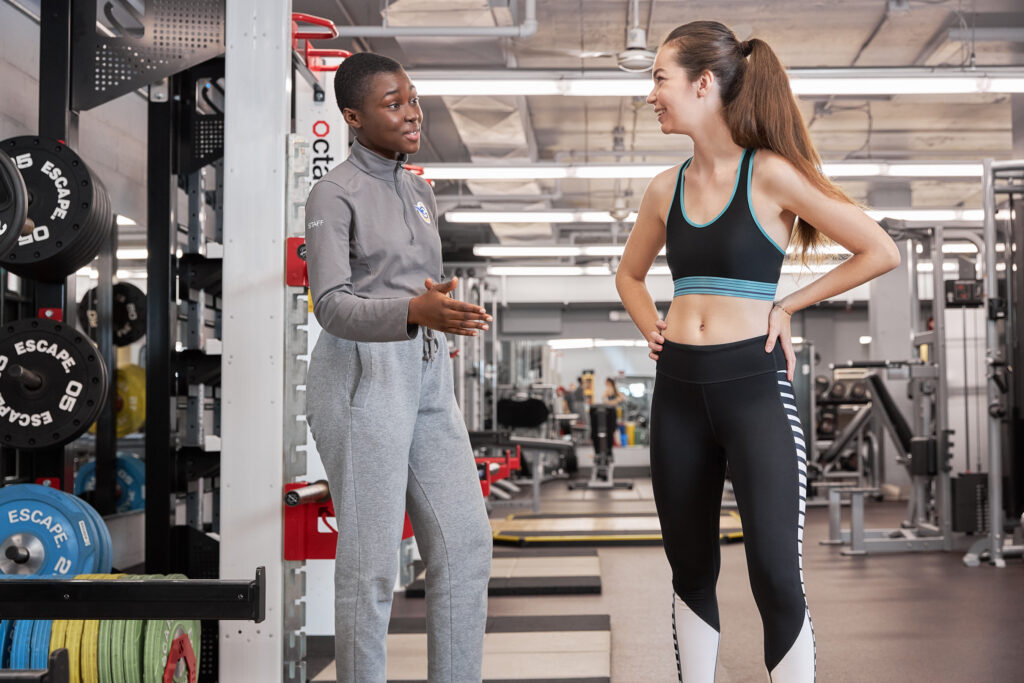 | | |
| --- | --- |
| Zumba Toning combines body-sculpting exercises and high-energy cardio work infused with Zumba moves to create a calorie-torching, strength-training fitness party. Participants use 1-3 pound weights to enhance rhythm and tone all their target zones, including arms, abs, and legs. | |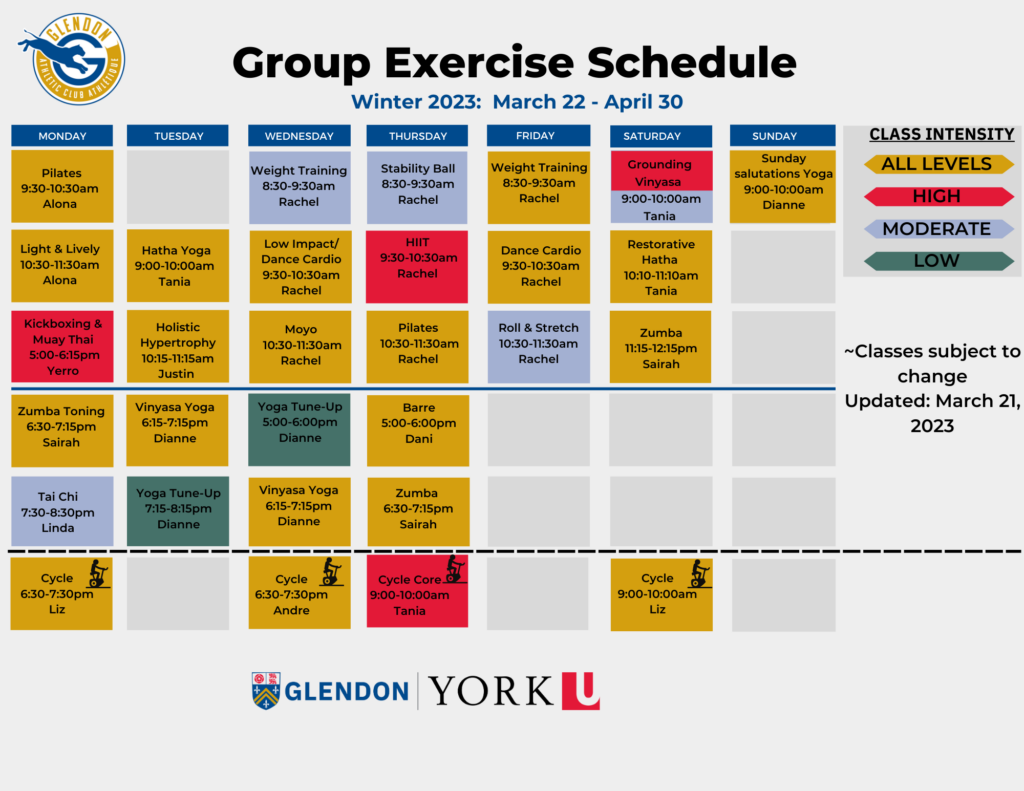 Members can register for group exercise classes. Timeslots for future classes will be released seven days in advance. Please only book when you can attend, and be courteous of your fellow participants. If you are unable to attend a session you registered for, please cancel your registration with the following steps.
Log into your online account
Click on your Profile (Top Right)
Click on Program
Select the session you want to cancel
Click the 3 dots to the right and Cancel
Whether your goal is to lose weight, rehabilitate an injury, improve athletic performance or just feel good about yourself, personal training is the right choice for you. Our trainers are nationally certified and are equipped to provide you with the appropriate exercises, intensity, enthusiasm, energy and most importantly, the tools to get you to the next level of fitness. You will leave each session looking forward to the next!
Please contact Yerro Gassama to schedule your consultation.
416-736-2100 x88229 or ygassama@yorku.ca
Our fitness consult is a comprehensive approach that includes behavioral action planning and in-depth history to help you determine if personal training is right for you. We will discuss why you are there, your personal and medical history, goal planning, barriers to success, and success indicators. This will help the personal trainer understand what you would like to accomplish and what would be the most appropriate plan for success.
Log on to the member portal glendonac.ca
Sign In (or Sign Up) to your account
Click on the Personal Training icon
Select a package of 1, 2, 5, or 10 personal training sessions
Add to cart, check out, and continue to payment
Contact the GAC (gac@glendon.yorku.ca) to organize sessions with a trainer
NOTE:
Sessions must be purchased before personal training session.
To start Personal Training, email us at gac@glendon.yorku.ca
| | | | |
| --- | --- | --- | --- |
| #Sessions | Student | Member | Non Member |
| 1 | $ 64.00 | $ 72.00 | $ 80.00 |
| 2 | $ 120.00 | $ 140.00 | $ 160.00 |
| 5 | $ 300.00 | $ 340.00 | $ 380.00 |
| 10 | $ 530.00 | $ 580.00 | $ 640.00 |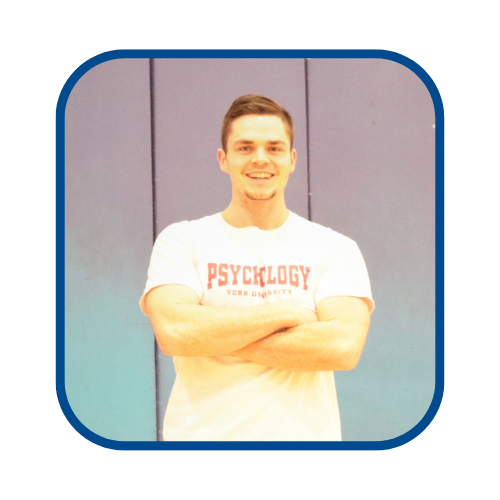 Movement is a potent medicine and if you can learn to love exercise, you will be healthy and happy for a lifetime. Born and raised in South Africa, I have experienced a metamorphosis. As a younger man I weighed well over 260lbs, I couldn't do a push up and my dietitian said I would die in my 30's if I didn't make a change. So, I did, it took me many attempts and years. Through much tenacity I have sculpted my mind and body, I am currently working towards becoming a competitive gymnast and a natural bodybuilder. I also play Rugby for the York lions.
While training with me I will assist you in creating measurable and obtainable goals, as well as outline the steps ahead. Together we will optimize your program and generate some momentum that can light up your training for a lifetime. I Understand the challenges of negative self talk, recurring failure, being overweight and staying disciplined. I have helped my clients over come their barriers in a fun and engaging way. Helping you along your journey will be my pleasure.